When it comes to preventing house fires, one of the first steps toward a safer home is having a fire extinguisher. And knowing how to use it is just as important. Yet, according to FEMA, we could all benefit from a refresher course. Philip Zaleski, executive director of the Illinois Fire Safety Alliance, says that most people think fires won't happen to them. "Although the odds may be slim," he says, "it's better to be protected with an extinguisher if an incident occurs." And you certainly don't want to be searching how to use an extinguisher if flames break out. Consider this a crash course on fire extinguishers, so you're prepared to protect your family and your property in the event of a fire.
Choose The Best Extinguisher For Your Home
It's important to fight a fire with the right extinguisher. The following are the most common types of residential fires:
Class A fires are fueled by combustibles like wood, paper and cloth.
Class B fires are fueled by flammable liquids like oil and gas.
Class C fires are started by wires, fuses and appliances.
Class K fires are fueled by cooking oils, greases and fats.
Zaleski says many fire extinguishers are multipurpose and will combat fires in multiple classes, including A, B and C. However, he cautions that some fires should be left to the professionals. "I would not mess with K fires, as a resident," says Zaleski. "These fires grow and spread quickly and are difficult to contain." If there is a grease fire on the stove, Zaleski advises never to use water in an attempt to contain it. "Water will only increase the flames," he notes. "Instead, use a pot lid. And if it still gets out of hand, exit the home immediately for your own safety and call 911."

Strategically Place Your Extinguishers
For optimal protection, Zaleski recommends having a fire extinguisher on each floor of a home near potential fire hot spots, like the kitchen or a furnace in the basement, and close to exits—an upstairs window, or by the back door. "That way, if a fire is out of control by the time you reach the extinguisher, you won't have to struggle to get out of your home," says Zaleski. Mounting isn't always necessary, but do keep them out of reach of children.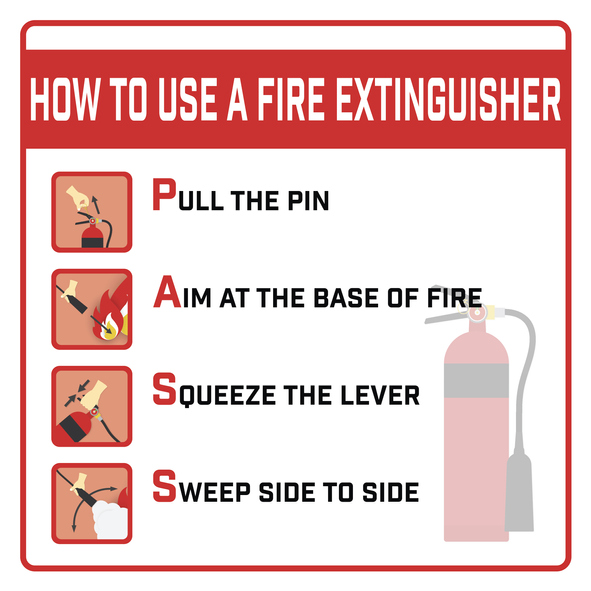 Learn How To Safely Put Out A Fire
Start by reading your extinguisher's directions and reviewing them yearly, so you won't panic in an emergency. From there on out, Zaleski says to remember the acronym "PASS":
P – Pull the lockpin of the fire extinguisher
A – Aim at the base of the flames (while standing about 8 feet away)
S – Squeeze the handles together
S – Sweep from side to side at the base of the flames
Some fires are simply too big to battle. "Anything with flames bigger than a small garbage can is best left to the pros," says Zaleski. "If you can't cover the full base when you're sweeping, drop the extinguisher and get out of the house."
Make Sure Your Extinguisher Is Functional
Although fire extinguishers may not expire for up to 15 years (per the expiration date), checkups are crucial. "Think of an extinguisher as you would a smoke alarm," says Zaleski. "Examine yours once a year to make sure the seal or pin isn't broken, and check that the gauge is in the proper area, meaning pressure is in the tank." Pressure is often indicated by color and clearly labeled, so it should be easy to read and tell whether it's up-to-date. You should also replace any extinguisher that has been used/feels very light, has cracks, is missing a lockpin or is otherwise damaged.
Safety is always the most important thing when it comes to your family. Extend some peace of mind and protection to your belongings, too, with homeowners or renters insurance through the GEICO Insurance Agency.
Read More: Want more home safety tips? Here's how to fireproof your home.
By Danielle Blundell