Every safe motorcycle outfit begins with high-quality head wear. (Here's what to look for in a motorcycle helmet.) But what you put on below the neck is also essential.
Fortunately, today's gear is fortified from within and designed to give the rider a protective outer layer of padding in case of a fall. The more protection the better, says Ty van Hooydonk, a RiderCoach with the Motorcycle Safety Foundation. "We say, 'Gear up every ride,' whenever you're on a motorcycle." And when you do, here's what he recommends.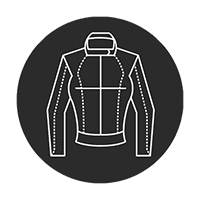 Motorcycle Jackets
It's the 90th anniversary of the iconic leather motorcycle jacket. But as cool as this classic jacket may look, it's not the best choice for a safe ride. "There's a big difference between buying a real motorcycle jacket and one that looks like a motorcycle jacket from your department store," says van Hooydonk. Invest in one that has the following:
A good fit. This is paramount, as you don't want your jacket flapping in the wind. The jacket should be snug, yet easy to move your arms in.
Armor consisting of a combination of foam and plastic. This should be built into the chest, elbows and shoulders.
Back protection that safeguards your spine, too.
Double- or triple-stitched seams. These add more strength to the jacket.
A CE rating. This indicates that the jacket has been certified to meet the safety standards for motorcycle gear in Europe.
Built-in air bags. A feature of the newest premium jackets, these should be considered for maximum protection.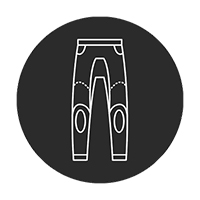 Motorcycle Pants
When it comes to pants, look for these features:
A snug fit. It is especially important for the pants to have a good fit from the knee down. You don't want the leg openings to get hung up on the footrests of your motorcycle or on the brake pedal or shift lever.
Integrated armor in the hips along with protection for your knees and shins. These bony areas might come into contact with the road.
A CE rating. Like the jacket, motorcycle pants should have a CE rating.
Internal pockets that hold the armor in place.
Pants that attach to the jacket. Getting a pair of pants with this feature will ensure that no skin around the stomach and hips is exposed.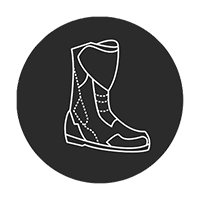 Motorcycle Boots
Here's what to look for in your riding footwear:
Armor over the ankles.
Tall boots with sturdy toe boxes and soles.
Shin protection that works with the knee armor on your motorcycle pants.
A snug and comfortable fit and nonslip soles. These things will allow you to be well-anchored when you put your foot down at a stop light, even if the surface is wet or slick.
Special padding on top of the toe. A feature of some boots, this padding is placed where you operate the shift lever—an area that gets extra wear and tear.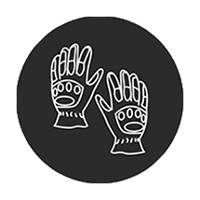 Motorcycle Gloves
"There are a lot of small bones in your hands, so you want to help protect them with a good pair of gloves," van Hooydonk says. Look for the following:
A strong, hard-wearing material, such as leather or aramid fiber, that's tough enough to withstand some sliding across asphalt.
Gloves that have impact-resistant armor across the knuckles, wrist and palm and a hook-and-loop strap that goes around your wrist to keep them in place.
Fingers that are curved for a better fit when grabbing the handlebar grip.
Extra-grip padding on the fingers. This will keep the gloves from slipping off the clutch and brake when it's raining.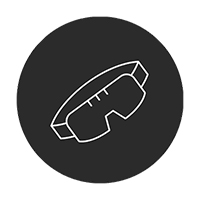 Motorcycle Goggles
"Shatter-proof eye protection is a must," says van Hooydonk. "You don't want to get hit with a pebble while wearing ordinary glasses." Plus, wind, dust and other debris can easily get inside of regular glasses. Motorcycle goggles are great at keeping out dust because they seal against your face.
Motorcycle Helmet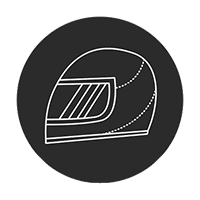 A final reminder that no motorcycle outfit is complete without a helmet. Although there are many styles to choose from, a full-face helmet is the best choice, says van Hooydonk. "It will typically have a face shield that tilts up, and when you're riding you can click it back down to protect your eyes." Make sure it's Department of Transportation-certified—look for the DOT sticker on the back.
Here's another smart way to help stay protected: motorcycle insurance from GEICO. Get a quote now!
Read more: The Amazing New Technologies In Motorcycle Helmets