You waited all year for the ultimate holiday vacation. It's finally time to unplug from work for a while, visit someplace new, or relax and recharge at an old favorite location.
Yet, as we all know by now, vacations look different this year. But that shouldn't stop you from making the most of your time off. After all, you still deserve to get away for a bit (and we mean go somewhere other than your living room sofa).
The good news is that there are a ton of great ways to escape the day-to-day, and still enjoy your vacation.
We know a thing or two about providing excellent coverage – however you get from point A to point B. We also know it's important to stay safe while traveling, which is why we've compiled this list to help turn your holiday vacation into a super "safecation."

1. Research Your Destination
Whether you take a road trip to another state, or go on a few day trips to visit local attractions, check out current travel restrictions and rules. Before you settle on a destination, review the rules for when you return home, too. Depending on where you've been, you may be required to quarantine at home for a period of time upon your return.
2. Aim for Off-Peak Times
Avoid crowds to stay safe during your vacation. Tack on a few extra days before or after the weekend (think Thursday to Tuesday or Wednesday to Monday). If you can't do that, try to arrive earlier in the day or later in the evening. You can always call ahead or check online for updates to see when the most popular times are – and then base your itinerary around what you find out.
3. Book Lodging in Advance
Although you might typically stay with family or book a vacation home as a large group, you might want to reconsider your lodging options this year. If you opt for a hotel, skip the daily housekeeping service and avoid indoor amenities, like gyms or pools. If you book a rental cabin or RV, ask how much time will pass between guests. Wherever you plan to stay, consider wiping down your space upon arrival.
4. Bring Your Own
Here's something you might not typically hear: Don't be afraid to overpack. In addition to your go-to vacation essentials, you might also consider packing plenty of hand sanitizer, extra face masks, cleaning supplies, disinfectant wipes, and lots of bottled water.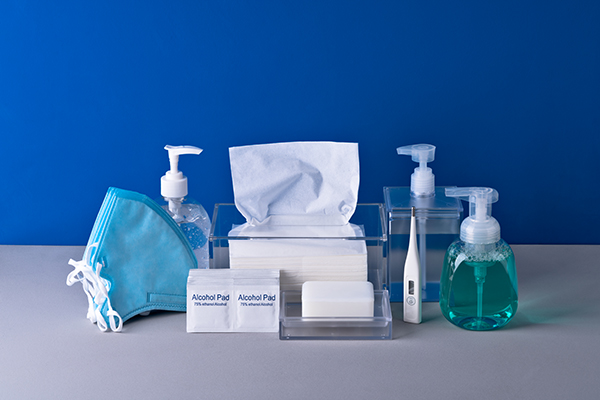 5. Maintain Your Distance
Vacation is usually your time to let loose and relax, but this year, you might want to do so with caution. Wherever you plan to vacation, maintain your distance from others, especially if you're not traveling or staying together. The CDC recommends people keep at least 6 feet apart, even when outdoors – and to be extra safe, don't forget to wear a mask!
Have you recently made vacation plans? Give yourself peace of mind by getting travel insurance before you leave. Get a fast, free quote from GEICO today.
By Katie Gaab