Why spend a lot of time and money redecorating your house when a few simple, low-cost tweaks can give a room a much-needed upgrade? Here are eight easy home makeover projects you can tackle this weekend. With a little elbow grease, a toolbox, and a quick trip to a home goods or hardware store, you'll be waking up to a revamped living space before you've even set your alarm for Monday a.m.
Create An Entryway Organizer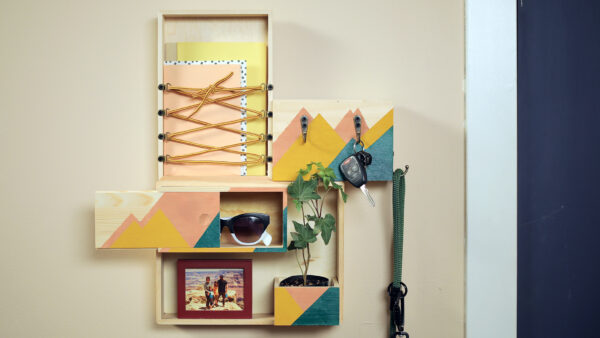 Keep your entryway hassle-free with this organizer that comes together in just 12 steps:
Materials
Premade unfinished wooden boxes in assorted sizes
French cleat wall hanger
Short screws
Screwdriver
D rings
Shoelace or cords
Paint
Paintbrush
Painter's tape
Key hooks
Large hooks
Instructions
1. Start by figuring out your layout of boxes upon a flat surface.
2. Drill pilot holes for where you will screw the boxes together.
3. Using a screwdriver, affix the boxes together.
4. Screw 3–4 D rings into opposite edges of the box that will have the cord to be used as a mail organizer.
5. Use painter's tape on the wood to create lines for your paint design.
6. Paint desired design and allow it to dry.
7. Tie your shoelaces or cord through the D rings across the box to create a barrier for mailand papers.
8. Screw in your key hooks.
9. Screw in your large hooks.
10. Affix the french cleat wall hanger to the back.
11. Hang on the wall near the entryway to the house.
12. Hang keys, purses, leashes, and mail on it to keep the area organized.
Refresh Your Furniture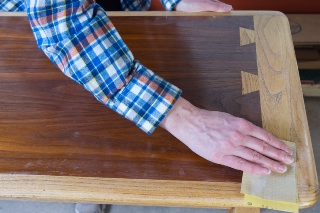 If you own a beat-up coffee table that hasn't seen a coaster in years, simply strip the paint and finish, sand down any imperfections, and fill in scratches and chips with clear nail polish, retouching markers, or wood filler. (Make sure to consult experts at your local hardware store about which types of tools and materials are safe to use with the wood.) Add a coat of primer, a few coats of paint, a finish, and voila—a "brand-new" piece of furniture.

Buy New Bathroom Accessories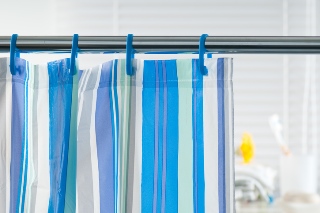 When it comes to a bathroom, the little details make a big difference. By simply buying a new shower curtain to replace the old, mildewed one, you're giving the room a much-needed overhaul without shelling out too much cash. While you're at it, select a matching soap dish, trashcan, towels, and bath mat.
Create A Gallery Wall

Don't know what to do with miscellaneous family snapshots, or sketches from that still life drawing class you took in college? Slip them into color-coordinated frames, and hang the pictures in groups to create your own personalized art gallery wall.
Fix Your Lighting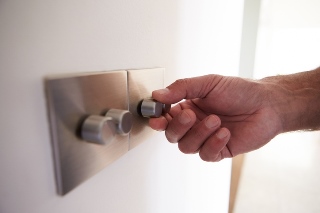 One small tweak that can make you view your home in a (literally) different light is to change all the light bulbs. Replace them with new ones that have appropriate wattages for specific locations or fixtures. If you want to really go the extra mile, install dimmers with preset buttons so you can achieve ambient or mood lighting with the push of a finger. (Again, this is where the experts at your local hardware, plus online tutorials, will come in handy. And before you tackle any electrical projects, be 100 percent sure that the power source—your circuit or fuse box—is turned off.)
Give Your Bed A New Look
Can't afford a new bed? Replace your boring headboard with a fun thrift-store find—or, if you're feeling super crafty, make your own using plywood, foam, and fabric. (There are plenty of DIY tutorials online.) Buy a new matching comforter and sheets, and if you really want to kick things up a notch, use risers to elevate your bed's height.
Paint An Accent Wall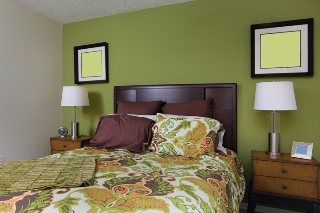 You love this season's trendy Rose Quartz hue—but deep down, you know you'll get tired of it in a few months. Instead of painting an entire room with the shade, try an accent wall on for size. Since the wall will serve as the room's visual focal point, make sure to choose a color that's within the same color palette as the space. If it isn't, use art, accessories, or a rug to incorporate the color into the room's overall aesthetic.
Buy New Hardware For Your Kitchen Cabinets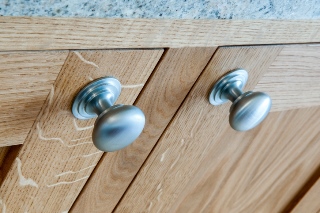 Swap out the tarnished brass knobs and pulls in your kitchen for shiny, brand-new hardware. The change is subtle, but it makes a big difference—kind of like the way a well-chosen scarf or piece of jewelry can transform an outfit.
---
Have you recently made home renovations? It may be time to update your homeowners insurance to cover your new space. Get a fast, free quote through the GEICO Insurance Agency today.
Next article: 5 Wow-Worthy Outdoor Kitchen Upgrades