Welcoming a new addition into the fold is, as any parent can tell you, the most wonderful, rewarding, joyous, and simultaneously stressful thing you'll ever do. Cut back on some of the stress by studying up on these safety tips (by no means an exhaustive list). And keep in mind: You've totally got this.
IN THE NURSERY: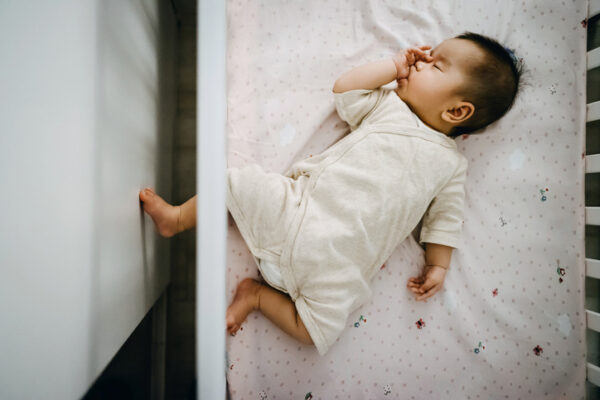 When purchasing a crib—or any furniture for your little one—be sure it adheres to federal safety standards. In the case of a crib, the space between slats should be no more than 2 3/8 inches wide. To reduce the risk of SIDS or suffocation, keep bedding, pillows, and stuffed animals out of the sleeping area, and put your child to sleep on his or her back on a flat, firm mattress.
Babies are squirmy—especially when they shouldn't be. To reduce the risk of falls, purchase a changing table with a built-in safety strap. And never, ever leave your child lying on the table unattended.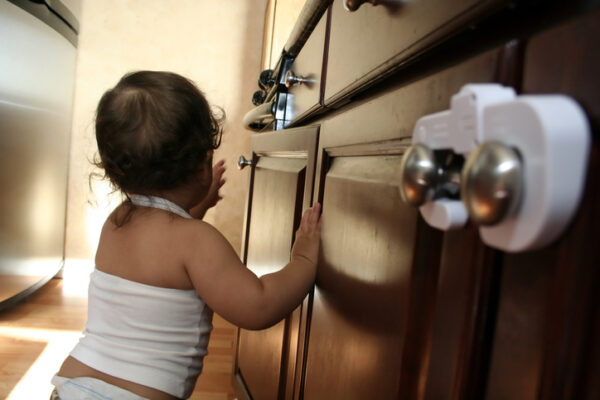 IN THE KITCHEN:
Long before your child starts crawling, ensure little hands can't pull on an oven door by installing an appliance lock. Stove knob covers will also keep your baby from fiddling with burners.
Never leave pet food lying around. Dog and cat kibble can pose a choking hazard to infants and toddlers.
If you store cleaning products under your sink, or in any other low-lying cabinets or drawers, consider relocating them to a closet shelf way out of Baby's reach. If that isn't an option, install cabinet locks to prevent your child from gaining access.

IN THE BATHROOM: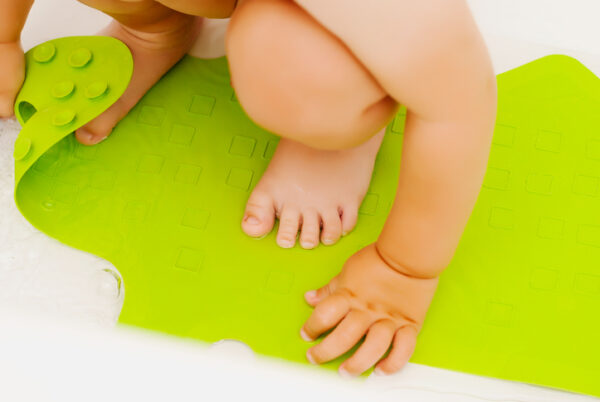 Purchase non-slip mats for the bathtub, but also for any hard surfaces that may get wet around the tub, such as tile floors.
Always test the temperature of the water before bathtime. You may also want to consider installing an anti-scald device on your tub's faucet, which will prevent water temperature from fluctuating. Once bathtime gets going, never, ever leave your child unattended. If you have to step away for even a moment, drain the tub before you do.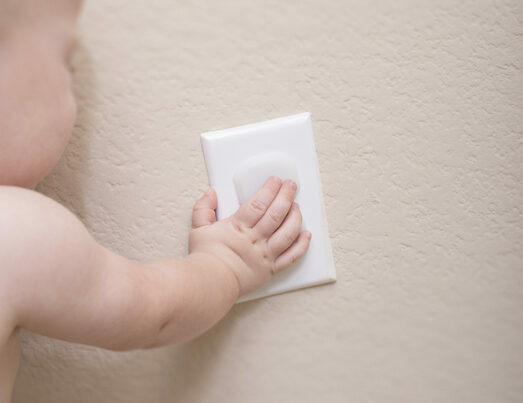 THROUGHOUT THE HOME:
Heavy furniture (dressers, TV stands, and bookshelves, for example) should be mounted to the wall to reduce the risk of tipping over.
Plastic outlet covers can be choking hazards. Instead, opt for sliding outlet covers, which automatically slide back into place after devices are unplugged.
Stay on top of baby product recalls by bookmarking the Consumer Product Safety Commission's website. They make it easy to search by product category—click on "babies and kids" for the latest.
Being a new parent means lots of new joys and new challenges. Stay on top of your finances with help from these Smart Saving Tips for New Parents.