It seems there's an app for everything these days, right? Well, driving is no exception. Whatever your biggest headache is when you hit the road, there's likely a smartphone app available to you to address the issue without much trouble. Whether you need directions, roadside assistance or help finding your car, look no further than your smartphone to deliver your desired result.
Here is a sampling of smartphone apps drivers should always have on hand.
If you need directions
There are a lot of GPS apps to choose from, but Waze does more than give turn-by-turn directions. The mobile app also helps drivers get to where they're going faster by offering the best (less crowded) route. Waze uses a community of fellow drivers, map editors and beta testers to provide users with real-time, live navigation. It suggests when to leave your current location to reach your destination by your desired time and lets you alert friends and family of your ETA.
If you need to find a parking space
You need a place to park once you've found your destination, which is easier said than done sometimes. The Parkopedia app helps drivers find parking closest to their destination, how much it will cost to park there and if there is space is available. You no longer have to drive aimlessly around hoping to find a spot. Parkopedia's additional features include pre-booking so you can reserve a space online through the app, real-time parking availability and the ability to pay for parking online or through the app.
To keep your eyes on the road
Vehicle-Cell Phone pairing technology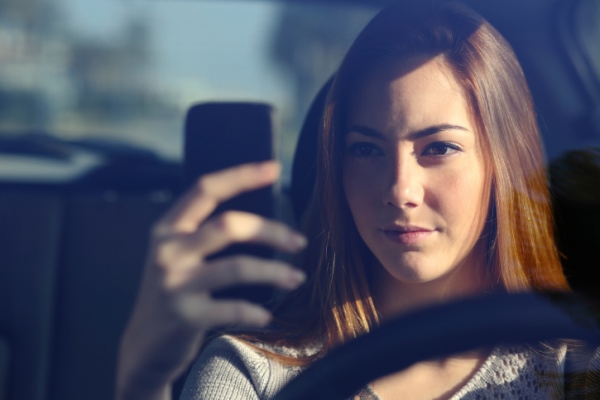 Your mobile phone makes it easy to get distracted while driving between text message and email notifications and phone calls. We all like to think we'll ignore the phone when it buzzes, rings or dings, but sometimes the temptation to see who's contacting us—or the need to feel like we have to respond right away—can be too great.
A number of manufacturers are equipping their vehicles with technology that allows you to pair your phone with your car through Bluetooth so you can make and answer calls hands-free. For example, Chrysler, Jeep, Dodge, FIAT and Ram vehicle owners can use the Uconnect platform to make and receive calls as well as send and reply to text messages without taking their hands off of their steering wheel—or their eyes off of the road.
If your vehicle isn't Bluetooth equipped, there are other options to help you stay off of your phone while driving. Most smartphones have a "Do not disturb" setting that will mute all calls and alerts until you turn if off again. You can also allow exceptions to get through if you're waiting for an important call.
If your electric vehicle needs a charge
There are plenty of apps to help drivers find the nearest gas station, but not everyone needs a fill up these days anymore. If you need to plug in your vehicle instead, the Plugshare app provides information on more than 300,000 charging areas from every network around the world. Plugshare users can also get station ratings and availability in real time.
When you need roadside assistance—and more
The award-winning GEICO Mobile app can help solve some of the driving headaches that the aforementioned apps cannot. You can request roadside assistance if you have a flat tire, run out of gas, need a tow or lock your keys in your car. GEICO Emergency Roadside Service is available and you'll be able to report your issue in just a few minutes. You can also use GEICO Mobile to find the closest and least expensive gas station, store your digital insurance ID cards and file a claim.
The "GEICO Explore" feature can even help you remember where you parked your vehicle. Meanwhile, GEICO's Virtual Assistant is available to answer any questions about your policy.
Download the GEICO Mobile app for free today!
By Joe Dyton