Did you know that GEICO currently sponsors state-operated Safety Patrols in 14 states (and counting!)? If you find yourself broken down on the highway, the GEICO Safety Patrol can help. Here's what these patrols do for motorists like you.
What is a Safety Patrol?
A Safety Patrol is a state-run patrol that provides valuable and free services for motorists traveling the busiest highways in the state. Safety Patrols are an integral part of a state department of transportation's (DOTs) response to highway incidents. Patrol vehicles are equipped with the tools needed to assist stranded motorists, as well as emergency lighting and road flares to further increase scene safety.
The main priority of Safety Patrols is quick clearance of highway incidents. For every minute an incident remains a hazard, the likelihood of a secondary crash increases by 2.8%. By keeping traffic flowing and reducing congestion, Safety Patrols also reduce the amount of wasted fuel and emissions released by idle vehicles.
What is GEICO's role with Safety Patrols?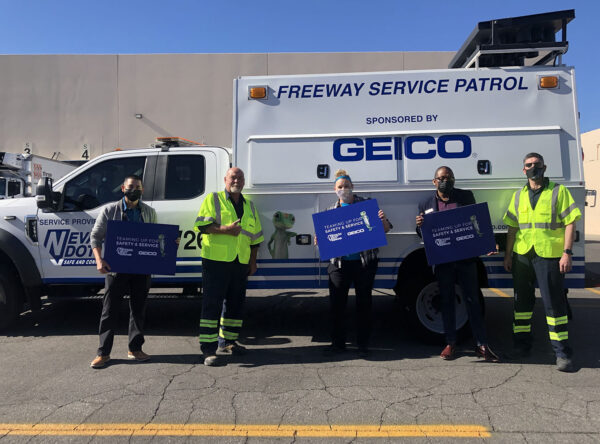 GEICO sponsorship helps offset operational costs for the DOTs and furthers GEICO's commitment to safety and our communities. GEICO is the sponsor of Safety Patrols in 14 states (and counting). Across these states, there is a fleet of 350+ vehicles, actively patrolling over 400 miles of roadway during peak travel times. Patrol routes are marked with 792 official highway signs. Together, the state and GEICO are there when motorists need assistance. Each year, Safety Patrols sponsored by GEICO are projected to assist over 500,000 motorists.
How can the Safety Patrol sponsored by GEICO help?
Safety Patrols keep highways safer and clearer for all by:
helping provide traffic control and helping to quickly clear traffic incidents
providing help for stalled vehicles
changing flat tires
jump-starting vehicles
moving disabled vehicles to the shoulder or to a safe location
clearing debris from the highway to improve traffic flow and prevent future incidents
These services are free. There is no cost to you as a motorist when being assisted on the highway by a Safety Patrol sponsored by GEICO (and patrol drivers cannot accept tips). Safety Patrol services may vary by location, and are available to all motorists, not just GEICO customers.
What should I do if I break down on the highway?
The number one thing to remember when broken down on the highway is to keep yourself safe. If you experience trouble with your vehicle, pull over to the closest breakdown lane as far away from traffic as possible. Remember to remain in your vehicle at all times. Exiting your vehicle puts you at greater risk. To help alert other drivers, make sure to put your hazard lights on.
Call 911 and ask the operator if a state-sponsored Safety Patrol operates in the area.
How do I contact the Safety Patrol?
Safety Patrols sponsored by GEICO are available on select highways in these 14 states:
Arizona
Colorado
Connecticut
Illinois
Indiana
Kansas
Maine
Nevada
New Hampshire
New Jersey
North Carolina
Ohio
Pennsylvania
Wisconsin
You can find contact info for your state at SafetyPatrolinfo.com. If you've been assisted by one of these Safety Patrols, share your story at the link above, or post to social media using #GEICOSafetyPatrol. Here is a story from a motorist who was recently assisted in Colorado:
The patrol driver was an incredible help to us. We hit a nailed object on I-25 Northbound near exit 216. We had to nurse ourselves to the left hand shoulder, which at that point was barely one lane wide. Darrell stopped behind us and put out a cone. Then proceeded to change the tire and put some air in the spare. We were then able to get off the highway safely. He was courteous, professional and competent. I cannot thank him enough. So glad for the CDOT Safety Patrol and GEICO for sponsoring. My humble thanks to Darrell.
– Jeff
Assisted by Darrell, Colorado DOT Safety Patrol sponsored by GEICO
Even if your state isn't yet included in the GEICO Safety Patrol program, you can still get help with GEICO's Emergency Road Service. Add it to your policy for just pennies a day per vehicle for peace of mind on the road.