Whether you're trying to get extra luggage to your vacation destination or your new board up to the slopes, transporting oversize cargo in a regular vehicle can be tricky—even dangerous. That's because a 20-pound object moving at 55 mph strikes with the impact of half a ton. And every state has some sort of fine or penalty, ranging from a $10 ticket to jail time, for improperly secured loads. But with the right equipment and precautions, transporting goods on your car's roof can be safe and successful.
Don't Overestimate Capacity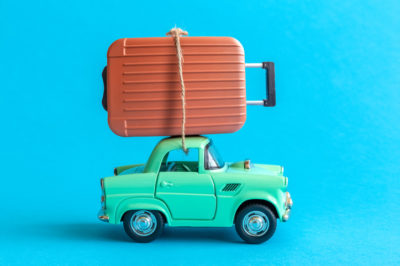 An SUV or minivan can handle much larger loads than a sedan or coupe. And if you own a convertible, experts say you shouldn't transport anything on the roof. "The size of the car and its roof determine how much you can put on it," says Alex Leanse, Content Marketing Coordinator for YourMechanic.com.
Beyond roof real estate, you'll also need to consider how much your cargo weighs. Your owner's manual should say how much your vehicle's roof can support. And be mindful of your sunroof—anything too firm or heavy could break the glass.
Tie It Down
To safely tie an item to your car's roof, start with all the windows down, except the driver's window. (You won't be able to open the other doors once the rope is tied through the open windows.) If you're using nylon rope or cinching straps, toss them over the item you're tying down, pass them through the open windows and tie them inside the car. Take at least two passes over the item, side-to-side and front to back, and tie the rope tightly inside the car. And remember to secure them both lengthwise and widthwise, Leanse says.

Twist It
If you're securing items with tie-down straps, give them a twist before passing them through the open car windows. This will not only keep the noise down, but also help minimize the amount of force on the straps if you're traveling on an expressway.
What Are You Hauling?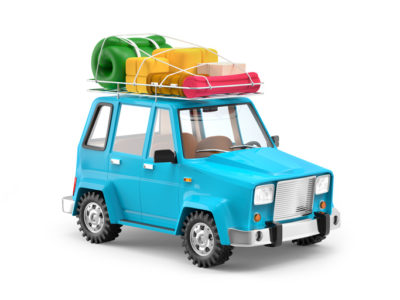 Now that you've mastered the basics, here's how to secure some commonly hauled items:
Mattresses
First, wrap the mattress in a bag (new mattresses generally come in one or you can buy one at a hardware store) and use packing tape to close the bag and secure any loose plastic. Use strong rope or straps and make sure the mattress is tied down lengthwise and widthwise, keeping the fastenings well-centered. Take care to keep it clean and dry, since you'll be sleeping on it.
2x4s
Wrap lumber in a tarp to secure it, and place a blanket down on the roof under the load to avoid scratching your vehicle's paint. Tie down the boards lengthwise and widthwise, similar to how you'd secure a mattress.
Sporting Equipment
When it comes to sporting goods, it's worthwhile to invest in custom-built roof equipment, Leanse says, like a dedicated rack for bicycles, snowboards, kayaks or surfboards. You'll be both protecting the life of your expensive gear, as well as easing their transport.
Luggage
Attach a metal roof rack, or a hard plastic or foldable clamshell. The former works for outdoor gear like hunting or camping equipment, as it's easier to clean, and the latter is good for protecting softer bags. If you choose the rack, top it off with a cargo net for added safety.
And remember, if you hear whipping or rattling sounds while you're driving, it means that the load is not properly secured. Pull over and check your cargo. And factor enough time into your trip for periodic stops to double-check your load.
Before you hit the road with your load, make sure you're covered with the right auto insurance from GEICO. Get a fast, free quote now and see how much you could save!
Moving? Be sure to update your address on your policy.
By Nicole Price Fasig