There's a lot to think about when you're expecting, from birthing classes to picking out the perfect name to decorating the nursery. But no decision is likely to make a more immediate impact on your new life with your newborn than picking out a car seat.
"You shouldn't leave the hospital without one," says Gloria Del Castillo, the senior specialist of community engagement for the Buckle Up for Life program at Cincinnati Children's Hospital Medical Center.
According to the National Highway Traffic Safety Administration, vehicle crashes are one of the leading causes of death in children between the ages of 1 and 13. The right car seat for your child and vehicle could be an important safety tool. The good news is, a little research can go a long way. "All children's car seats in the U.S. have to meet the same safety standards," says Del Castillo. This means you don't necessarily have to shell out for a higher-end car seat with all the bells and whistles. "The best child-safety seat is one that is appropriate for the size, weight and age of your child," says Del Castillo, "and one that is convenient enough for you to use it properly every trip." If you're in the market, here's what to consider.

Choose Your Style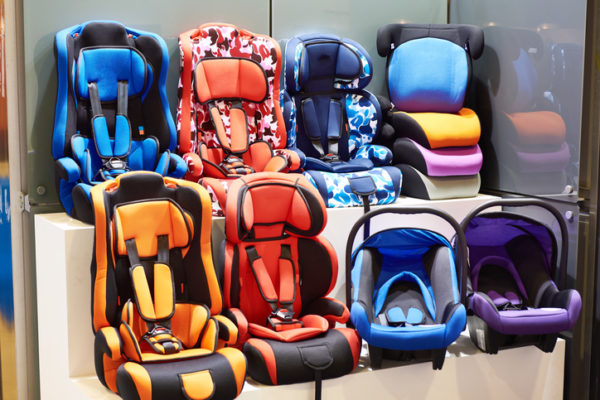 Your child's vital stats and how you plan to use the car seat will determine which type of seat is the best fit. Newborns and children under the age of 2 need to be in a rear-facing car seat for additional protection. Beyond that, the model is up to you.
Infant Seats: If you'll be driving with your newborn quite a bit, it may be worth investing in a more portable infant seat, with a base that remains in your car, or one that can snap into a stroller system. Infant seats are built around the specific needs of newborns and are designed to support the head and neck and to protect the baby like a cocoon, says Del Castillo
Convertible Seats: These offer a longer-lasting solution: As your child grows, they can change from a rear-facing seat into a front-facing one with a harness and tether. And because they are built to fit a growing child, they allow your little one to stay in the rear-facing orientation longer than an infant seat will. Once children are ready to transition to a front-facing setup (laws on this vary by state), these seats are ready to keep them safe until it's time to graduate to a booster seat, says Del Castillo.
Booster Seats: If your little one is starting to outgrow their initial car seat, it may be time for them to graduate to a booster seat. NHTSA recommends that kids continue to use a booster seat until they're tall enough to use a seatbelt properly—meaning the lap belt lies snugly across the upper thighs, not the stomach, and the shoulder belt falls across the shoulder and chest, not the neck or face. Most kids will be between the ages of 8 and 12 when this shift takes place. But before you upgrade them to a seatbelt, it's important to check your local regulations, as height and weight requirements can vary by state.
3-in-1 Car Seats: These models offer the ultimate flexibility, as they can stay with your child through infancy and the toddler stages and eventually switch into a booster seat. Though this kind offers more convenience, you may find you're ready for a new model after a few years—even before your child has outgrown it—thanks to all the wear and tear that goes into daily use, says Lorrie Walker, the training and technical advisor for Safe Kids Buckle Up.
Stay Up To Date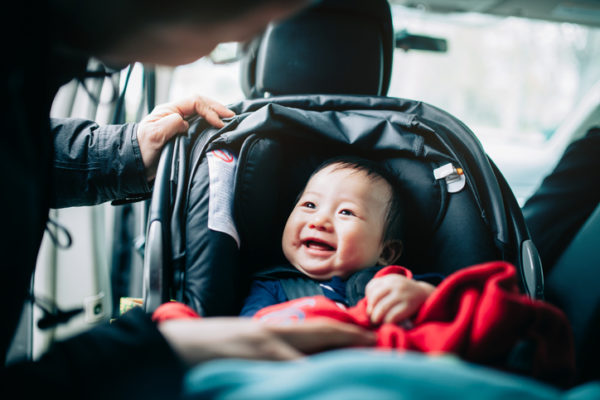 You may not worry about registering other big purchases, but it's crucial to fill out the registration form for your new car seat, says Shelia Dunn, the communications director at the National Motorists Association. This is the best way to stay informed if your model experiences a recall.
When picking a car seat, it's also important to consider the amenities you'll want. Though a model with a pillow or cushioned straps may cost more, you shouldn't add those perks on later. They're what technicians call "unregulated items," warns Del Castillo. These add-ons have not been crash-tested with the car seat and may void the warranty and, worse, make your child less safe in the case of an accident.
Putting your baby in a car seat you trust could give you peace of mind. So could the right auto insurance. Visit geico.com to see how much you could save. Already a policyholder? Click here to review and update your coverage levels.
Read More: How To Budget For Baby
By Nicole Price Fasig