You'll have plenty of locations to choose from for your dream motorcycle trip, whether you want to see colorful leaves, crashing waves along the shoreline, snowy mountaintops, miles of green forestry, cascading waterfalls, just miles of open highway or all of the above.
Deciding to take a motorcycle trip is the easy part, however. Picking a destination is where the challenge lies. Don't worry, we've compiled a list of nine great places to take a motorcycle trip to help you narrow down your choices. Now you just have to decide which ride to tackle first!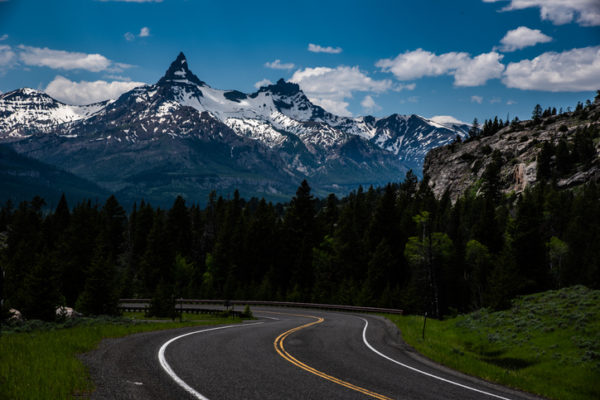 Beartooth Highway
Location: Montana to the Wyoming Border
The Beartooth Highway, technically known as US 212, is a 69-mile ride along the National Scenic Byway and runs from Red Lodge to the Wyoming border at Beartooth Pass. Here you'll find Yellowstone National Park's northeastern entrance. Beartooth Highway is considered to be one of the most beautiful roads in the U.S. The only downside is weather can limit when you can take this trip. Beartooth Highway can be shutdown until as late as May due to heavy snowfall. The road is also closed for winter as early as mid-October, so plan accordingly.
California State Route 36
Location: Humboldt, Trinity, Shasta, Tehama, Plumas and Lassen Counties, Calif. (Passes through Red Bluff, Calif.)
California State Route 36 features curves for 140 miles of this nearly 250-mile stretch, which makes this a trip better suited for experienced motorcycle riders. If you can endure the constant twists and elevation changes, this ride can be a lot of fun. It's also a very scenic ride—you'll get to see the coast, valleys, redwood forests and more.
Tunnel of Trees Road
Location: Harbor Springs, Mich.
The Tunnel of Trees, which runs on M-119, is known for being one of the most scenic routes in the Michigan. The road gets its name because the trees on either side reach high enough to form a top, creating a "tunnel" effect. The Tunnel of Trees stretches 20 miles and follows the shore of Lake Michigan.
Deals Gap
Location: North Carolina-Tennessee border
US 129, which borders the Great Smoky Mountains National Park in North Carolina and Tennessee, is also known as "The Tail of the Dragon" and is an 11-mile stretch of mountain road that comprises 318 curves! This is another trip meant for experienced motorcycle riders. The Tail of the Dragon is considered a destination for thousands of motorcycle and sports car riders throughout the fall, summer and spring.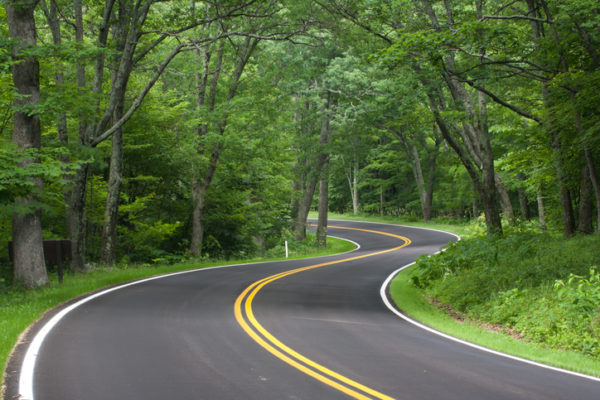 Skyline Drive, Virginia Route
Location: Warren, Rappahannock, Page, Madison, Greene, Rockingham, Albemarle and August Counties, Va.
Skyline Drive is a great fit for newer motorcycle riders due to the mainly 35 mph speed limit. The 105-mile route takes approximately three hours to cover and goes along the Blue Ridge Mountains in Shenandoah National Park. There are four separate entrances to Skyline Drive, so riding the whole stretch isn't necessary. As for scenery, fall is an ideal time for this trip because you'll see a variety of leaf colors, but wildflowers make the route picturesque all year long.
Lower Catskills (Catskill Mountains)
Location: Upstate New York
There is no shortage of motorcycle trip options in the Catskill Mountains. Take Route 23A through Greene County and ride alongside waterfalls—including Kaaterskill Falls, the largest cascading waterfall in the state. You can also ride further west to take Route 30 through Delaware County, and see towns like Roxbury, Middletown and Andes while you travel by the shores of the Pepacton Reservoir. There's flexibility in traveling through the Catskills—you'll get a nice experience whether you're taking a day trip to see fall foliage or making a weekend out of it to see an entire region.
Blue Ridge Parkway
Location: North Carolina and Virginia
This 469-mile, multi-state ride is at the top of many motorcyclists' "to-do" list. Motorcyclists hold the Blue Ridge Parkway in such high regard because it's packed with things to see along the way. There are Civil War battle sites on the Virginia side before heading into the Great Smoky Mountains. Blue Ridge Parkway is known for its twists and curves, but most of it has a 45 mph speed limit, which helps keep riders safe—and allows them time to enjoy the various views. You can also take the 105-mile Skyline Drive through Shenandoah National Park if you're looking for a longer ride—it connects to the Blue Ridge Parkway.
Peak to Peak Highway
Location: Gilpin, Boulder and Larimer Counties, Colo.
This 60-mile stretch of highway presents a lot of scenery for motorcycle riders to enjoy. These sights include Rocky Mountain vistas in the middle of Rocky Mountain National Park. The twisty Peak to Peak Highway will take you through glacier-cut valleys, forests and of course mountain-high meadows. Moose and elk are known to appear on this ride, so drive at a safe speed. Be sure to also pack hiking boots if you want to hop off your bike for a bit and walk one of the trails.
Coastal Route One

Location: York, Cumberland, Sagadahoc, Lincoln, Knox, Waldo, Hancock, Washington, and Aroostook, Maine
Maine's Coastal Route One is a 167-mile ride that goes through seaside villages and past numerous historic lighthouses. Unlike some of the previously mentioned trips, Coastal Route One features more scenic detours than twists and turns. Don't worry, there are still some open areas that allow for higher speeds and have curves—just be on the lookout for moose. It's also best to avoid this trip during the summertime, as there's usually a lot more traffic.
Make sure your motorcycle has the proper coverage before you hit the open road.  GEICO Motorcycle insurance can cover you and your bike wherever you roam in the U.S.
By Joe Dyton