There may be no better time of year than the fall. Chilly nights make leaf colors pop, setting the stage for an autumnal sun to light up nature's spectacular show.
It's also a great time to go camping—after all, what's better than waking up surrounded by all the colorful action? Just bring a warm sleeping bag along with your tent or, for more space, take the RV. Whichever you choose, it's hard to beat the convenience of KOAs, some of which sit in the heart of fall's magic show and are close to awesome scenic drives.
"KOAs are everywhere you want to be for leaf peeping," says Mike Gast, vice president of communications for Kampgrounds of America. "After a full day of looking for leaves, it's great to return to the campground to relax around a warm fire and relive the day."
Plus, busy campsites often turn calmer with the onset of autumn. "Camping with KOA in the fall is great because campgrounds are typically less crowded," says Gast.
Ready to hit the road, peepers?

Where To Go
---
Ozark National Forest, Arkansas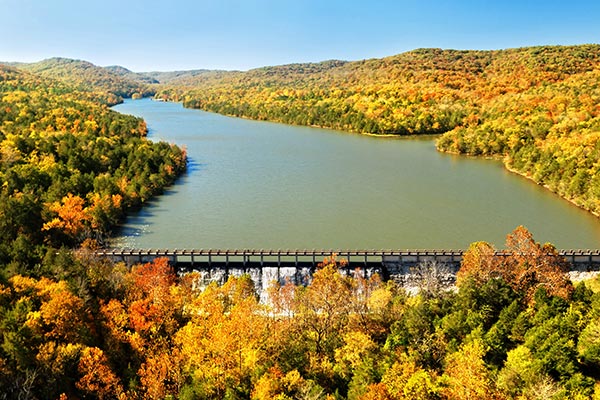 Where to stay: Eureka Springs KOA
When they close: October 31
Fall colors abound in this campground, which even offers a hiking trail that's perfect for peeping. Come around Halloween and you'll find all sorts of holiday festivities.
Where to drive: Head over to Rte. 62 and drive into the artsy town of Eureka Springs, stopping at the majestic glass chapel along the way. Then head south along State Highway 23, which runs into the national forest and becomes the scenic "Pig Trail," with waterfalls, mountain views and plenty of color.
---
Letchworth State Park, New York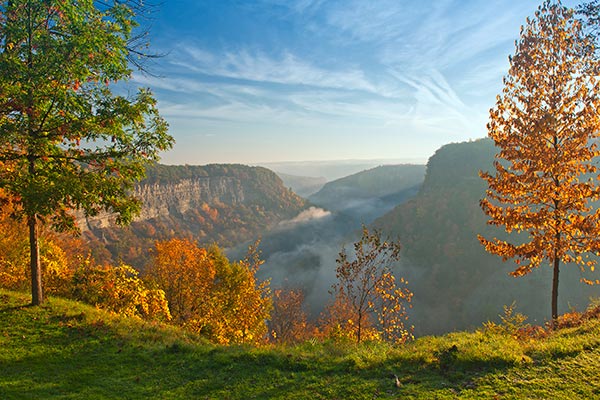 Where to stay: Houghton/Letchworth KOA
When they close: October 15
The campground features 100 scenic acres of deep woodlands and tall larches that light up in autumn. There's even a lodge with a stone fireplace—the perfect place to get warm after a long day.
Where to drive: Drive through picturesque woods and farmland to Letchworth State Park, where you'll find a spectacular gorge carved by the Genesee River, cliffs that tower up to 600 feet and three huge waterfalls. Hop out to take a hike along some of the 66 miles of trails.
---
Blue Ridge Parkway, Virginia/North Carolina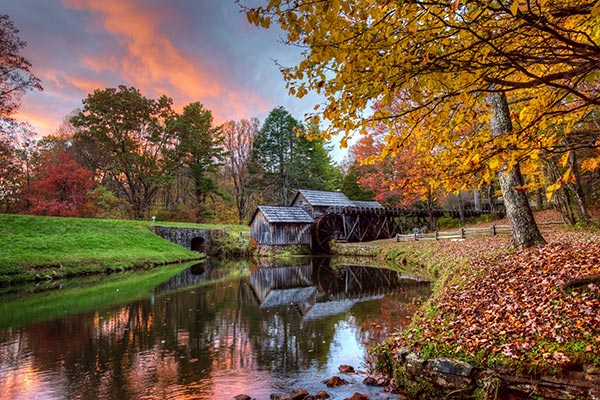 Where to stay: Fancy Gap/Blue Ridge Parkway KOA
When they close: November 1
Just a quarter mile from the Blue Ridge Parkway, this campground is a perfect jumping off point for the famous scenic drive. Go hiking and biking on trails in the nearby mountains and foothills, visit an award-winning winery or just relax by the stocked fishing pond.
Where to drive: Stretching 459 miles along the spine of the Blue Ridge Mountains, the parkway features spectacular mountain vistas and a picturesque historic water mill.
---
White Mountains, New Hampshire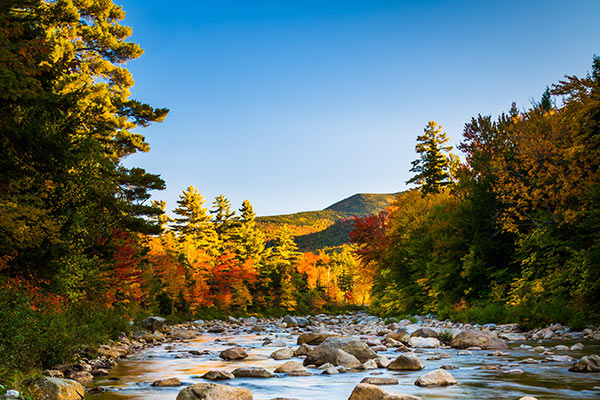 Where to stay: Twin Mountain/Mount Washington KOA
When they close: October 9
This KOA sits in the heart of New Hampshire's White Mountains, with the highest peak in the northeast, Mount Washington, looming nearby. You'll find hay rides, bird watching among the pine trees, nighttime campfires and great stargazing.
Where to drive: Head south on route 302 through the White Mountain National Forest to experience the quintessential New England leaf peeping experience, with mountainsides awash in color. Up for a hike? Head to the state park at Crawford Notch.
---
Columbia River Gorge, Oregon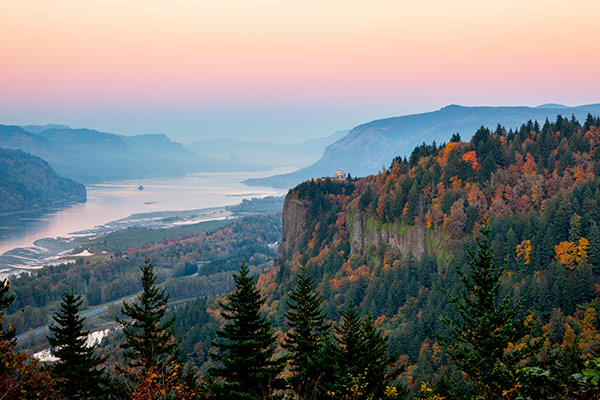 Where to stay: Cascade Locks/Portland East KOA
When they close: October 15
Close to the Columbia River, this KOA offers abundant opportunities for water and wilderness experiences. Walk among the maples, oaks and Oregon ash that make the Columbia River Gorge a breathtaking sight from late September to early November.
Where to drive: Take your time on the Columbia River Scenic Byway, a brightly colored 70 miles that cuts through the Cascade Mountains. Stop to take in waterfalls tumbling from cliffs, or cross between Oregon and Washington along the Bridge of the Gods.
---
Durango, Colorado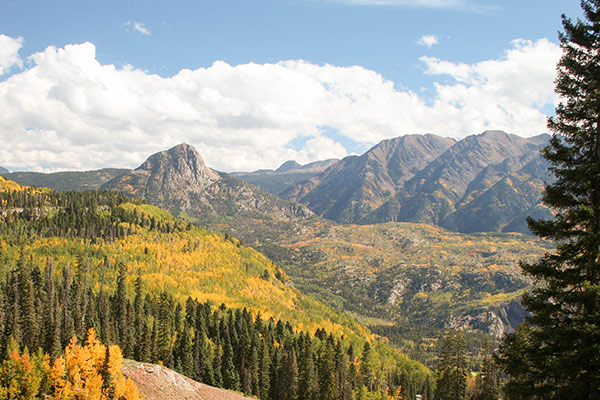 Where to stay: Durango KOA
When they close: October 15
Enjoy panoramic views of the San Juan Mountains from this campground, which sits at 7,000 feet on top of a mesa. Get here before mid-September to enjoy the heated pool.
Where to drive: Jagged peaks, ancient cliff dwellings and the historic town of Durango lie along the San Juan Skyway. Golden aspen trees illuminate this 236-mile loop that runs through the San Juan Mountains.
---
Budgeting For Your Trip
Ensuring that you've properly budgeted for your road trip is as simple as sketching out your plan and using a few online resources.
Determine the number of days you'll be traveling and the approximate number of miles you plan to drive each day to calculate the total miles for your trip. Then, use an online guide for gas prices to get an estimate of your gas expenses.
Decide if you'll be camping, staying in cheap roadside motels or looking for nicer accommodations, such as a local bed and breakfast. Multiply the cost of your accommodations by the number of nights you'll be on the road, and add this to your gas expenses.
Have any excursions planned like a canoe trip, a guided tour, museums or horseback riding through the mountains? Most National Forest websites provide resource guides, along with admission costs and tour prices, to help with your planning.
In addition to purchasing light snacks for the road, you'll need to allocate additional money for meals at restaurants and snacks for hiking.
Finally, always have an emergency fund in case the unexpected happens. Remember to keep your wallet in a safe place and never leave it visible or unattended in your vehicle.
---
What To Pack
Here are a few things to keep in mind when the time comes to prepare for your trip:
If you plan on being away for more than a few days, type up a rough itinerary and leave a copy with friends and relatives. In the event of an emergency, they'll have an idea of where you can be located.
Consider creating a Road Trip blog, an online journal where you can post pictures and document your trip for loved ones to check out and enjoy.
Stock up on emergency items, such as road flares, a fire extinguisher, bottles of water, a flashlight, a healthy spare tire, emergency blankets and a first-aid kit.
Bring maps and a list of places you'd like to visit. Check out restaurant suggestions ahead of time, as well as entrance fees to national parks or museums.
Due to limited space, it's a good idea to keep clothing options to a minimum. In the event you run out of clean clothes, simply find a local coin laundry or swing into a store for that extra item. Remember to pack at least one pair of pants, one pair of shorts, tops for both warm and cooler weather, along with a light jacket, mittens/gloves, and extra socks and under clothing.
Keep an "essentials" bag in the car with you that contain items like maps, reading material, a camera, hand lotion, sunscreen, tissues and hand sanitizer. Don't forget a spare pillow for passengers who may get sleepy.
Bring a cooler and a variety of small snacks that are perfect for long hours on the road. Having plenty of fluids on hand is vital. Also, consider things like small bags of nuts, granola bars, snack-size chips, veggies and hardy fruits, like apples and oranges, bread and peanut butter and jelly. Remember to pack a small knife and a plate or cutting board.
Whether it's a short weekend getaway or a week's worth of chasing those brilliant leaves, remember to plan ahead, bring a camera and drive safely.
---
Heading out on a road trip this fall? Make sure your car or RV is properly insured. Get a fast, free, online rate quote now and see how much you could save with GEICO!
Next article: Check out our tips for making the most of fall camping.

By Julie Anne Russell and Dawn McCaslin