Boating season means endless days filled with waterskiing, wakeboarding and tubing.
Of course, these fast-moving sports come with a degree of risk: The Coast Guard reported more than 400 boating accidents in 2020 in which the vessel was involved in towed watersports.
But a few simple precautions can help you reduce that risk. We asked Ted Sensenbrenner, Assistant Director of Boating Safety Programs for the BoatUS Foundation, for his tips on how boat drivers and watersports participants can stay safe during towing.

Get The Right Gear
Before you even leave the dock, be sure to choose the right life jacket for each participant. Not only will the jacket keep you afloat, but in many states it's required by law.
Towropes should be synthetic, made of either nylon or a high-strength, low-stretch fiber. Each kind has a specific watersports recommendation: For waterskiing and wakeboarding, use a thin rope around 75 feet long; tubing with multiple people requires a thicker rope that's 50–60 feet. In between uses, rinse the equipment in fresh water and store it to avoid exposure to salt water and sun. Make sure the rope is dry to avoid rot.
Here's what else to pack for a day on the water.
Make A Plan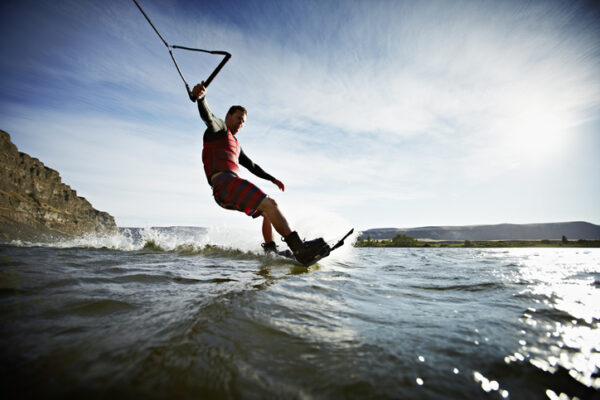 Once you're being towed behind a speeding boat with a roaring engine, it's hard for those in the boat to hear you. Agree in advance on a series of hand signals so everyone is clear when the person being towed wants to start, stop, slow down or speed up.
Also, have an adult on board to act as a spotter during towing: Nearly every state requires one. The spotter is responsible for watching the skiers or wakeboarders at all times and communicating to the driver if they give a hand signal or go down, as well as if any boat traffic is coming up from behind.
Enter And Exit The Water Properly
Before anyone exits or reboards the boat, it's crucial that the engine is turned off. This eliminates any danger of a moving propeller and makes it easier to communicate with the person in the water. It also reduces the danger of exposure to carbon monoxide—the odorless, colorless gas that can accumulate behind the boat when the engine is running and cause illness.
Start Slow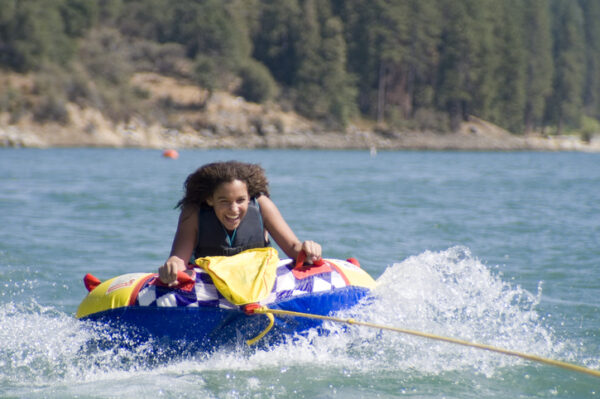 The person being towed should be in the water, facing forward, with no slack in the rope, and they should signal to the spotter that they're ready. Once the spotter relays the message, the driver should ease—not jerk—the participant out of the water. Skiers will need a little more throttle to get them going; wakeboarders will need less, and tubers even less. The operator should use gentle throttle adjustments, and the spotter will communicate whether they need more or less speed.
Once you get going, be aware that while there aren't established rules for safe speeds, there are guidelines largely accepted by the watersports community: 20 mph or less for tubing; 18–22 mph for wakeboarding; and 25–36 mph for waterskiing.
Drive Safely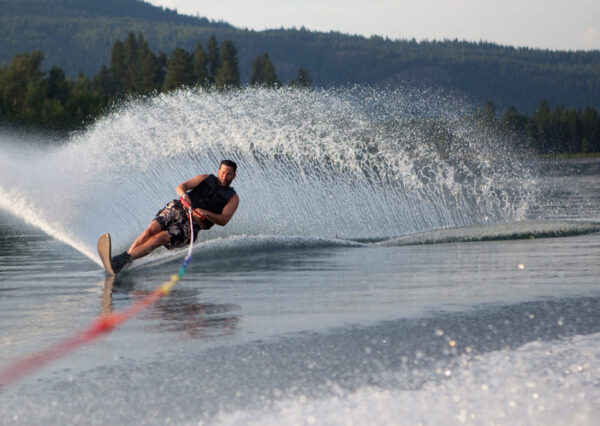 The driver should always be looking ahead and focused on watching for other boat traffic. "It's really important that the operator not be distracted, especially by the other people on board," Sensenbrenner says. "That may sound obvious, but there's a lot of excitement onboard boats like this."
Drivers should also be aware that water-skiers or tubers can almost double in speed when the boat makes a tight turn; this can be a thrill for the participant, but it's also potentially dangerous if they aren't prepared to speed up or go outside the boat's wake. Use hand signals to communicate.
When the person being towed is ready to get out of the water, it's on the driver to retrieve them safely. Reduce the throttle, look before you turn, and bring the boat up alongside the person in the water on the driver's side (if it's not a center console). Turn the engine off as soon as you're in position. The driver needs to actually see that a skier is safely aboard and shouldn't rely on passengers for this important information.
Drivers are also responsible for knowing the body of water—from water depths to rock outcroppings and shoreline features—and for keeping participants away from any dangers by at least double the length of the towrope. If you're at an unfamiliar location, ask someone at the dock about local conditions—along with any other potential concerns, like no-wake zones or wind funnels. "If you know what the forecast is going to be and you have a local pointing out conditions, that takes some of the guessing out of it," Sensenbrenner says. "And you're going to have that much better of a day on the water."
Now that you know how to protect yourself on the water, help protect your boat by getting a boat insurance quote at geico.com.
By Nicole Price Fasig