Truly fresh, juicy tomatoes are available but once a year. Whether you pick them from your garden or get them at the local farmer's market, take advantage of this abundant seasonal offering and do your tomatoes proud with these easy and delicious recipes, courtesy of our friends at Pampered Chef.
Fresh Tomato Salsa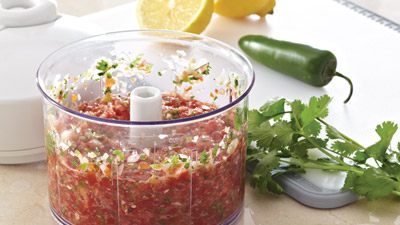 Even the best store-bought salsa can't beat a fresh, homemade version. Combine about 2 cups of fresh tomatoes, 1 small red onion, 1 jalapeño, ½ cup cilantro, 2 tbsp lime juice, 2 cloves of peeled garlic and ½ tsp salt in a food processor and process until coarsely chopped. Easy and delicious!
Grilled Orzo-Stuffed Tomatoes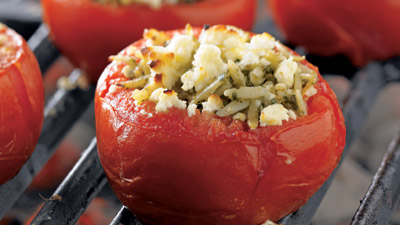 Grilled stuffed tomatoes just scream summer, and they're great as an appetizer, side dish or even a main course. Slice the stem end off four ripe tomatoes, scoop out the insides, brush with olive oil and sprinkle with salt. Mix together 1 cup cooked orzo, two chopped green onions (white parts only), ¼ cup prepared pesto and ¼ cup of crumbled feta cheese and divide evenly into the tomatoes. Sprinkle more feta on top and grill over direct medium-high heat, covered, for 8-10 minutes or until the tomatoes just begin to char.
Caprese Salad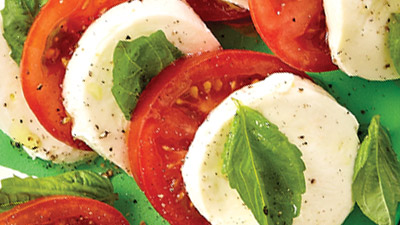 Highlight all that tomato-y goodness with a simple salad that comes together in minutes. Just arrange sliced tomatoes and fresh mozzarella alternately and drizzle with olive oil and balsamic vinegar. Top with chopped fresh basil and season with salt and pepper, then serve with grilled or toasted baguette slices.
Gazpacho Cucumber Cups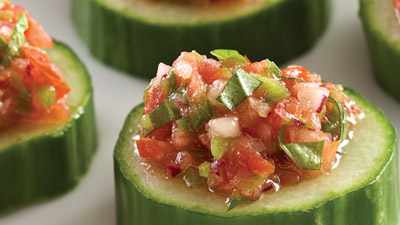 Nothing is more refreshing than cool, fresh gazpacho served in an edible cucumber cup. Slice 1-2 cucumbers into sixteen ½-inch slices. Scoop out a shallow well in each slice, leaving the bottom intact. Make the gazpacho by finely processing two seeded plum tomatoes, ½ green bell pepper, ½ small red onion, ½ cup fresh basil, one peeled garlic clove, 1 tsp olive oil, 1 tsp red wine vinegar and ¼ tsp salt. Evenly divide the mixture among the cucumber cups and garnish with finely chopped fresh basil.
Bruschetta Pasta Sauce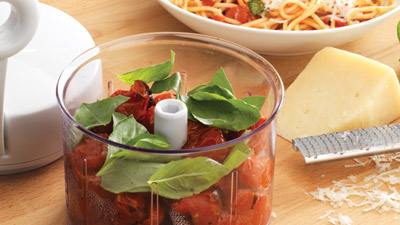 It only takes a few ingredients to whip together a truly fantastic garden-fresh tomato sauce…four, to be exact! Here's what to do: process four medium tomatoes with 4 oz basil, four peeled garlic cloves and about ⅓ cup olive oil until well-combined. Season with salt and pepper to taste and serve it over your favorite cooked pasta. Top fresh grated Parmesan cheese for a simple summery dinner.