A Mexican favorite, tacos get their moment on Taco Day, which falls every year on October 4. But you can celebrate any day of the year, and many have opted to celebrate a weekly Taco Tuesday at home or at their favorite taqueria. So how can you make the most of your Taco Tuesday experience? Here are some traditional and out-of-the-box options to consider.
Switch Up The Format
Hard or Soft
Taco Salad (Tortilla Bowls or Cups)
Taco Soup
Taco Casserole
Healthier Alternatives:

Lettuce Wraps
Baked Taco Shells
Bell Pepper Boats
Stuffed Baked Potato or Squash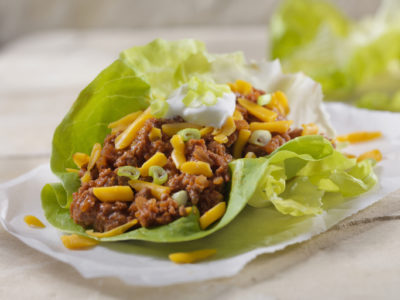 Pick Your Protein
Ground Beef or Turkey
Tilapia
Salmon
Pulled Pork/Carnitas
Barbecue or Jerk Chicken
Shrimp
Steak
Chili
Vegan Alternatives:

Lentils
Black Beans
Sweet Potatoes
Roasted Chickpeas
Portobello Mushrooms
Tempeh
Tofu
Choose Your Taco Toppings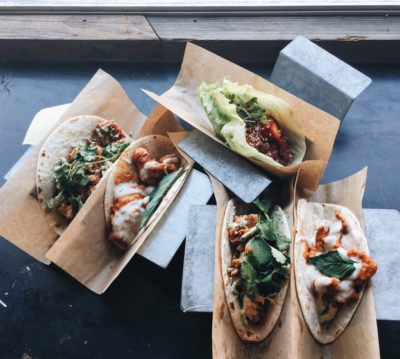 Pico de Gallo
Guacamole
Salsa (Mild, Medium, Hot)
Mexican cheeses
Lettuce or Cabbage
Onions or Radishes
Grilled Veggies
Cilantro
Non-Dinner Taco Options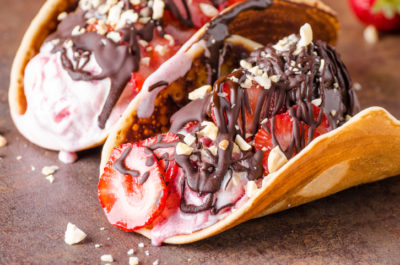 Breakfast Tacos
Dessert Ice Cream Tacos
Don't see your favorite taco fixings listed above? Mention it in the comments below!
A good meal makes for a happy home, and a happy home starts with the right insurance protection. Whether you're a homeowner or a renter, the GEICO Insurance Agency can help you discover the best coverage options for your situation. Get a fast, free quote on homeowners insurance, renters insurance, or condo insurance today!
---
Recipe: Spicy Shrimp Lettuce Wraps In 15 Minutes or Less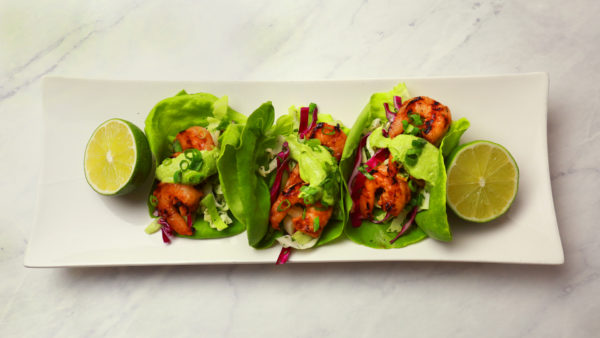 Servings: 6 lettuce wraps
Prep time: 10 minutes
Cook time: 5 minutes
Total time: 15 minutes
Ingredients:
Shrimp
2 tablespoons soy sauce
1 tablespoon honey
1 tablespoon lime juice
1 teaspoon sesame oil
1 tablespoon onion powder
1 teaspoon garlic powder
⅛ teaspoon cayenne pepper
¼ cup sliced scallions, green part only (plus extra for garnish)
1 pound shrimp, peeled and deveined
Avocado Crema and Cabbage
1 cup Greek yogurt
1 avocado
2 serrano peppers, stems cut off
1 clove of garlic, peeled
1 tablespoon lime juice
1 bunch cilantro, divided and stems removed
½ cup scallion, sliced and divided
½ teaspoon kosher salt
2 cups green cabbage, shredded
1 cup red cabbage, shredded
Assembly
1 head of butter lettuce, leaves separated
Lime wedges, for serving
Preparation:
1. Shrimp: In a medium-size bowl, whisk together soy sauce, honey, lime juice, sesame oil, onion powder, garlic powder, cayenne, and scallions. Toss shrimp in marinade and let sit for 5 minutes while making the sauce.
2. Avocado crema sauce: In a blender, place Greek yogurt, avocado, serrano peppers, garlic, lime juice, half a bunch of cilantro, and kosher salt. Blend on high for 30–60 seconds until smooth and set aside.
3. Finely chop the rest of the cilantro. Toss with ¼ cup scallions, green, and red cabbage.
4. Spray a large grill pan with oil and heat on high until just starting to smoke (if using an outdoor grill, heat grill to medium high and thread shrimp onto soaked skewers).
5. Remove the shrimp from the marinade and grill the shrimp on the first side for 3 minutes. Flip using tongs and cook the other side for 2 minutes. Remove from heat.
6. Assembly: On a piece of butter lettuce, add some cabbage, some grilled shrimp, and top with avocado crema. Repeat with the rest of the lettuce and ingredients. Top with a few slices of scallion for garnish. Serve with lime wedges.