Friends coming over in an hour and your house is a mess? Relax! You don't have to break world records in sprinting. You just need a plan.
"From the front door, follow the path your guests will walk, straightening up and cleaning only what your guests are most likely going to notice," says Donna Smallin Kuper, an organizing and cleaning expert and author of Clear the Clutter, Find Happiness. In other words, you're working the optics—not trying to achieve perfection.
Kuper recommends grabbing a large garbage bag, two microfiber cloths and a laundry basket (for objects that need to be put away in other rooms). Then zip through the guest zone with her tried-and-true tricks. You should be completely done in 15 minutes flat. Go!

Front Door & Entryway
Remove anything unsightly from your front porch (pots of dead flowers, old newspapers, cobwebs) and shake out the mat.
Gather any clutter in the foyer (shoes, umbrellas, bags) and put it in your laundry basket (when it's full, take it to the laundry room and get another basket).
Kitchen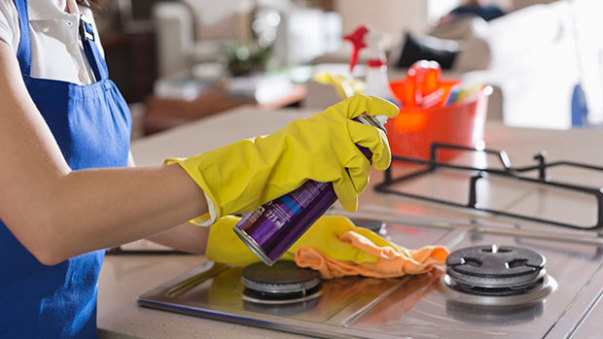 Stow any dirty dishes in the dishwasher (or under the sink if you're in a jam—just don't forget they're there later, or you'll wind up with a pest problem).
Put away everything that shouldn't be on the counters, and wipe them down.
Spot-clean any large splatters on the floor with a wet paper towel.
Bathroom
Clean the mirror using a dry microfiber cloth (it doesn't leave streaks the way sprays can).
Pull the shower curtain closed.
Clean the counter and sink; give the toilet a quick brush and flush.
Replace the towels, putting dirty ones in the laundry basket.
Empty the trash and add a new trash bag.
Living Area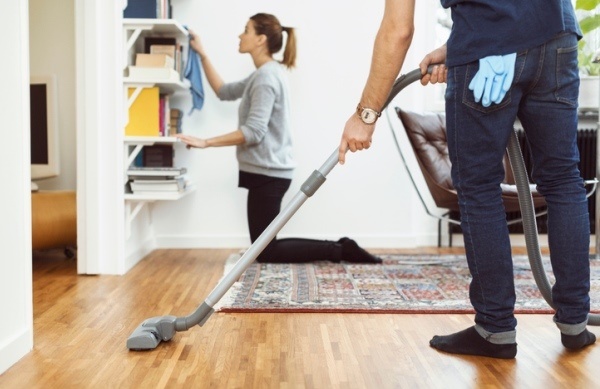 Put all objects that need relocating in the laundry basket; plump the couch and chair pillows.
Use a large microfiber cloth to dust as you straighten up everything in the room.
Bring out the vacuum and run it only where your guests will walk, sit or stand. Then retrace your steps and vacuum the kitchen (even if it's tile or wood).
Halls
Continue vacuuming along the flow of foot traffic.
Throw any items that don't belong into your laundry basket.
Store the laundry basket, vacuum, garbage bag and cloths in the laundry room, and close the door behind you. You're done!
---
A clean home is a happy and safe one. Whether you rent or own, find out which home insurance policy could best protect your property. Get a fast, free quote today from the GEICO Insurance Agency.
By Caroline Hwang
Read more: Conquer clutter for good