You don't have to be a plant whisperer to create the landscape of your dreams.
In fact, by adopting a few easy strategies from outdoor pros, you can enhance your property's natural beauty, add value to your home and make it more energy efficient. Landscape designer Julie Moir Messervy, who created the property-planning app Home Outside, says, "A personalized landscape takes a home from livable to lovable."


By Danielle Blundell
---
How To Prepare Your Outdoor Furniture For Summer
With warmer weather fast approaching, your patio and garden furniture could use a little TLC to make sure it's safe and clean. Follow these simple steps:
Deep-clean the area around your furniture. Use a broom to brush away debris like leaves and cobwebs, and use a power-washer or high-powered hose nozzle to chase away the built-up dirt and grime.
Use soapy water or a PVC cleaner on plastic furniture. Remove any build-up of mold or mildew with a mold-removing spray.
Check any metal parts for rust, and give hinges a squirt of lubricant to make sure they open and close smoothly. Rust-prone metal furniture should be kept in a dry area like a shed or garage rather than being left outside indefinitely. Applying paste wax can also help protect it from the elements.
Give your wood furniture a fresh coat of oil, varnish, stain or paint. Keep it classic with a natural shade, or spice it up with bold, bright paint hues.
By K. Bothwell
---
11 Essential Lawn Mower Safety Tips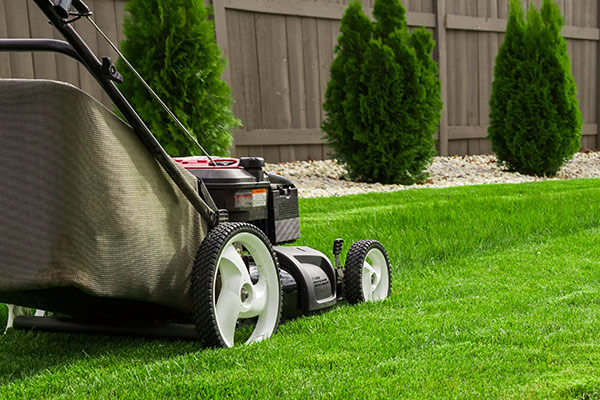 Ah, the smell of fresh-cut grass in summer. And it's even better when accompanied by the satisfaction that you've done it yourself.
But mowing your lawn doesn't come without hazards. In fact, the Consumer Product Safety Commission estimates that lawn mower use resulted in more than 90,000 emergency room visits in 2016; more than 3,000 of those visits involved children age 14 and under. Not surprisingly, the most common types of accidents involve the mower's moving parts, including the blade, as well as rollovers with riding mowers, according to the Occupational Safety and Health Administration (OSHA).
But knowing how to operate your machine properly can help reduce the risks. Here are the steps to take.
1. Prep Your Equipment
When taking your mower out of seasonal storage, get it checked at a dealer or repair shop, as it may need a tune-up, says Kris Kiser, president and CEO of the Outdoor Power Equipment Institute. Make sure the machine has plenty of oil, the blade is sharpened, the engine is working properly, and that all safety guards are undamaged and secured.

2. Fuel It Right
Your lawn mower should always be turned off and allowed to cool significantly before fueling. (Wait at least five minutes after turning the mower off, advises OSHA.) Gas is combustible, and a mower can get hot enough to potentially start a fire or burn the person fueling it.
3. Pick The Right Time
Don't mow your lawn during a storm, or even just after; wet grass is slippery, and it can clog the mower. Wait for a bright, sunny day and don't start too close to sunset, to avoid mowing in the dark.
4. Clear Your Lawn
Before you begin, check the grass for gravel, sticks or other debris, which can get caught in the blade and fly out of the machine, injuring you or bystanders. While you're at it, clear the area of pets and other people; lawn mowers can be loud, and you may not hear someone coming up behind you.
5. Delegate Wisely
The American Academy of Orthopaedic Surgeons (AAOS) recommends that children not be allowed to operate push lawn mowers until the age of 12, and shouldn't use riding mowers until they're 16. And, adds Dr. Kevin Shea of the AAOS, children should never be allowed to ride as passengers on a riding mower.
6. Dress Appropriately
No matter how hot it is outside, be sure to wear proper gear. OSHA recommends the following: close-fitting clothing; no jewelry; long pants; sturdy, nonslip boots; and safety glasses. Hearing protection is strongly advised as well.
7. Consider The Terrain
While you mow, be mindful of changes in the terrain—especially if your yard is sloped. On a riding mower, always ride up and down any slopes, says Shea; driving parallel to them increases the risk of a rollover. With push mowers, however, it's best to operate them across the slope, to reduce your chance of slipping.
8. Be Aware Of What's Happening
While some mowers are designed to be pulled backward or operate in reverse, be extra careful before doing so. "Mowers are designed to move forward, because you can best see what you're doing," says Shea. The last thing you want is to have a pet or child run into your path unnoticed. If you're operating a corded mower, he advises to always move away from the cord—never toward it.
9. Push Right
Most push mowers have a safety feature that switches the blade off when you're not holding the handle. OSHA recommends going further and turning off the engine before you walk away or do anything to your mower besides cutting grass. A running mower is never safe to work on, even if the blade is still.
10. Hands Off
In general, never get your hand close to the blade for any reason, says Shea, even when the mower is turned off. Most mowers have instructions on how to clear obstructions; consult the manual. If nothing works, he says, take it to a repair shop.
11. Quitting Time
Before you put your lawn mower away, make sure the machine is clean and free of debris, and wait till it has cooled down to reduce fire risk, says Kiser. If there's a key, remove it and take it with you.
Cut a path to GEICO and see if you could save on homeowners insurance. Go online for a fast, free quote today.
Read More: 5 Ways to Increase Your Home's Curb Appeal
By Nicole Price Fasig
---
Electric Lawn Tools Vs. Gas: Which Is Best For You?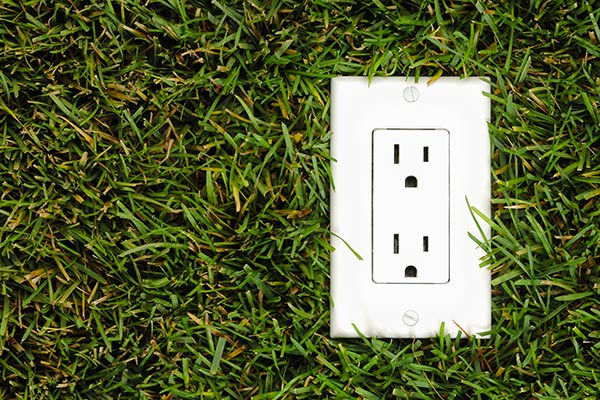 The sun is shining as you head outside to mow the grass. But instead of filling your machine with gas and yanking on a pull cord, you simply flip a switch and quietly get to work.
Electric cars may be getting the buzz, but they're not the only things transitioning from gas. A growing number of electric machines have hit the market to help you do something very different: keep your lawn looking great.
The U.S. still has about 121 million pieces of gasoline-powered lawn and garden equipment, according to the EPA. And while electric lawn mowers, trimmers and leaf blowers may not have been widely adopted yet, they've attracted a loyal following.
The reason? They can be quieter, easier to maintain and more affordable in the long run. They're also better for the environment. The EPA says that emissions from gas-powered lawn equipment are responsible for 12 percent of the nation's carbon monoxide emissions.
But electric lawn tools come with trade-offs, including higher up-front costs and less power. So which is right for you? "You have pros and cons with both gas and electric," says Gene Caballero, co-founder of GreenPal, a Nashville-based lawn care company. Gas equipment gives him the high power and fill-and-go ability he needs for his business. But he believes that, for home use, the technology of electric tools has caught up.
Here are some key details on a few of the most popular home lawn care machines.
Lawn Mowers
In recent years, electric mowers have become more powerful, and their batteries last longer than before; they can now go toe-to-toe with many gas mowers available for home use, says Caballero. There are a couple caveats: You may have trouble finishing a larger lawn on a single charge. Also, electric mowers are more expensive to buy (though costs vary depending on factors like engine size). The flip side, of course, is that it costs less to charge the mower than to repeatedly fill it with gasoline. "If you don't have a lot to mow," says Caballero, "and you don't let the lawn get out of hand, the electric works well."
Leaf Blowers
The pros still swear by gasoline-powered leaf blowers, says Caballero, which are roughly 50 percent more powerful than their electric counterparts. But for regular home use, he says, an electric is probably fine. Before he started GreenPal, Caballero used an electric leaf blower at his home and liked its lightweight and quiet motor. The other upside to electric blowers is a substantial difference in price: It's around $200 to buy a gas model, while electric ones can cost as little as $20.
Trimmers
You also have a choice when it comes to hedge trimmers and string trimmers (or weed whackers). The same tradeoffs apply as with leaf blowers: Electrics are quieter and cleaner, though typically less powerful. And they're cheaper, with popular electric trimmers going for less than $100, while gas-powered models tend to run over $300. As with leaf blowers, Caballero says the trade-offs are worth it, and electrics will work well for most people, especially if you have a small lawn and regularly maintain it.
Lawn care tools keep your lawn tidy. To keep your house safe, GEICO can help you get the homeowners insurance you need. Get a free quote today.
Read More: Want even more advice on helping your lawn look its best? Check out these 7 Easy Ways to Keep Your Lawn Greener.