When it comes to selling your home, first impressions can make or break a sale. Luckily, getting prospective buyers to notice your house doesn't have to cost a small fortune. Karli Younger, a licensed realtor with Virginia Properties, suggests five key projects (ranging from $30 to $600) that could raise your home's appraisal value—and give your home a pleasant face-lift.
Upgrade Your Front Door
If your door is old or in disrepair, consider replacing it. But if it is in good shape, repainting can be just as effective for upping curb appeal—and far less expensive. "Cost is minimal, less than $100 if you do it yourself," she says.
Choose a color that compliments your facade. "Bold and bright hues, such as turquoise and cobalt, are attention-grabbing and very popular now," says Younger. "But a charcoal black door will always appeal to the masses."
Shed Light On Your Property
Exterior lighting makes a home look regal at night. But path lights, flood lights and lampposts also have a safety side benefit: they increase visibility and beef up your home's security.
"New front door sconces and a few lamp posts can be done relatively inexpensively, around a few hundred dollars," says Younger. Depending on the fixture, lighting can also be easy to install. Consider solar-powered path lights, which cost around $30 to $50 each. Simply stick these into the ground in a sunny spot—no wiring necessary.

De-Grime Your Driveway
Even your driveway can make a style statement. If you can't afford brick or cobblestone pavers, just have your asphalt or concrete driveway cleaned and sealed, says Younger. It will only set you back about $400 to $600 but makes a big visual impact.
Over time, dirt, and the dust can also make other surfaces on your home dingy. "Spend the extra couple hundred of dollars to have your house, walkway and front porch pressure washed, too," says Younger.
Satisfying Pressure Washing in 15 Minutes or Less
Materials:
– Area to clean
– Closed-toe shoes or boots
– Power washer
– Round washer attachment
– Cleaning solution (if desired)
Instructions/Tips:
1. Make sure area to be cleaned is clear of large items.
2. While wearing boots and other desired safety equipment, use light pressure to wet the surface to be cleaned.
3. To avoid lines when cleaning the ground, get a circular attachment. This helps avoid streaks.
4. Use even strokes and pressure going from one area to another to clean the space.
5. Let dry before moving back any large items.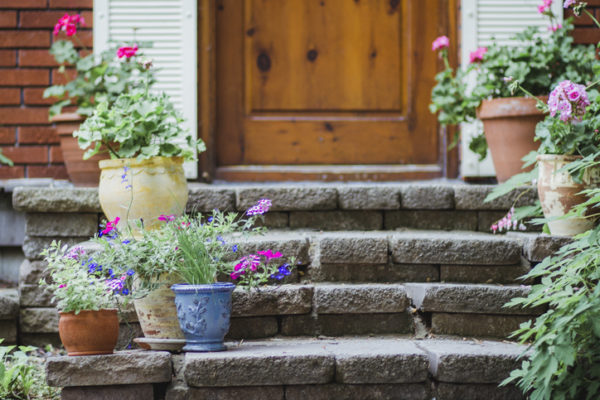 Get Your Green Thumb On
A lush lawn is the holy grail of curb appeal, but you can cover a lot of ground with a mower and a container garden. Younger suggests adding a few fresh potted plants to your porch or front entry as well as planting seasonal flowers in the ground or in a window box.
It's also important to regularly trim shrubs and mow and edge the yard, for an overall fresh look. (Check out these 7 easy ways to keep your lawn greener.)
Wash Your Windows
Sparkling, streak-free windows can brighten up exteriors, even on a cloudy day. All it takes, says Younger, is a little bit of cleanser and elbow grease.
Remember that an eye-catching exterior will make potential buyers want to see what's inside. No one has to know that you didn't spend a lot to make your home the belle of the block.
---
Now that you've invested time and money into your home's curb appeal, protect your investment by getting a quote on homeowners insurance. 
By Danielle Blundell
Next article: 5 Wow-Worthy Outdoor Kitchen Upgrades