Sophisticated cabinets. An inviting color palette. Striking countertops.
When it comes to remodeling your home, you don't need a large budget to create a sense of elegance in your favorite rooms. According to Katie Skoloff, principal designer and founder of In Site Designs, there are easy ways to add value to your home and freshen up its look at the same time. "It's a double win for homeowners," she says.
1. Revamp Your Cabinets
Kitchen upgrades are sure ways to increase a home's value, but not everyone has the time—or the budget—for a full-on kitchen makeover. One of Skoloff's favorite secrets is to paint or stain the cabinets, which can make the room feel fresh and modern.
"When you're trying to make your house look a little bit 'richer,' think of how you get dressed," says Karen Gray-Plaisted, principal owner and lead decorator at Design Solutions KGP. "You have your basics, and then you add jewelry, accessories, a jacket, etc.—with a house, it's the same thing."
Like a statement necklace paired with the right dress, a stylish new coat of paint on the cabinets can enhance the whole room. Gray-Plaisted recommends darker colors (black or navy) on the lower cabinets and lighter colors (white, light gray) on the upper to create a sophisticated appearance.

2. Pull A Fast One
When it comes to knobs on those cabinets, says Skoloff, brass and polished metal are dressier elements that can light up a room. Use brass knobs to add elegance to cabinets, doors and drawers for $5 (or less) each. They're simple to install yourself, making this a home upgrade that's both affordable and easy. For those who find brass a bit old-fashioned, Skoloff recommends knobs made of brushed nickel. Another option is to forgo knobs in favor of handles, or "pulls," which she says give your cabinets more substance.
3. Go Concrete
For years, granite or marble countertops have been the go-to choice for a kitchen remodel, but lately a surprising newcomer has challenged them: concrete. It can be just as attractive, says Gray-Plaisted, and it's far more affordable than marble or granite.
Skoloff agrees that concrete can look great, though she warns that it does show wear over time, meaning it may not be perfect for homeowners who always want their kitchen to look brand-new. If you think weathered materials give a kitchen extra character, however, concrete may be right for you. Skoloff also cautions that it's important to choose a contractor who has experience installing the material.
4. Hit The Roof
Few things make a home look statelier than a slate roof, but real slate comes with a steep price. For homeowners who want the same style at a lower price point, Skoloff recommends synthetic slate. While this is still not cheap, she says its durability offers a "great bang for your buck."
When opting for synthetic slate, it pays to do your research so you can choose the best type for your needs. Skoloff prefers look-alike slate shingles made of rubber and/or plastic (as opposed to asphalt), especially for homes in areas with lots of snowfall and hail, as these materials are more resistant to the elements. Plus, she says, "they're lighter, they look fantastic, and they're often made out of recycled material."
---
Bonus: DIY Mirror
Brought to you by Nifty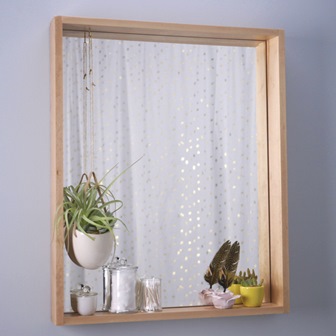 Want to add another low-cost touch of class to your bathroom? Make your own mirror! Here's how:
Measure your raw bathroom mirror
Cut wood in a miter box, using clamps to secure
End up with four pieces of wood total
Stain wood and let it dry
Align two pieces of wood and drill two holes
Screw the wood together
Hammer in frame hangers
Attach eye hook
Drill screws into bathroom wall
Hang frame
---
Know what else is great for your home? Contacting the GEICO Insurance Agency for a free quote on homeowners insurance or renters insurance today.
Read More: Feeling ambitious? These 4 Pro Secrets For DIY House Painting can also help you add value to your home.