Installing a fence—one of the easier upgrades you can make to your yard—can provide several benefits. It can give you increased privacy and block an unsightly view, or help define your property boundaries. And a fence that's tall enough could help keep children and pets in the yard while helping to keep burglars and animals out.
The right fence can also be a stylish design element that could add value to your home. "A fence can definitely make an impact with a potential buyer," says Britt Lopez, realtor with Dallas City Center Realtors. "Just be sure it's in good condition."
But before you put a stake in the ground and install a fence in your yard, there are some things to consider. Here's how Richard Novigrod, owner of Texas-based Sierra Fence, recommends going about it.

Choose Your Fence Material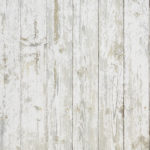 Wood
A wood fence can offer increased privacy while giving your yard a homey feel; plus, you can customize the look with paint or stain. However, a wood fence will require maintenance and can be susceptible to damage by insects.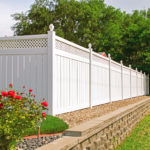 Vinyl
This alternative to wood is also great for privacy and requires virtually no maintenance, and you won't have to worry about insect attacks. But vinyl can be more expensive and more fragile than wood, and it doesn't offer wood's natural feel.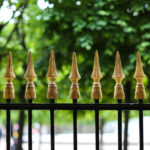 Metal
Though it won't offer privacy, a fence made of powder-coated aluminum or galvanized steel bars can be a stylish addition that makes your property feel more spacious. The upfront costs may be higher than for wood or vinyl, but aluminum is a durable option that won't require maintenance.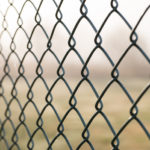 Wire mesh
While it doesn't offer much in the way of privacy or style, this is a low-cost material that's popular in urban areas right now.
Choose A Fence Style
Vertical fences can be as simple as side-by-side wood planks. To add some pizzazz, add lattice or wire mesh to the top.
Horizontal fences offer a modern look that complements bungalows and ranch-style homes especially well. Create depth by adding spaces or gaps of different widths between boards.
Get Permissions
Some cities require permits for fence installation, and homeowners associations may have regulations about a fence's material, style and height. For small yards, the permission may be as simple as calling 811 to check for underground wires and pipes (the law requires that you call 48 to 72 hours before digging). It's also a good idea to check with your neighbors to make sure they don't have issues with property boundaries. If you're lucky, they might even pitch in financially. "Approach your neighbor with the shared cost of the common fence between you," says Novigrod. "It doesn't hurt to ask."
Get A Land Survey
In most cases, fences are installed along property lines, but if there's no existing fence, it may be difficult to know exactly where your land ends and someone else's begins. Property corners are usually marked with half-inch metal rods driven into the ground, but over time, these can get buried. "Sometimes property lines are hard to find," says Novigrod. "I recommend getting a fresh survey if property points can't be found and the location of property lines can't be determined."
DIY vs. Hiring A Fence Company
You can save money by building a fence yourself, but it's not as easy as you might think. You need to keep everything plumb, make sure the holes are deep enough, and ensure that the fence won't blow over in a storm. While it's possible to install a fence yourself, the savings may not outweigh the hours of work.
Ask The Contractors Questions
For wood fences, ask them to specify the grade and type of lumber—and to explain the difference.
Make sure they use sturdy posts that are set in the ground in cement.
If you're replacing an existing fence, removal and disposal of the old fence is usually included, but it's a good idea to double-check.
Make sure the company carries insurance, in case someone gets injured on the job.
Feeling fenced in with home insurance? See if you could save money with homeowners insurance through the GEICO Insurance Agency. Get a fast, free quote now.
Read more: How To Host The Ultimate Backyard Party
By Ellise Pierce