Own too many outfits and accessories? Make the most of your mess of a closet with these handy tips designed to maximize space, improve storage, and organize your wardrobe.
1. Buy Tiered Hangers.
Normal hangers let you hang up one item of clothing. Tiered hangers, on the other hand, boast multiple wire bars, clips, or hooks. This ingenious design allows you to attach several skirts, shirts, or pairs of pants to one hanger. That way, you can save valuable space on your closet rod for, well, even more hangers. Tiered hangers are available at most big-box home goods stores and come in multiple styles and shapes.
2. Use A Pegboard To Hang Bags, Scarves, And Jewelry.
Pegboard is a type of perforated hardboard that's covered in small, evenly-spaced holes. It's sold at your local hardware store and is generally available in 2-by-4-foot, 4-by-8-foot, and 4-by-4-foot sections. (If you want, you can also have it cut into smaller parts.) Make a wooden frame from 1-by-2 pieces of wood, and attach it to your closet door or walls using a screw gun and wall anchors. Use wooden screws and washers to mount the pegboard onto the frame. Add hooks and rods for hanging, and voilà—you have a surface that's perfect for storing jewelry, bags, and scarves.

3. Add A Second Closet Rod.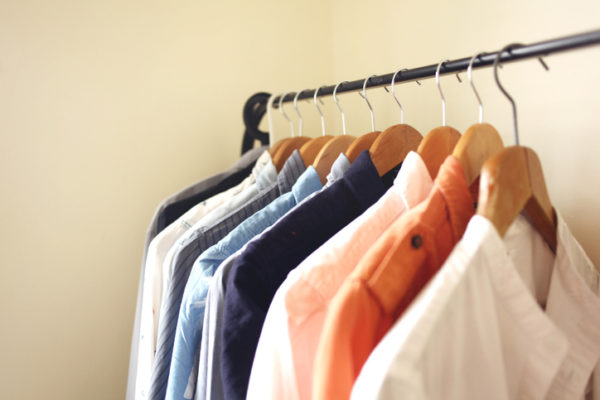 Use a hanging rail to create a makeshift second rod for hanging clothes. It's great for short items like skirts, shorts, and crop tops, and fits easily underneath the rod that's already installed in your closet.
4. Hang An Over-The-Door Shoe Rack.
Instead of tossing pairs of unworn shoes on the floor, purchase a shoe rack that can be hung over the back of your closet door. It's a simple way to utilize a surface that's seldom used—plus it means you won't be tripping over that pair of sneakers you bought last week.
5. Install Shelves.
Blessed with high ceilings? Take advantage of unused vertical space by installing shelves along the walls of your closet, or right above the closet rod. Get some boxes or baskets, and use them to store odds and ends that you don't have a place for anywhere else.
6. Use Shelf Dividers.
Shelf dividers let you transform wide shelves into tight cubbies. These makeshift nooks are great for storing folded stacks of sweaters, blouses, or pants.
7. Replace The Closet Door With A Curtain.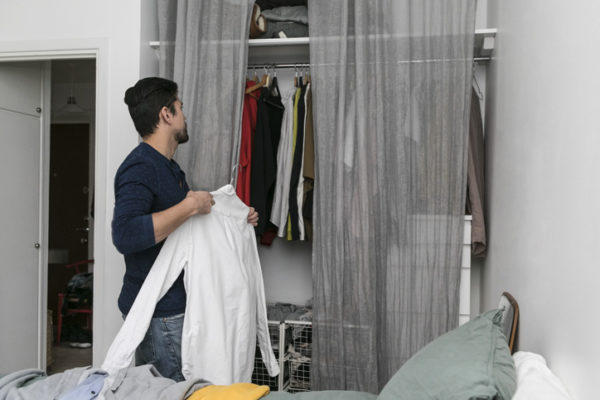 If you have a tiny room, consider replacing your closet door with a curtain. This trick adds a few inches of extra space to cramped quarters. It's also a good way to accommodate a bulging wardrobe.
Now that you've organized, your home may be ready for a face-lift! Here are 8 Home Makeover Projects You Can Tackle This Weekend.
Got stuff? Make sure it's covered from things like fire, theft, and water damage. Get a homeowners or renters insurance quote today.