Amidst the hustle and bustle leading up to the holidays, it's easy to get caught up in the shopping frenzy. The feeling is all too familiar—where the main concerns become making it to the right shops in time, getting our hands on the right gifts, and making it out before we've spent too much money. As you hop from store to store, you're probably watching your accounts to make sure your purchases are still within budget. But there's more to keep an eye on … like protecting your identity.
In 2018 alone the Federal Trade Commission received more than 2.5 million reports from victims of identity theft. Additionally, experts suggest that there is a rise in identity theft around the holidays because there are more opportunities for thefts to occur unnoticed. Pickpockets and other identity criminals are in full force during the holidays … and they are everywhere. While staying a few steps ahead of them is critical, having the right plan of attack is equally important in the event something slips through the cracks. Thankfully, the team at the GEICO Insurance Agency can help with Identity Theft Protection designed to prevent, detect, and resolve fraudulent activity.
Chances are, you've been advised to destroy old paper documents that contain sensitive information, and to do so in a secure environment. The truth is, we live in a digital age, and by shredding documents containing personal information, you're really just scratching the surface.
Make your holiday season safe and enjoyable by following these helpful tips wherever you are.

---
Out In Public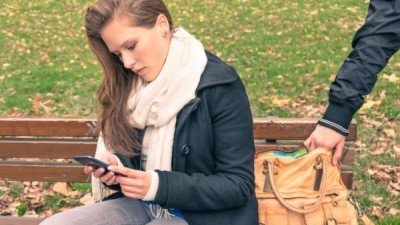 Crowded malls and sidewalks provide ample opportunities for thieves to nab your wallet and bank cards, not to mention other personal information. While you're out and about, remember:
Carry a wallet equipped with RFID (Radio Frequency Identification) blocking capability. RFID technology allows credit cards to be read without having to swipe them through a machine. Having an RFID blocking wallet will help prevent thieves from picking up your credit card info through your jacket or purse.
Protect your belongings. With all of the distractions in a busy store, it's easy to forget to secure your wallet. Pickpockets thrive in a crowd, so limit the amount of personal data you carry with you. This includes not carrying around your Social Security number and checkbook.
When in doubt, make purchases via credit rather than debit. The bottom line is, if a fraudulent charge is made, getting your money back is a less arduous process with credit than with debit.
Avoid non-bank-affiliated ATMs. You never know who's really handling your money or your bank information when you use an ATM, unless it operates under a legitimate bank. Always look for familiar banking institution emblems.
Keep an eye on those around you, especially at places like the ATM machine and checkout line. You never know who could be standing behind you in line watching you key in your PIN number.
Make sure you get all your cards back after making a purchase and watch that your credit card is swiped only once. Don't forget to keep all of your receipts in a safe place.
---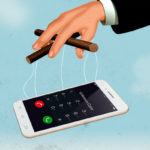 When you want to compare prices or check your bank accounts on the go, it's nice to know that because of today's smartphones, you have the world at your fingertips. Remember, just because you're the only one that uses your smartphone, doesn't mean it's not susceptible to prying eyes. Sticking to a few rules of thumb will help keep your personal information personal:
Avoid using public Wi-Fi connections. Hackers can use public networks to get full access to unsecured devices on the same network, like your smartphone. Not only that, they use an unsecured network to distribute malware.
Close phone apps after you're done using them. Even though you don't see them up on your screen, doesn't mean they're not still running—and if they're still running, hackers still have access to data stored within them. Another option is to just remove sensitive apps like those you use for banking altogether during the holiday season.
Delete your browsing and cookie history to avoid password or PIN capture. The last thing you want is for a crook to have the keys to your castles.
---
Online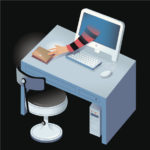 Shopping online from the comfort of home or from a cozy coffee shop has become a favorite way to shop. And why not, when you can avoid the long lines and traffic altogether? Shopping this way can be extremely convenient, but you should remain cautious. The internet can be an open range for savvy identity thieves to prey on vulnerable customers, especially when credit information and other sensitive data are constantly being sent electronically. Here are some tips to keep in mind before browsing the web for holiday deals:
Shop only from companies you know and trust. Period.
Ensure the websites you are on are secure and legitimate. Phishing scams are one way identity thieves can try to steal your personal information online. Making sure that a website is encrypted over a secure connection is easy. When its URL begins with https (as opposed to just http), your network is secure. Also, look for a "Lock" icon displayed in the address bar before or after the URL. You can see more detailed info by clicking it.
Update all your anti-virus and anti-spyware programs and, again, avoid doing your online shopping at wireless hotspots where your network might not be secure.
---
At Home
You can be susceptible to identity theft even in the privacy of your home. An identity crook needs little more than your Social Security number, bank information, or a pre-approved credit application to steal your identity. Here are a few ways to safeguard your personal information while at home:
Mail
Your inbound and outbound mail has more personal information than you may realize. To protect yourself, always be sure to:
Remove your mail from your mailbox daily. If you are going to be away for a period of time, have the post office hold your mail or have a trusted friend or neighbor pick it up. If possible, you should also consider having a lock on your mailbox.
Shred all unwanted documents. Bank statements, credit card bills, and insurance policy renewal notices can get lost between all of the other mail you get during the holidays. Dumpster diving is a common way identity thieves can get access to these documents, so simply throwing them in the trash is not enough. If it identifies you and you don't need it—shred it.
Take all checks and mail with account information directly to the post office, or a secure mailbox to prevent a thief from taking it from your mailbox.
Phone Calls
The holidays are a common time for charities to ask for donations over the phone.  But not all calls are from legitimate sources. An identity thief could pretend to be soliciting a donation for a charity, or act as a representative from your credit card company. Never give out your financial information over the phone when someone calls you. If you'd like to make a donation, contact the organization yourself to ensure your gift is getting to those it was intended for.
---
Go into this holiday season protected, so you can spend it enjoying things that bring you joy instead. Safeguard your credit and identity with GEICO Portfolio Identity Protection from Generali Global Assistance, Inc. Plans begin as low as $7.99/month or $79 annually.
By Steven Scott