One afternoon. That's all the time you may need to give your RV's interior a makeover. Even better, it's an easy DIY project, so you can do it on the cheap. Whether you're updating an older RV or giving some flair to a newer model, simple tweaks can provide a big bang for your buck.
So says Kathy Shute of TrekWithUs.com. She and her husband, Rich, love roaming the country in their RV—and they've tricked out every element of their ride to suit their lifestyle. "We both love DIY projects and come from 'can do' New England backgrounds," explains Kathy. "And I have an Interior Design Certificate, so it's fun to use that training in our RV." Here are her tips to help get you rolling in style—without breaking the bank.
Add A Modern Backsplash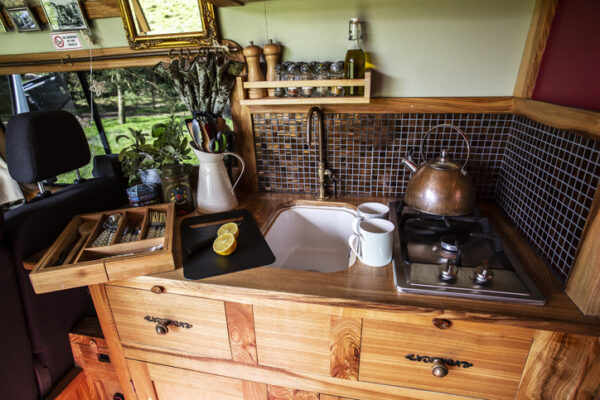 Installing countertops requires a certain level of skill. But a dazzling backsplash—made of glass, ceramic subway tile, or weathered stone—can be popped into place in an afternoon, thanks to the availability of adhesive backing, counsels Kathy.
Just Add Color
"If you're concerned about getting paint to adhere to your vinyl walls, you're not alone," Kathy says. "Both vinyl and wood-veneer walls are trickier to paint than standard wallboard, due to their slippery nature." The secret, she explains, is using a primer specially formulated for your specific surface, be it vinyl or veneer.

Go Crazy With Mirrors
Reflective surfaces truly make a small space feel bigger; Rich and Kathy say they've found that mirrors can also act like extra windows, by amplifying existing light.
Embrace Vertical Storage
Simple shelves, hanging rods, hooks and cubbies make every inch count. "We've maximized storage in our kitchen and closets and created custom cubbies from lightweight foam," says Kathy. She recommends hitting up the dorm-decor section of big-box stores for affordable, contemporary storage options. (Get more storage solution ideas for your RV at the KOA blog here.)
Upgrade Your Flooring
Want major wow factor? Peel-and-stick flooring will completely transform your interior, says Kathy. Since she and Rich spend a lot of time in muddy campgrounds, they opted for long-wearing (and stain-hiding) carpet tiles—but she says you can also give your space a beach-house vibe with vinyl designed to mimic wide wooden planks.
Give Your Shower Some Power
"We both enjoy a hot and strong shower in the morning," says Kathy, so replacing their old showerhead with a modern model was a game-changer. "We found one that mixes water with air, to turn even low water pressure into a nice strong shower," she says. Now, no matter where she and Rich are, they can start their day off right.
Re-cover Your Cushions
There's a whole universe of charming (and maintenance-free) laminated fabrics and oilcloth options online that can boost the aesthetic of your built-in seating, advises Kathy. "We chose to match our sofa cushions with our bedspread," she adds. "It makes for a seamless, cohesive look."
Let In The Light
Heavy brown valances and synthetic blinds were weighing down their windows, says Kathy. So she and Rich re-covered their valances in a pale, natural-colored linen and complemented them with DIY curtains from the same fabric. While this was a more complicated project that involved some skilled sewing, they felt it was worth the time and effort. "It minimized the valances to create a cleaner look," resulting in less of a separation between the living space and the great outdoors, Kathy explains.
Now that you've saved on upgrading your RV, see how much you could save on RV insurance from geico.com.
Read More: Get more expert design tips for redecorating and upgrading your RV at the KOA blog.