Everyone loves a BBQ. But all the prep work and cleaning up afterward? Not so much. Acquiring some expert entertaining strategies will help you avoid fails—so you can focus on fun. "Prepping the night before is essential to an easy and enjoyable party for hosts," says food and lifestyle expert Chadwick Boyd. Use these tips to make your next barbecue run smoothly and safely.
Prep Smarter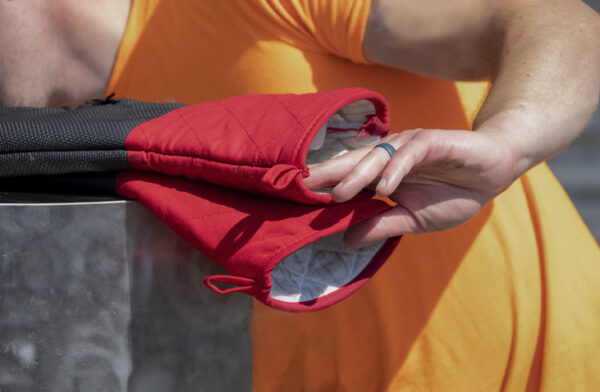 Boyd recommends making your own marinade, but don't leave raw meat sitting in it for too long. "Acidic ingredients like vinegar and lemon juice tend to 'cook' raw food overnight and make them mushy or tough before cooking," he says. Instead, marinate poultry and other meat for no more than two hours; marinate fish just 20 minutes. Meats in dry rubs, on the other hand, can sit overnight. Shake and seal the seasoned meat in re-sealable plastic bags. (He recommends this simple recipe for beet and beef kebabs.) It's also a good idea to steam veggies for about 10 minutes while the grill is pre-heating.
Dress To Grill
Wearing the right protective gear can help you cook with confidence. Boyd likes silicone mitts and gloves because they're pliable and not too bulky—perfect for keeping a tight grip on the grill hood, and when shifting kebabs on the grill. But don't stop at your arms. "Wear close-toe shoes when grilling to avoid grease burns or stepping on hot coal fragments," says Stuart Meyer, CEO of the National Barbecue and Grilling Association.

Clean Green
The Centers for Disease Control and Prevention released a report showing that some people accidentally ingest loose wire-brush bristles, which can stick to the grill after cleaning and get stuck in food as it cooks. (Ouch!) Follow Boyd's lead, and clean your grill by scraping the grates with a metal spatula after you are done cooking and the grill is turned off. The excess will come off with warm soapy water and a thick rag after the grate cools.
Create A Safety Zone
"Children, pets and anything that can burn should be kept at least three feet away from the grill or fire pit," says Lorraine Carli, the National Fire Protection Association's vice president of outreach and advocacy. In the event of a gas grill fire, Carli recommends closing the cover, shutting off fuel and calling 911. For a charcoal grill fire, use a garden hose if it's safe to do so to put out the blaze.
Time It Right
It's easy for hosts to get distracted and allow food to burn or dry out, especially when they are cooking over an open flame. "It's a party, and that invariably leads to forgetting how long food has been on the grill," Boyd says. A timer is a quick, affordable solution.
Roll Out A Grill Mat
These heat-resistant pads lie flat under the grill to catch fallen embers that can smolder underfoot. "This is also a great way to prevent stains and the risk of fire damage, especially on wood decks," Meyer says.
Get a quote on homeowners insurance coverage that protects your personal belongings as well as your property. Planning to grill on the go?
By Kelly Beamon