No tailgate would be complete without a buffet of tasty snacks at the ready. Trying to figure out what to serve ahead of the big game? Consider a menu that mixes classic offerings with unexpected treats.
1. Cheesy Hasselback Garlic Bread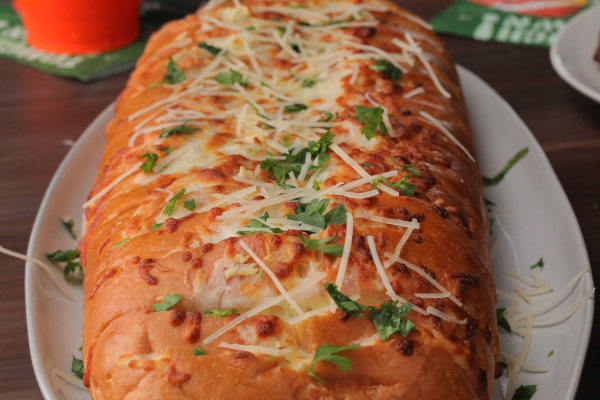 You may have heard of the Hasselback technique for potatoes—making thin, partial slices (not going all the way through), so the end result is fanned but intact. Do the same for a loaf of bread, add garlic butter, cheese, parsley and voilà! A quick, mouth-watering appetizer that's sure to be a pre-game hit.
Servings: 8
Ingredients
1 large loaf soft Italian bread
½ cup melted butter
6 cloves garlic, minced
1 teaspoon salt
2 cups shredded cheese (mix of mozzarella and Monterey Jack)
½ cup shredded Parmesan
2 tablespoons minced parsley
Preparation
Preheat grill to medium high.
Using a serrated knife, cut ¾-inch slices in the bread, without cutting all the way through,
so the loaf stays intact (similar to a hasselback potato).
Mix together melted butter, minced garlic, and salt. Use a pastry brush to spread the
garlic butter in between each slice of bread.
Place shredded cheese in between each slice. Brush more garlic butter over the whole
loaf. Cover with aluminum foil and place on grill, closing the grill lid. Grill loaf for 5
minutes, then uncover loaf and grill for another 3 minutes until golden brown.
Sprinkle bread with shredded parmesan and parsley.
2. Buffalo Chicken Egg Rolls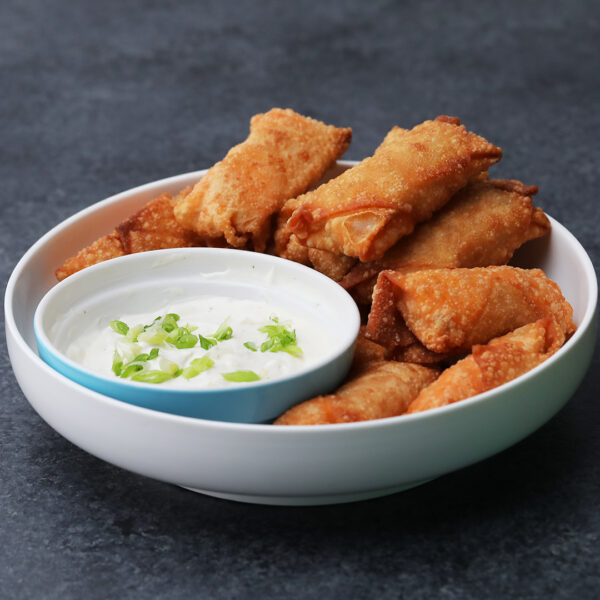 Servings: 8-10
Ingredients
1 cup shredded cooked chicken
8 ounces softened cream cheese
⅓ cup buffalo hot sauce
⅔ cup shredded cheddar cheese
2 scallions, thinly sliced, plus more for garnish
8–10 egg roll wrappers
½ cup sour cream
3 tablespoons ranch dressing
¼ cup crumbled blue cheese
Preparation
1. Mix together chicken, cream cheese, buffalo hot sauce, and cheddar cheese. Fold inscallions.
2. On a cutting board, position egg roll wrappers in a diamond shape. At the bottom of the diamond, lay out a few spoonfuls of buffalo chicken. Starting at the bottom, roll up the wrapper, covering the filling. At the halfway point, fold in the right and left sides, then continue rolling. Wet the top corner with a bit of water to seal.
3. Heat approximately 3 inches of vegetable oil in a pot until it reaches 350ºF. Fry the egg rolls in small batches until they are golden brown, about 3–4 minutes. Drain on paper towels.
4. To make dipping sauce, stir together sour cream, ranch dressing, and blue cheese. Garnish dip with more sliced scallions. Serve!

3. Honey BBQ Chicken Nachos
Servings: 4-5
Ingredients
Sauce
1 ½ cups ketchup
¼ cup water
½ cup apple cider vinegar
¼ cup honey
2 ½ teaspoons salt
1 ½ teaspoon chili powder
1 ½ teaspoon cumin
1 teaspoon pepper
Nachos
1 rotisserie chicken, shredded
1 bag tortilla chips
8 ounces shredded monterey jack cheese
2 scallions, thinly sliced
2 tablespoons minced cilantro
Preparation
1. Preheat oven to 400ºF.
2. Make barbecue sauce by simmering all of the sauce ingredients in a saucepan oven medium-low heat for 5 minutes, whisking occasionally until slightly thickened and smooth. Set aside ½ a cup of sauce for later.
3. Toss shredded chicken with the rest of the barbeque sauce.
4. Use a cast-iron skillet to assemble the nachos. Place down a layer of tortilla chips, followed by a layer of barbecue chicken. Top with a heavy sprinkle of cheese. Repeat chips, chicken, and cheese layering until the pan is full.
5. Bake for 5–7 minutes until cheese is melted.
6. Garnish with scallions and cilantro and drizzle with reserved barbecue sauce. Enjoy!
4. Deviled Eggs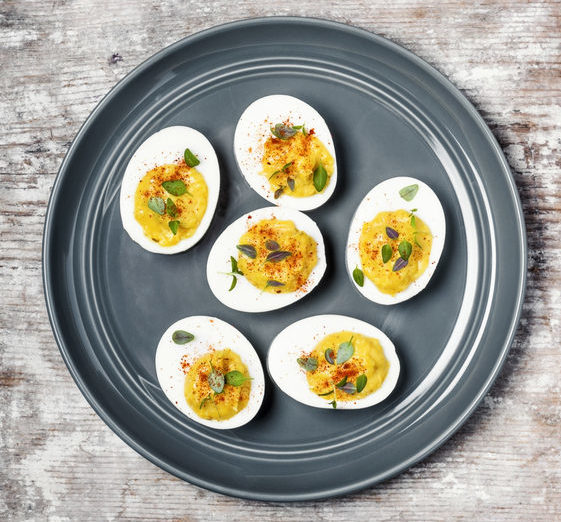 Deviled eggs aren't just for ladies who lunch—they're also an ideal finger food to serve at tailgates. After hard-boiling eggs, cut them in half lengthwise to scoop out the yolks. Mix the yolks with mayonnaise, mustard, Worcestershire sauce, hot sauce, paprika, salt, and pepper. Scoop the filling back into the egg whites, and enjoy.
5. Cheesy Artichoke Dip
Using a food processor, blend artichoke hearts, mozzarella, Parmesan, minced garlic, mayonnaise, ground cumin, and hot sauce. Bake the mixture in the oven until the top is brown. Allow it to cool to room temperature, then store the dip in a container in your refrigerator until game day. Top the dip with bacon bits, and serve with crackers, pita chips, or corn chips.
6. Chili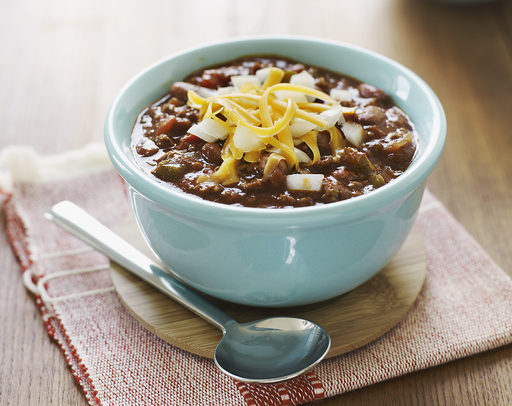 It's hard to go wrong with chili, and it's even harder to mess it up. (Make a practice batch if you're nervous—otherwise, just taste as you go!) First, grab a big pot, then add browned ground beef, your favorite beans, chopped onions, and garlic, plus chili powder, tomato paste, whatever beer you have lying around, and cumin. The longer you have to let the flavors marinate and mingle, the better. Top with grated cheddar cheese and chives. Don't forget the ladle!
7. Guacamole Hummus
If the prospect of having to pick between guacamole and hummus stresses you out, consider serving this delicious hybrid. Use a food processor to blend chickpeas, avocado, olive oil, lime juice, minced garlic, salt, and pepper. Serve with pita chips, tortilla chips, baby carrots, and celery sticks.
---
No tailgate party is complete without amazing food, and no car or truck is complete without quality auto insurance from GEICO. Get a fast, free quote today and see how much you could save!
Read More: Prefer to host your tailgate party at home with an elaborate spread? Try these 7 Easy Game-Day Party Recipes.