For families—and chocolate lovers—there's nothing more joyful than an Easter celebration of egg-hunting and sweets-eating. Extend the holiday and help your kids indulge their artistic side by decorating your own Easter eggs for an activity the whole family can enjoy. Here's how:
Choose Your Eggs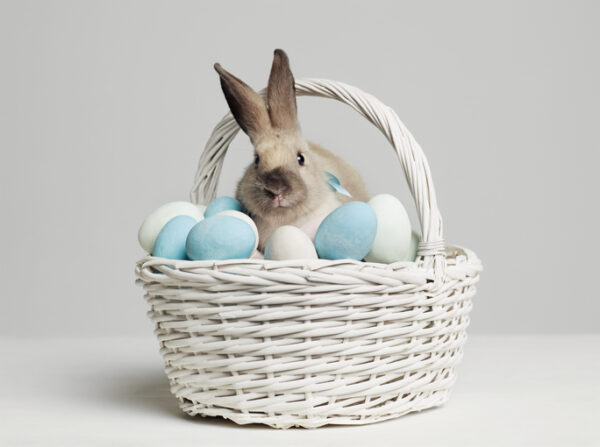 White eggs allow colors to show through more, but brown eggs can also add color variety. Before you start decorating, you'll have to decide on whether you'll use hard-boiled eggs or if you prefer to "blow" out your eggs. (Hint: hard-boiled eggs may be easier to handle for little ones, while blown-out eggs have staying power.) For the latter option, make a small hole at the top and the bottom of the egg. Reach through the hole with a pin or needle to break up the yolk. Using a small straw, blow into the hole to empty out the contents. Then rinse with water and leave to dry.
Prepare For Mess
Arts and crafts with kids is sure to get messy and time-consuming. That's why we suggest making this a weekend project before the Easter weekend. Clear the area, make lots of room for the kids, and lay out all the materials they'll need before they get started so you can focus on helping them decorate.

Work With Natural Ingredients
Younger kids love to experiment with their own sense of style, which is why working with natural dyes can be the safest route to take. Try using ingredients such as blueberries and powdered drink mix to dye eggs. It adds a fun, yummy dimension to the crafty project.
Get Fancy With Tools
Encourage kids to get creative by using tools like stencils, stickers, markers, crayons and paintbrushes. You can even help them glue embellishments like colored tissue paper, glitter and feathers for more extravagant designs.
Put Them On Display
What better way to decorate your home for Easter—particularly your dining table—than with Easter eggs designed by your own little ones! Your children will love that their artwork is the center of attention.
Ready to get creative with your leftover candy? Check out these clever dessert recipes using Easter candy.