When you wait all year for marshmallows decorated like chicks, bunny-shaped chocolates and eggs with crunchy candy shells or creamy centers, it's easy to go overboard with Easter candy. But you're not alone: more than three-quarters of American parents buy or create an Easter basket for their children, according a 2016 survey conducted by the National Confectioners Association, and the holiday is usually second only to Halloween in sugary sales.
If you've eaten all you can but still have a bag or two of the bunny's bounty left over, there are plenty of ways to use it up. We asked Melanie Underwood, a former hotel and restaurant chef who teaches at the Institute of Culinary Education in New York, and has contributed to the cookbook Peeps-a-licious!: 50 Irresistibly Fun Marshmallow Creations, for some simple, ready-in-minutes recipes that transform leftover candy into new treats.
---
White Chocolate Marshmallow Fondue
"This is great because there are lots of flavors of Easter marshmallows, plus it's easy to add in other flavors with extracts or alcohol," says Underwood.
YOU'LL NEED
8 ounces white chocolate, finely chopped
½ cup heavy cream
8 Easter marshmallows of your choice, cut in half
Pretzels, more marshmallows, and fruit (dried or fresh) for dipping
HOW TO MAKE IT
In a medium saucepan, combine the white chocolate, heavy cream and Easter marshmallows. Place over medium low heat, stirring constantly until the white chocolate and marshmallows melt, about four to five minutes. Remove from heat and place in a small bowl. Serve with pretzels, more marshmallows and fruit.

---
Quick Chocolate Pudding
Overrun by chocolate bunnies? Cupboards bursting with cream-filled eggs? Stir them into a simple pudding. "Any leftover chocolate candy can be used—filled, with nuts, et cetera," says Underwood.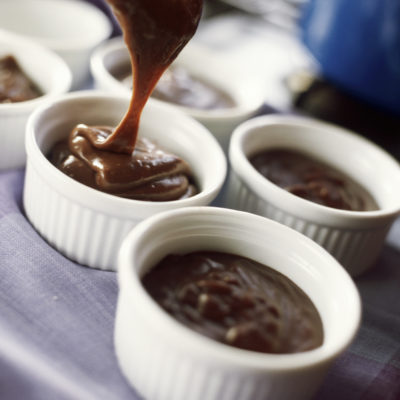 YOU'LL NEED
¼ cup sugar
3 tablespoons cornstarch
3 cups milk
6 ounces assorted chocolate candy, chopped
HOW TO MAKE IT
In a medium saucepan, whisk together sugar and cornstarch. Whisk in milk. Place over medium-high heat and whisk constantly until the mixture begins to boil, about five minutes. Continue to cook another minute. Remove from heat and whisk in chopped chocolate candy until completely melted. Divide among four serving bowls, cover tightly with plastic wrap and refrigerate until ready to serve.
---
Candy Milkshake
Try using different kinds of leftover candy with different flavors of ice cream to mix up this nostalgic dessert.
YOU'LL NEED
1 pint vanilla or chocolate ice cream
¾ to 1 cup milk
1¼ cups chopped leftover Easter candy
HOW TO MAKE IT
In a blender, combine the ice cream, milk (three-fourths of a cup for a thicker shake; one cup for a thinner one) and one cup of candy and blend until almost smooth. "You want a little texture to the milkshake, so don't blend completely smooth," says Underwood. Pour into two glasses and top with remaining candy.
---
BONUS:
The absolute easiest way to use up your candy, according to Underwood, is to stir it into a favorite brownie or blondie recipe or mix. "I layer all types of candies between the [brownie or blondie] batter," she says. "I've used hard candies, jelly beans, marshmallows, candy bars." Happy baking—and eating.
Candy isn't the only food that might need using up. Check out these surprisingly smart food swaps to find out how to work more fruits and vegetables into your everyday dishes.