Need alternatives to trick-or-treat candy? These fun Halloween-themed recipes are sure to be hits with the whole family!
Green Apple Monsters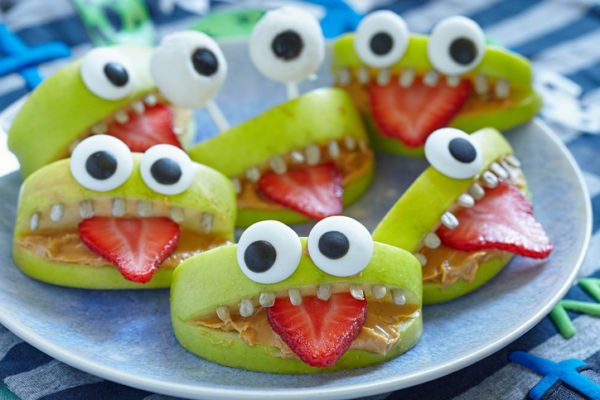 What you'll need:
Green apples
Peanut butter
Sunflower seeds
Strawberries
Googly eyes (non-edible) or fondant (edible)
---

Banana Ghosts & Tangerine Pumpkins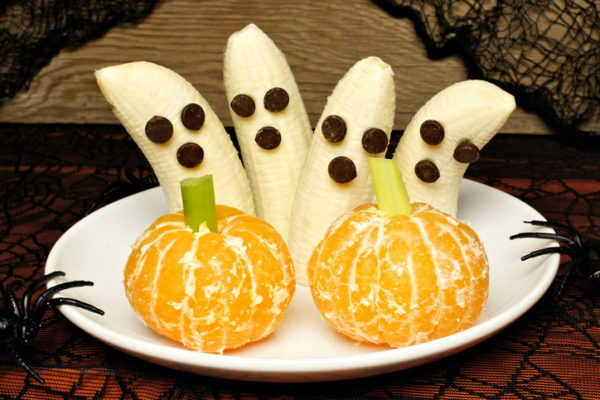 What you'll need:
Bananas
Chocolate chips
Tangerines
Celery sticks
---
Mummy Dogs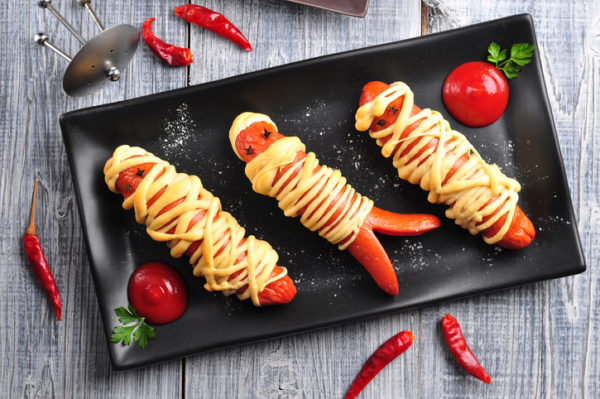 Servings: 6
Ingredients
1 (8-ounce) tube of crescent roll dough
6 hot dogs
Yellow mustard, for decorating
Preparation
Preheat the oven to 375°F (190°C).
Roll out the crescent roll dough. Cut the dough into 4 rectangles, pressing the perforations together to seal. Using a paring knife, cut the dough into long, thin strips.
Wrap the dough strips around the hot dogs, leaving a small open space for eyes near the top ends. Place on a baking sheet.
Bake the hot dogs for 11–14 minutes, until golden brown. Remove from the oven and let cool slightly.
Add 2 dots of yellow mustard to each hot dog for eyes, then serve.
Enjoy!
---
Guacamonsters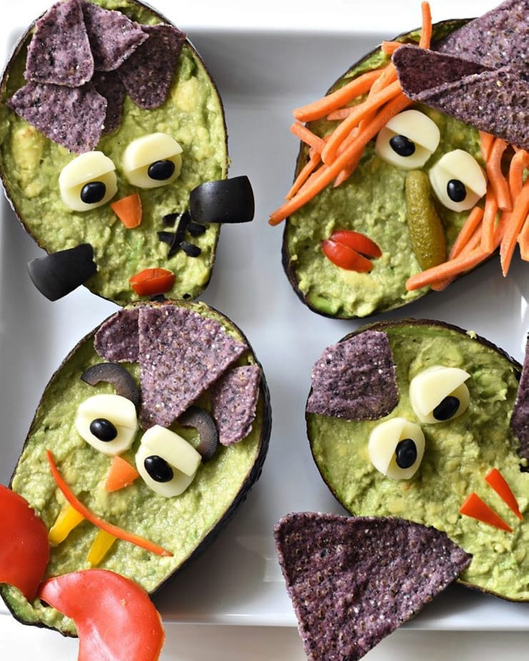 What you'll need:
For guacamole: avocados, lime juice, garlic, sea salt
For garnish (your choice): blue corn chips, shredded carrots, olives, string cheese, black beans, bell pepper
---
Peanut Butter Mummies
Makes 12 cookies
Ingredients
12 ounces white candy melts
12 peanut butter sandwich cookies
12–24 candy eyes
Preparation
Melt the candy melts in a double boiler or in the microwave in 30-second increments at 50% power. Stir until smooth.
Dunk the peanut butter cookies in melted candy, coating both sides. Transfer to a sheet of parchment paper and use a spoon to ensure the cookies are entirely covered.
Place 1 or 2 candy eyes on each cookie.
Using a fork, drizzle melted candy from side to side over each cookie to create a bandaged look.
Let set completely before serving.
Enjoy!
---
Ghoul and Ghost Dippers
Servings: 8
Ingredients
14 ounces pizza dough
Kosher salt, to taste
Marinara sauce, for dipping
Preparation
Preheat the oven to 475°F (275°C).
Roll out the pizza dough until very thin. Using cookie cutters or a paring knife, cut out spooky shapes.
Transfer the shapes to a baking sheet and sprinkle with salt. Bake for 6–10 minutes, until golden brown.
Serve with marinara sauce for dipping.
Enjoy!
---
Vampire Smiles
Servings: 4
Ingredients
1 apple
12 mini marshmallows
2 tablespoons creamy peanut butter
Preparation
Slice the apple into eight wedges, creating pieces about the size of lips.
Cut 3 mini marshmallows in half crosswise and 1 in half diagonally.
Spread peanut butter on one side of an apple slice, then stick the cut marshmallows to the peanut butter to create a spooky smile. Spread peanut butter on another slice of apple and place on top of marshmallows to create a mouth.
Repeat with the remaining ingredients to create 3 more vampire smiles.
Enjoy!
---
Chocolate Cookie Spiders
Servings: 12
Ingredients
3 pieces black shoestring licorice
12 chocolate sandwich cookies
1 tablespoon chocolate frosting or melted chocolate
24 mini chocolate candies
Preparation
Cut the black shoestring licorice into 60 small pieces, about 1½ inches long.
Stick 4 pieces of black licorice into the cream filling on one side of a cookie, then stick 4 more pieces into the other side. Repeat with the remaining cookies and licorice.
Using the frosting as an adhesive, stick the mini chocolate candies onto the cookies to create eyes.
Enjoy!