Celebrate Latine Heritage Month along with Iván as he cooks one of his favorite foods in 15 minutes or less: almojabanas!
Servings: 6–8
Ingredients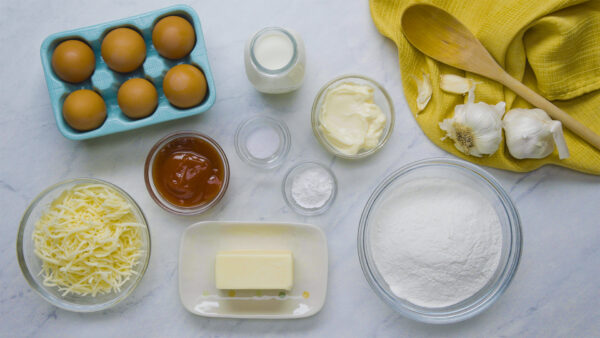 Vegetable oil, for frying
2 cups rice flour
2 teaspoons baking powder
3 large eggs
1 cup whole milk
1 teaspoon kosher salt
4 tablespoons (½ stick) unsalted butter
2½ cups grated queso blanco del país
3 tablespoons ketchup
3 tablespoons mayonnaise
1 teaspoon minced garlic
½ teaspoon salt
Preparation
1. Fill a medium pot halfway with vegetable oil. Heat over medium heat until the temperature reaches 350°F (180°C).
2. In a large bowl, whisk together the rice flour, baking powder, and eggs.
3. In a small pot, combine the milk, salt, and butter. Bring to a boil over medium heat, and cook for 3 minutes.
4. Pour the milk mixture into the bowl with the rice flour mixture, mixing continuously with a wooden spoon until smooth. Let cool for 5 minutes.
5. Add the cheese to the dough and mix until well combined.
6. Using two spoons, scoop a spoonful of the dough and carefully drop into the hot oil. Add 3–4 more balls of dough and fry until golden brown and cooked through, 1–2 minutes. Transfer to a paper towel-lined plate to drain while you repeat with the remaining dough.
7. Make the mayo-ketchup. In a small bowl whisk together the ketchup, mayonnaise, minced garlic, and salt until combined.
8. Serve warm with mayoketchup.