You know what they say about travel: it's all about the journey, until someone gets hangry! Minimize expensive pit stops and keep the joy in the journey by packing snacks for your next road trip. From granola bars to jarred salads, we have all your cravings and food-packing tips covered.
Keep It Handy
Just like lightning, it's not always obvious when hunger will strike, but you can avoid it by keeping a regularly stocked supply of non-perishable goodies in your car. Granola bars, nuts and crackers are great basics. For added nutrients, consider including a small jar of peanut butter, beef jerky and some dried or dehydrated fruit.
Tip: Store your snack pack in the main body of the car for easy access. Don't forget to include plastic utensils, napkins and wet naps for easy clean-up.
Keep It Fresh
Sticking to a budget is tough if roadside restaurants are your only options. Thankfully stocking a fresh fruit supply is simple. Hardy choices like apples, oranges and bananas keep for several days, even in a hot car, and are ideal companions for long trips. Delicate fruits like berries, peaches and plums are best packed in glass or plastic containers and stored in a cooler.
Tip: Wash all fruits and vegetables before you leave.

Keep It Green
Jarred salads are all the rage these days, and an inexpensive way to indulge in gourmet veggies on the road. Simply toss your favorite salad dressing, greens and chopped vegetables in a mason jar for a treat that comes with its own bowl. For a complete meal, add cooked quinoa or toasted bread cubes and your favorite protein—think chickpeas, shredded chicken or cheese. Involve kids in prep, so each family member gets a custom salad, and store in the cooler.
Tip: Always add salad dressing first, then top with other ingredients and store right side up. When it's time to eat, flip the jar and shake gently to distribute the dressing.
Keep It Cool
Pack the cooler with 75 percent food and 25 percent ice, with heavier items, like drinks and mason jars, at the bottom and lighter foods, like sandwiches, on top. Substantial ice packs go in first, while light gel packs can rest on top. Chill all perishable food the night before the trip—it will stay cooler for longer.
Tip: Toss frozen juice boxes and water bottles in your cooler for cooling power and a steady supply of refreshments.
---
Recipe: High-Protein Snack Boxes In 15 Minutes Or Less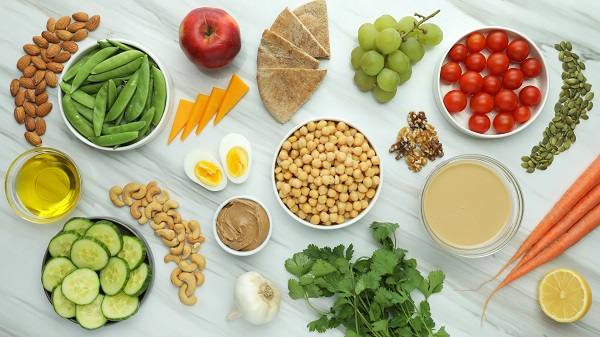 Brought to you by Tasty
Servings: 4
INGREDIENTS:
Hummus
1 can chickpeas, drained and rinsed
1 bunch cilantro, stems removed
1 clove garlic
⅔ cup tahini
¼ cup olive oil
Juice of 2 lemons
1 teaspoon salt
½ cup cold water
Assembly
Hard boiled eggs, cut in half
Whole wheat pita, cut into triangles
Nuts and seeds (almonds, cashews, walnuts, pumpkin seeds, etc.)
Carrots, cut into sticks
Cucumber, sliced
Snap peas
Cherry tomatoes
Nut butter
Sharp cheddar cheese
Grapes
Apples, sliced
PREPARATION:
1. Hummus: Combine chickpeas and cilantro in a food process. Process until chickpeas
are completely crumbled. Scrape down the sides, then add in garlic, tahini, olive oil,
lemon juice, and salt. Process for a minute. Scrape down the sides again. With the food
processor running, pour in the water and continue to process until hummus is smooth.
2. Assembly: Place a small container of hummus in each snack box. Mix and match the
other items between the snack boxes.
---
Whatever road trip you're planning this year, make sure you're covered with the right auto insurance. Go to geico.com to get a fast, free rate quote.