The slow cooker is having a resurgence.
It's easy to understand why. This handy device—invented in the 1930s and made famous in the '70s but sidelined in the '80s (perhaps by the cool new microwave)—cooks for you while you're doing other stuff, like working.
But sometimes, the prep work required can feel like…well, a lot. So we asked top food bloggers to share their best slow cooker recipes that are a cinch in every way.
These tasty dishes—which take only 15 minutes or less to prep—will make cooking easy and save you money on takeout. Plus, some are packed with healthy ingredients like lean protein, veggies and beans. Just chop and measure a few things, toss everything in, set the timer, and return home to a delicious meal. Enjoy!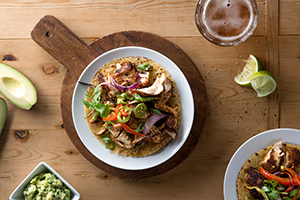 Jaclyn Bell of Cooking Classy loves to order fajitas at restaurants but doesn't love the work it takes to make them at home. Her slow cooker recipe for chicken fajitas is what she calls "the simplified, lazy version of fajitas." Even though there's no marinating, she says, this dish has "all the delicious flavors without as much hassle." Six hours in the slow cooker is plenty of time for the tomatoes, onion, garlic and spices to meld and soak into the meat. "It'll give you perfectly tender chicken every time," Bell promises.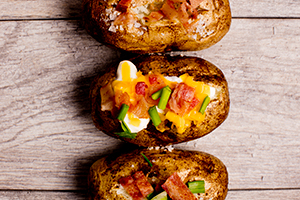 A big baked russet is a classic side, but it can also be a versatile main dish for lunch or dinner. You can top it with chili, pasta, or veggies and melted cheese—or any leftovers you have on hand—to make it a meal. But have you ever tried putting spuds in the slow cooker? This slow cooker recipe for "baked" potatoes takes just five minutes to prep; they can cook all day while you're at work. "You end up with perfect, moist potatoes," says Bell, "ready for any toppings you want."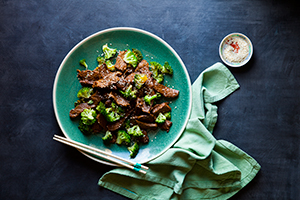 Since it takes only 10 minutes to prep, "this slow cooker recipe is one you'll want for those hectic days when you don't have a lot of time to make dinner," says Bell. She recommends serving this flavorful, tender beef and broccoli smothered in an Asian-style sauce with long-grain white rice or short-grain brown rice (which you can prep the night before, if you want).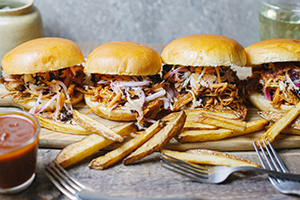 It doesn't get faster than two minutes of prep time! This easy recipe from Jen Sattley of Carlsbad Cravings is perfect for parties, busy weekdays or whenever you have a craving for something sweet, tangy and smoky. "I based this BBQ pulled pork slow cooker recipe on my mother-in-law's secret technique of slow cooking the pork in cherry cola with a splash of orange zest and liquid smoke," Sattley says, "but I kicked it up a notch with ground ginger, smoked paprika, red pepper flakes and green chilies."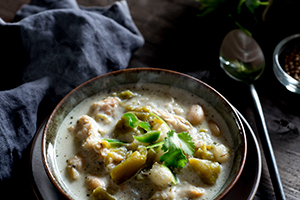 "If anyone ever tells me they can't cook or don't have time to cook, I tell them to check out my slow cooker soups," says Sattley. This crowd-pleasing white chicken chili recipe won five awards, and it takes only 10 minutes to prep. Sattley makes it "skinny" by using a can of cream-style corn as part of the soup base instead of heavy cream. And she makes it even creamier by blending in beans and light cream cheese.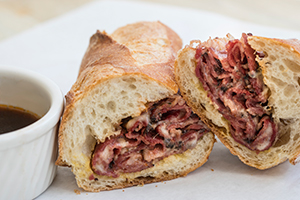 This recipe takes only five minutes to prep—but after the roast gets cooked low and slow
in a "magical beef bath" of beef consommé, soy sauce, cola and a savory blend of spices for four hours, you get "melt-in-your-mouth tenderness," says Sattley. Then thinly slice it and continue cooking for another two hours, she says, "so the broth can permeate every centimeter of meat." When you're ready to serve these rave-worthy French dip sandwiches, pile the meat onto rolls or hoagie buns, top with provolone cheese, and bake until the cheese is gooey and bubbly; then serve with the leftover slow cooker juices for dipping (au jus!).
Here's another time-saver you can do in 15 minutes or less: Get a free quote on car insurance from GEICO. You could also qualify for a discount when you get homeowners or renters insurance through the GEICO Insurance Agency.
Read More: Having guests over for your slow cooker meal? Take it outside. Here's how to host the perfect backyard party.
By Nicole Cherie Jones