Servings: 8–10
Ingredients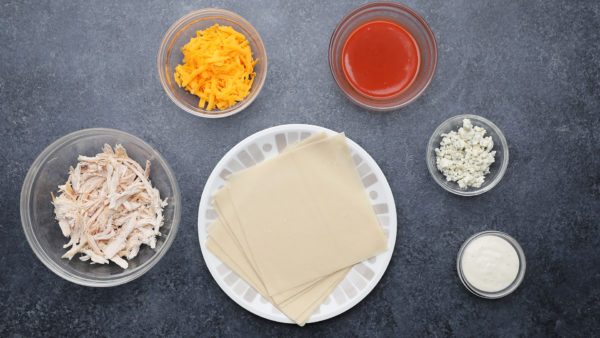 1 cup shredded cooked chicken
8 ounces softened cream cheese
⅓ cup buffalo hot sauce
⅔ cup shredded cheddar cheese
2 scallions, thinly sliced, plus more for garnish
8–10 egg roll wrappers
½ cup sour cream
3 tablespoons ranch dressing
¼ cup crumbled blue cheese
Preparation
Mix together chicken, cream cheese, buffalo hot sauce, and cheddar cheese. Fold in scallions.
On a cutting board, position egg roll wrappers in a diamond shape. At the bottom of the diamond, lay out a few spoonfuls of buffalo chicken. Starting at the bottom, roll up the wrapper, covering the filling. At the halfway point, fold in the right and left sides, then continue rolling. Wet the top corner with a bit of water to seal.
Heat approximately 3 inches of vegetable oil in a pot until it reaches 350ºF. Fry the egg rolls in small batches until they are golden brown, about 3–4 minutes. Drain on paper towels.
To make dipping sauce, stir together sour cream, ranch dressing, and blue cheese. Garnish dip with more sliced scallions. Serve!