Barbecue season is at its peak and, naturally, hot dogs, burgers and grilled veggies are on the menu. But if those are all you're grilling this summer, you're missing out. Mix it up at your next cookout with these highly unusual but extremely delicious barbecue treats.
Caesar Salad
For a warm spin on a summer classic, cut a head of tightly packed romaine lettuce into four wedges, brush the edges with oil and grill for about 2 minutes on medium-high heat or until the lettuce bears grill marks. Drizzle with dressing, top with bacon and fresh Parmesan cheese and serve warm.
Nachos
Grilled nachos are made for outdoor gatherings. Poke a few holes in an aluminum pan and fill it with nacho chips layered with your favorite toppings. (We recommend pepper jack cheese, jalapeño, diced tomatoes and ground beef or turkey.) Grill on medium-high heat until the cheese melts and serve with salsa and sour cream.

Pizza
The best Italian pizza is cooked quickly in super-hot ovens or over wood or coals … sounds a lot like a grill, right? Start by stretching pizza dough into a thin crust and place it on an open, oiled grill. Barbecue on a hot grill until lightly charred. Flip it over and quickly add toppings of choice. Then close the lid, lower the heat and grill for 2-3 minutes, or until the cheese is melted and the dough is cooked through.
Cheese
Grilling works magic on firm cheeses like halloumi and queso fresco, which retain their exterior shape and develop warm, gooey interiors. Grill thick slices of these cheeses on medium heat until lightly browned, then flip and repeat on the other side. Add to tacos or alternate with roasted veggies and drizzle with dressing for a delightful, warm summer salad.
Pound Cake
Turn boring, store-bought pound cake into a gourmet treat by throwing thick slabs on the grill (on medium-high heat) until they get lightly golden and toasted. Serve warm with ice cream or fruit sauce. Pound cake can also be cubed and threaded with peaches or strawberries on skewers for a unique grilled dessert.
Avocado
Place halved, pitted avocados flesh-side down on an oiled grill (on high heat) for 5-7 minutes, or until grill marks appear. Scoop the cooked flesh onto veggie burgers or veggie dogs, or use it to make an extra-smoky guacamole.
Bananas
Slice whole, unpeeled bananas in half lengthwise (the peel helps the bananas hold their shape). Place cut-side down on the grill (on medium-high heat) and cook until lines appear, then flip and grill on the other side for another 2-3 minutes. Top with whipped coconut cream or maple syrup before serving.
Peaches
The combination of two summer classics, peaches and barbecue, are a match made in heaven. Halve peaches and remove their pits, then grill cut-side down on a clean, oiled grate for 1-2 minutes on medium-low heat. Mix with cilantro, lime and diced chilies for a sweet and spicy salsa, or serve warm with your favorite ice cream. (Recipe below!)
---
Grilled-Peach Sundaes In 15 Minutes Or Less
Brought to you by Tasty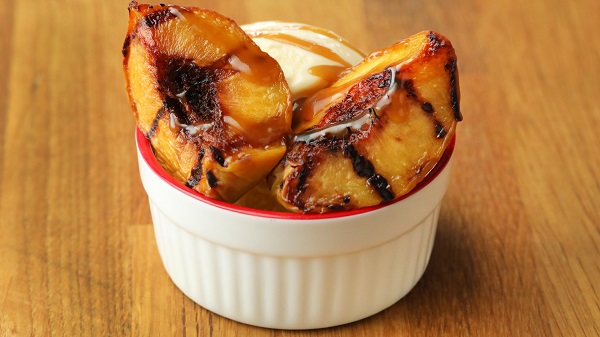 Servings: 4
INGREDIENTS:
2 peaches
¼ cup butter
¾ cup brown sugar
¼ cup heavy cream
1 teaspoon vanilla extract
1½ teaspoons flaky sea salt
Pint of vanilla ice cream
PREPARATION:
1. Cut peaches in half and remove the pits, then cut peaches into quarters, wedge-style.
2. Heat grill over high heat. Brush peaches with oil and place peach quarters, flesh-side down, on the grill. Grill until definitive grill marks appear. Turn peaches to grill the other side of the flesh. Remove peaches from the grill.
3. Melt the butter in a saucepan over medium-low heat. Add in brown sugar and let cook for 2–3 minutes, mixing steadily. Pour in heavy cream and vanilla extract. Whisk for a minute until caramel comes together, then whisk in the flaky sea salt. Remove from heat.
4. Place 2 ice cream scoops in a small bowl or ramekin. Place 2 grilled-peach quarters on top and drizzle with salted caramel.
---
Another thing you can do in 15 minutes or less: Find out how much you could save on car insurance and more at geico.com.