Tired of boring candy and cards? Make these cute DIY treats in 15 minutes or less with help from our friends at Buzzfeed.
Recipe
Servings: 8–10
Ingredients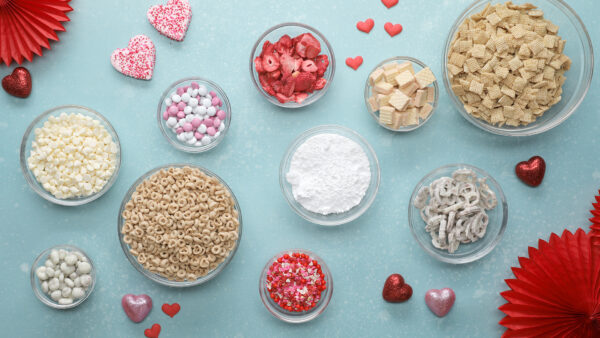 4 cups whole grain oat cereal
5 cups rice cereal squares
1½ cups white chocolate chips
1 cup powdered sugar
2 cups freeze-dried strawberries, divided
½ cup yogurt-covered cranberries
1 cup white chocolate–covered pretzels
1 cup strawberry wafer cookies, cut into ½-inch squares
½ cup pink candy-coated chocolates
⅓ cup Valentine's Day sprinkles
Preparation
1. In a large bowl, combine the whole grain oat cereal and rice cereal squares.
2. In a medium microwave-safe bowl, microwave the white chocolate chips in 30-second intervals, stirring between, until melted.
3. In a food processor, process 1 cup of the freeze-dried strawberries into a fine powder.
4. Add the melted white chocolate to the bowl with cereal and stir with a rubber spatula to coat. Sift the powdered sugar and freeze-dried strawberry powder over the cereal and toss to coat. Add the remaining cup of whole freeze-dried strawberries, the yogurt-covered cranberries, white chocolate–covered pretzels, strawberry wafer cookies, pink candy-coated chocolates, and Valentine's Day sprinkles, and toss to combine.
5. Enjoy!
Origami Heart Box to Package V-Day Treats in 15 Minutes or Less
Materials
8.5×11-inch colored paper
Scissors
Pencil
Treats for inside
Instructions
1. Fold paper into a triangle and cut off excess to create a piece of square paper.
2. Take the square paper (still folded in a triangle) and fold into another triangle.
3. Open up paper into square. There should now be folds creating 4 quadrants.
4. Fold each of the points of paper in toward the center and crease to create a smaller square.
5. Open up the paper again so that it's the large square. Now, with more folds in it.
6. Fold each of the corners to the straight line crease opposite it, creasing it and unfolding each as you go.
7. Following your fold lines, take scissors and cut 8 slits around the edge.
8. Next, start folding those slits toward the center to create small triangles.
9. Now, on each of those folded-in pieces, cut another slit (4 total) and fold those small squares in toward each other.
10. On a small piece of paper (maybe the scrap paper cut off from the beginning) fold in half and draw half of a heart. Then cut out the small half-heart.
11. Next, fold the points of the sides of the paper with the small squares folded in toward the center.
12. Using your half-heart cutout template, place the straight edge of the template on the outer edge of the new fold and trace out the shape. Do this on both sides.
13. Then, fold the long edges (that don't have the additional folded pieces on them) in toward the center, creating a straight edge.
14. Using your half-heart template again, line up the straight edge with the newly folded edges and trace.
15. Next, you are going to cut out the half-heart shapes you've traced on all 4 edges of the now-forming box.
16. On opposite sides, cut a slit at either the round end or pointy end of the half-heart. These will then slide together when folded up.
17. Fold up your heart box and make sure it all lines up.
18. Lastly, open it up, add some of the Tasty Valentine's Day snack mix and fold it together again.