Don't know what to do with your apple-picking haul? Here are 12 ways to turn your apples—yes, even the ones that are starting to get mushy—into a delicious addition to any appetizer, meal, or dessert.
1. SKILLET-FRIED APPLES
Fried apples are a favorite side dish in the South. Just throw some apples (Granny Smith work well!) into a skillet with some butter—or just water, if you're trying to keep these low-fat—and allow them to stew. Once they've softened, remove from the heat, then sprinkle brown sugar and cinnamon on top. Note: These are more of a breakfast side than a dessert, so feel free to have apple pie later, too.
2. CRAB LANTERNS
In New Hampshire and the South, these fried pies have been popular since at least the 18th century. The term dates back to around 1770, and might come from early pies' crab apple filling, paired with the fact that the ventilating cuts in the dough make the pastries look like lanterns.

3. APPLE PANCAKES
The Pennsylvania Dutch, who actually hail from Germany, get credit for the delicious apple pancake. The creation looks more like a soufflé, with a fluffy batter poured over baked apples. It's thick and custardy and perfect for brunch.
4. APPLE PANDOWDY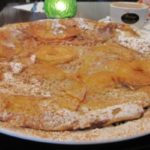 Abigail Adams was reportedly a great fan of apple pandowdy, a New England favorite; her husband, John Adams, even celebrated Independence Day with it.  As opposed to a regular pie, a pandowdy incorporates cut-up pieces of dough. You can easily find the recipe the Adams used back in the day, or try an updated version from that other New England icon, Martha Stewart.
5. APPLE TREATS
Martha Jefferson's apple treats contained just eggs, butter, sugar, milk, flour, and salt, in addition to their signature fruit. The whole mixture was spread onto a pan and baked, then served warm. Though Jefferson lived in Virginia, she passed the recipe along to Abigail Adams, who took it back to New England with her.
6. MARLBOROUGH PIE
The custard-based Marlborough pie was a staple in early New England, one that includes sherry and lemon to give it a sweet-tart kick to help it stand apart from other apple desserts. In 1893, Boston-based historian Edward Everett Hale wrote that "To this hour, in any old and well-regulated family in New England you will find there is a traditional method of making the Marlborough pie, which is a sort of lemon pie, and each good housekeeper thinks her grandmother left a better receipt for Marlborough pie than anybody else did."
7. OZARK PUDDING
A favorite of the Missouri-born 33rd president Harry Truman, this simple Ozarkian dessert is made with chopped nuts, a little flour and sugar, and handful of chopped apples. There should definitely be vanilla ice cream involved, or, if you're really eager to impress, rum-laced whipped cream.
8. APPLE BRUSCHETTA
Minnesota is darn proud of its apple expertise, since the state is home to a major apple breeding program that has been creating new varieties of the fruit since the 19th century. One way to show off the region's favorite fruit is through apple brie bruschetta, a recipe included in the Minnesota Historical Society Press's all-apple cookbook, Astonishing Apples. You just need to spread brie —or another soft cheese like goat—on small pieces of toast and place apple slices on top, with a sprinkle of nuts or a drizzle of honey, if you'd like.
9. APPLE BUTTER
The Pennsylvania Dutch are also famous for their apple butter, a dish that has nothing to do with solid dairy. The spiced spread is super easy to make, since it's basically just condensed applesauce. On an Amish farm, apple butter requires a full day of cooking and monitoring, but for most people, throwing some apples in the slow-cooker with cinnamon, cloves and brown sugar involves far less effort.
10. APPLE CAKE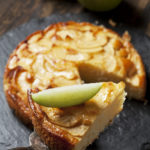 Apple pie may be America's favorite, but that doesn't mean apple cake shouldn't get some love, too. A sweet, bready cake made of apples and nuts will make you rethink your view of fruit cake. A rustic version of this dish appears in Midwest Food Stories Vol. 1, a cookbook featuring Omaha chefs' family traditions.
11. APPLE BUTTER BARBECUE SAUCE
Applesauce can be a great edition to your chicken or ribs. Just whip up some apple butter and mix it with ketchup, Worcestershire sauce, and spices to achieve a smoky-sweet flavor. The resulting condiment tastes great on any type of meat or sandwich.
12. BROWN BETTY
The Brown Betty is an all-American dessert, much like a cobbler or a crisp, and is usually made with apples (although it can really feature any fruit). Made with moist breadcrumbs and apples, it's a popular White House dish. The Eisenhowers served it at state dinners, and it was a noted favorite of Nancy Reagan's when she was First Lady.
The kitchen is the heart of the home, and home insurance is the hand that helps protect it. Make sure you're covered with the best; get a free home insurance quote through the GEICO Insurance Agency.
Keep reading: Find out the best places in the U.S. to pick your own apples.