Set yourself up for success in the New Year with budget-friendly meals! Enjoy a 3-course meal for 2 for $15 or less with the help of our friends at Tasty.
Roasted Carrots with Pesto
Servings: 2
Ingredients
Roasted Carrots
12 ounces small carrots, tops removed
1 tablespoon olive oil
Kosher salt, to taste
Freshly ground black pepper, to taste
Pesto
1 tablespoon walnuts
1 garlic clove
2 tablespoons grated Parmesan cheese
1 teaspoon kosher salt
2 cups fresh basil leaves
⅓ cup olive oil
Preparation
1. Roast the carrots: Preheat the oven to 400°F (200°C).
2. On a rimmed baking sheet, toss the carrots with the olive oil, salt, and pepper, then spread in a single layer.
3. Roast until the carrots are golden brown and tender, 20–25 minutes.
4. Meanwhile, make the pesto: Add the walnuts, garlic, Parmesan, and salt to a food processor and pulse until finely chopped, 10–15 pulses. Add the basil and pulse again until finely chopped, 8–10 more pulses. With the food processor running on low speed, stream in the olive oil.
5. Toss the carrots with 2 tablespoons of the pesto and serve immediately. Any leftover pesto can be stored in an airtight container with a layer of olive oil poured over the surface. Refrigerate for up to 1 week.
6. Enjoy!
Creamy Mushroom and Lemon Pasta
Servings: 2
Ingredients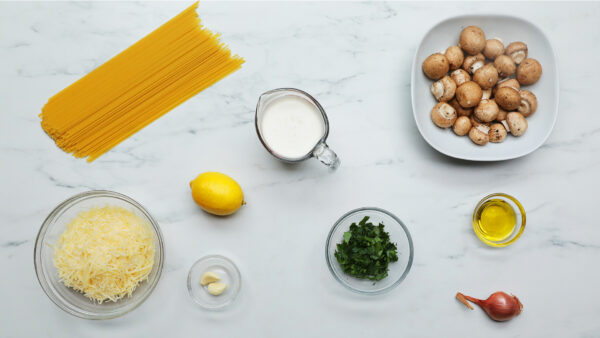 Kosher salt, for boiling
1 tablespoon olive oil
8 ounces baby bella mushrooms, sliced
1 small shallot, minced
2 garlic cloves, minced
1 pound dried spaghetti
1 cup heavy cream
Zest of 1 lemon
Juice of 1 lemon
2 cups shredded Parmesan cheese
Freshly ground black pepper, to taste
Finely chopped fresh parsley, for garnish
Preparation
1. Bring a large pot of salted water to a boil.
2. Heat the oil in a large skillet or Dutch oven over medium-high heat. Add the mushrooms and cook until browned on all sides, about 5 minutes. Reduce the heat to medium and add the shallot and garlic. Cook for another 2 minutes, or until the shallots are softened and translucent. Remove the pot from the heat.
3. Add the spaghetti to the boiling water and cook according to the package instructions. Drain, reserving 1 cup of the pasta cooking water.
4. Add the spaghetti and reserved cooking water to the mushroom mixture. Add the cream and bring to a simmer, tossing to coat the pasta. Add the lemon zest and juice, Parmesan, and pepper and toss to combine.
5. Garnish with the parsley and serve immediately.
6. Enjoy!
Apple Crumble
Servings: 2
Ingredients
Unsalted butter, for greasing
Filling
2 tart cooking apples, peeled, cored, and diced
¼ cup granulated sugar
1 tablespoon cornstarch
½ teaspoon ground cinnamon
½ tablespoon lemon juice
Crumble Topping
½ cup all-purpose flour
½ cup oats
¼ cup brown sugar
½ teaspoon baking powder
Pinch of kosher salt
4 tablespoons (½ stick) unsalted butter, cubed
Preparation
1. Preheat the oven to 375°F (190°C). Lightly grease 2 14-ounce ramekins with butter.
2. Make the filling: In a medium bowl, toss together the apples, sugar, cornstarch, cinnamon, and lemon juice until well combined.
3. Make the crumble topping: In a medium bowl, combine the flour, oats, brown sugar, baking powder, and salt. Add the butter and use a pastry cutter or your hands to work into the dry ingredients until the mixture is crumbly, but holds together when pressed.
4. Divide the filling evenly between the prepared ramekins, then top with the crumble topping.
5. Bake for 20–25 minutes, or until the topping is golden brown. Remove from the oven and let cool for about 15 minutes before serving.
6. Enjoy!