Bright paints. Mismatched furniture. Unique storage containers. When it comes to designing a playroom, imagination is far more important than a big budget.
In fact, with a healthy dose of inventive spirit and a bit of kid-collaboration, you can transform any room into an engaging play space. "A true playroom is a place to imagine and dream, and it doesn't have to cost a fortune to create," says Lyn Peterson, founder of Lyn Peterson Design and author of a series of decor books.
And don't be afraid to go a little overboard. "The best playrooms are those that embrace a little chaos," says Peterson. "The key is remembering it's a place for play. It doesn't need to be picked up and put away every night."
Here's how to create a room your child will love—without overspending.
Find A Theme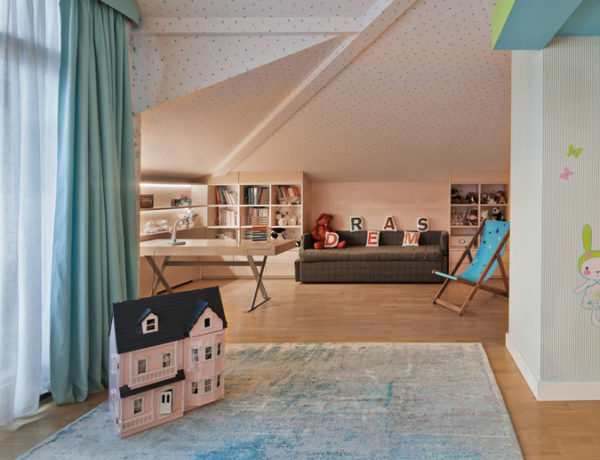 One of the best ways to make the playroom a fun, memorable space for kids is by picking a theme, says another designer, Alexandra Bush-Maiorino, owner of PinkeGreen Design. And include your kids in the process. "Find out what they need and like, so it becomes a place where they feel comfortable and excited to be," Bush-Maiorino says. Integrate their favorite color, movie, sports team and/or hobby. Are they an artist, scientist, athlete or mathlete? Decorate accordingly.

Repurpose
"Look around the home and see what can be given new life—and have fun doing it," says Bush-Maiorino. For storage, consider removing the doors to an old armoire, or use desk drawers to organize art supplies and games. Stack wooden crates for a more industrial look, and use mason jars to store small craft materials. Then give everything a fresh look with stickers or paint.
Have A Place For Invention
Kids need a place to draw and play games; Bush-Maiorino suggests using an inexpensive folding card table. She also recommends keeping basic art supplies near the new workstation, to encourage kids to create. Stock it with the essentials: crayons, pencils, tape, glue sticks, paper and kid-friendly scissors.
Be Bold And Bright
When choosing colors, embrace your inner child, says Bush-Mairoino: "Make the room  whimsical and magical." To really brighten up the space, she suggests using colors that pop, like hot pink, turquoise and electric blue. "Or incorporate fun patterns, like swirls, polka dots and stripes," she says.
Spotlight Your Kid's Talents
Artwork for the walls? Go directly to the source. Peterson encourages parents to decorate by spotlighting their child's achievements in sports, science, art or any other area. And don't forget original artwork. Make a project out of it by having the kids draw new pieces to hang–you could even make the frames.
Put The Play In Playroom
With as little as a rug and a mirror, you can create a stage and a place for kids to dress up. Peterson suggests inspiring kids by hanging items for costumes (old bridesmaid dresses, football jerseys, costume jewelry) around the room on inexpensive hooks. And be sure to stock the room with favorite toys, so kids are encouraged to return again and again.
By Donna Zucker
A new playroom is sure to be your kid's favorite room. Help keep it—and all your rooms—covered with a homeowners policy through the GEICO Insurance Agency.
Read More: 4 Home Improvements That Only Look Expensive