With these easy-to-follow tips, you can turn even grocery store flowers into beautiful arrangements in 15 minutes or less.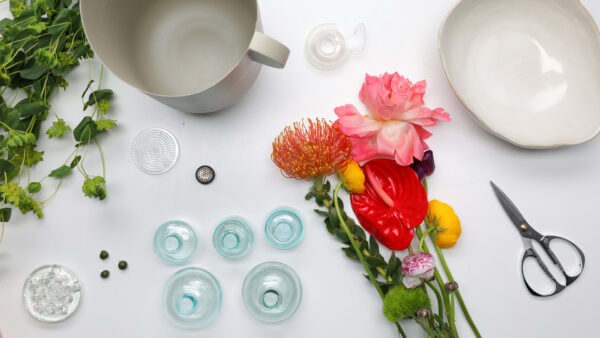 Overall notes for flower arrangements:
– Always do a fresh angled cut on stems before arranging them.
– Focus on balance over symmetry.
– Use a variety of colors and textures for the most interesting arrangements.
– Build to the size of the vessel. The taller the vessel, the taller the arrangement.
– Change the water in arrangements every couple of days for longest-lasting florals.
Grid System
1. Pick a vessel with a wide opening such as a big vase or even a bowl.
2. Add some cold water to the vessel and then dry off the edge.
3. Using scotch tape or clear floral tape, make a grid over the opening.
4. Start adding flowers! This trick allows you to put flowers exactly where you want them and use fewer flowers for a more impactful arrangement.
Floral Frogs
1. Pick any vessel and a flower that fits in the bottom of it.
2. Using the suction cups, glue dots, or floral tac, adhere the frog to the bottom of the dry vessel.
3. Add water to the vessel.
4. Add florals to the vessel, pushing them into the frog so they stay in place. Frogs are great because they can be reused again and again, and come in a variety of materials.
Simplest Style
1. Pick a variety of small vessels, such as small glass bottles or glasses and then place a single stem in each.
2. Use varying heights and colors for more interesting looks or keep it really simple with the same flower cut to different heights.