Picking up and moving to a brand-new city is one of life's greatest adventures. New job! More space! (Or, less space!) Closer to family! (Or, not so close to family!) It's also notoriously stressful and expensive—from buying boxes and bubble wrap to paying that final mover's bill. Don't sweat it. Our insider tips and high-tech hacks could help you save serious cash—and your sanity—on your next long-distance move.
Tweak Your Timing
"People often don't realize that the month, even the day of the week, you choose to move can make a big difference to the price," says Manuela Irwin, a relocation expert and an editor at MyMovingReviews, a database of moving company reviews. For the lowest rates, plan your haul between October and May (to avoid peak moving season); book midweek (to steer clear of the weekend truck rental rush); and skirt the first and last few days of the month (when people vacate leases).
Don't Shell Out For Cardboard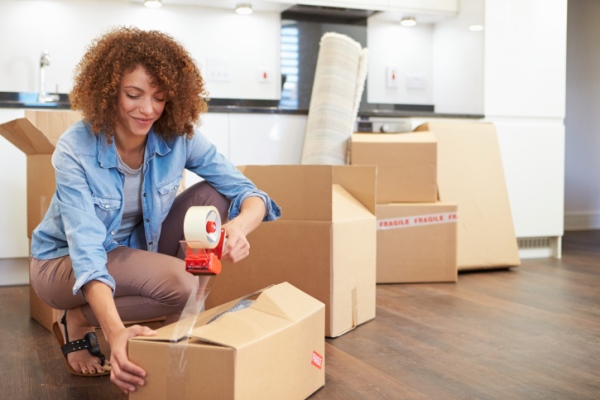 Scan online forums to find folks who have recently moved and have boxes to unload. Also ask local retailers when they put out their recycling, and stake out your office copy room for empty paper boxes. Or, consider renting: Outfits like Bungobox rent out plastic, stackable boxes with lids, negating the need for tape and allowing you to be green and save some green at the same time.

Try A New Moving Model
Are you past bribing your friends with pizza but not ready to shell out for a full-service mover? Consider a "Do-It-Yourself" service like PODS or through a traditional moving company, where a company delivers a container that you load at your own pace over days or weeks. It is then transported to your new place, where you unload it yourself. It can run significantly less than full-service movers, particularly for smaller moves.
Get Payback
If your move is job-related, ask your employer to cover all or some of your moving costs. If they won't—or you don't have a job lined up yet—don't worry: You may be able to claim almost all of your moving expenses on your next tax return, provided your new job is more than 50 miles further away than your old one (check out IRS Publication 521 for more details).
Moving? Make sure you update your homeowners or renters policy. Need a new policy? Get a fast, free quote from GEICO.
Dreading the packing process? Check out our 11 packing tips to make moving a breeze.
By Julia Califano