No question: Buying things that have been used can mean major savings.
But those upfront savings aren't always worth it. Some used items can come with risks that may not be obvious—microscopic bugs, for example, or hidden damage that renders the item unsafe. In these instances, buying new is worth the extra money.
So how do you decide? We asked two experts in this area: Katie Berry, the blogger behind Housewife How-To's, and shopping pro Trae Bodge.
Berry starts with two general guidelines: Can the item be thoroughly cleaned, and can you verify its history or make sure it's safe? "You don't want to buy someone else's problems," she says.
For those items that make sense to buy used, Bodge says that with apps, online sellers and social media–based swap groups, it's easier than ever to find quality secondhand items. "Just always remember," she says, "buyer beware."
Here are their recommendations for what to buy used—and when you should pony up the cash for new.

BUY IT USED
Clothing
Clothes are usually great to buy used, says Bodge (except for hats and shoes…keep reading for those)—just be sure to wash or dry-clean them before wearing.
Kitchen Items
Look for things like glassware, flatware and storage containers at garage sales to help stock your kitchen on the cheap, says Berry. (The exception is nonstick cookware—see below.) As with clothing, wash your purchases thoroughly before using.
Refurbished Electronics
Berry is a big fan of buying refurbished electronics—but only from reputable resellers. The reseller will make sure the items work well and that computers are free of viruses. They'll often even include a warranty with your purchase.
Home Improvement
Berry has had great luck finding home-renovation supplies secondhand. "People often buy too much for their projects and want to sell the leftovers," she says, so things like tiles and tools can be great finds at garage sales. Looking for a project of your own? Check out these home improvements that only look expensive.
Fitness and Sporting Gear
Exercise equipment (bought with the best of intentions) can often be found only lightly used, says Bodge. She says this is a handy category for kids, too; sporting goods like ice skates might be used for only one winter before a child grows out of them.
Solid Wood Furniture
Hardwood furniture can be a great investment, Berry says, as it's often sturdier than more contemporary styles. Give it a thorough cleaning, says Berry; then paint or stain it to match your decor, or just leave it as is.
Books
Books may get dog-eared, but they wear well, says Bodge. And students can find great deals on textbooks that they won't need for more than a year or a semester.
Cars
Of course, used cars can be a great bargain—if you do your research. Go to a dealership if you want to take a test drive. (Read our tips on buying a used car online and choosing a great used car for the family.)
BUY IT NEW
Child Car Seats
It's difficult to know if a car seat has been in a crash or has been recalled, says Gloria Del Castillo, of the Buckle Up for Life program in Cincinnati—so buy it new. And you don't have to spend a fortune, since all car seats have to meet the same safety standards.
Kitchen Appliances
Be wary of used big-ticket appliances, says Berry. It's hard to know how well they'll work until you use them—and there's no telling how long they'll last.
Upholstered Furniture
Furniture made of sturdy materials may be a good deal, says Bodge, but avoid pieces covered in fabric. They could be hiding structural wear and tear—and worse, you might bring unwanted pests like bedbugs into your home.
Nonstick Cookware
There's some debate over the safety of nonstick cookware that's been chipped or scratched, says Bodge, but don't take chances. Buy new items individually, or pick up a budget set.
Hats and Shoes
Many kinds of hats can't be washed, says Berry, so there's no easy way to eliminate the previous owner's bacteria and body oils or ensure that you avoid lice. Shoes can also come with bacteria; plus, new shoes often mold quickly to the original owner's feet, so they may not work for yours.
Cribs
Cribs made before 2010 mostly fail to meet the new crib safety standards from the Consumer Product Safety Commission, which took effect in 2011. Furthermore, any crib with an unknown history can come with safety concerns, including faulty construction or assembly. Avoid secondhand crib bedding and mattresses as well; used mattresses have been associated with an increased risk of sudden infant death syndrome (SIDS).
Helmets
Used motorcycle and bicycle helmets may have tiny cracks or an old inner lining that could compromise your safety in an accident. And the damage, says Berry, may not be obvious when you're looking at the helmet.
Tires
Even if tires look like they're in good shape, says Berry, they could have defects or punctures you won't necessarily be able to see. Tires play such an important role in car safety that you don't want to take chances with them. (We debunk common tire myths here.)
Keep the savings coming: Head to geico.com for a free insurance quote on auto, motorcycle, homeowners or renters insurance (and more!).
Read More: The Best Time To Buy: A Month-By-Month Guide To Scoring Big Bargains
By Nicole Price Fasig
---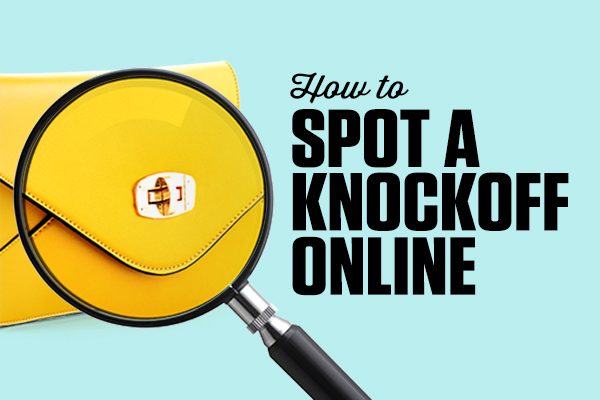 Designer sunglasses for $12. High-end jeans that cost $8. A piece of antique furniture at a temptingly low price.
We all know how thrilling it can be to find a great deal online. But before you put the item in your shopping cart, take a moment and look closely—sometimes a deal is too good to be true.
Online shopping has made it easier than ever for vendors to sell counterfeit goods. Purchasing such items can leave you with an inferior product—and may even put your information at risk. But often these dubious listings come with clues indicating that you might be buying a fake.
"Five cues help me spot fakes online," says Kevin Godfrey, owner of Henry Laurent Estate Sales. Having appraised and sold more than $100 million in luxury goods, Godfrey's seen so many knockoffs that he's developed a "sixth sense" about what's real. And there's no reason, he says, that consumers can't hone this skill as well.
Here's what he looks at:
The Price
An outrageously low price is the first indication that the product might not be genuine. If something is suspiciously cheap, trust your gut—and then do your research. Check around on other websites, particularly the manufacturer's home page, where you may get a sense of what similar products retail for. "Especially with luxury items, if they're significantly discounted, there's a good chance they're fake," says Godfrey.
The Seller
Some of the best-known online marketplaces, says Godfrey, are "littered with fakes" offered by third-party sellers whose products aren't held to the standards of the site itself. Don't trust a seller until you've verified that they are who they claim to be. How do you know? One way is to look at the URL. Make sure it starts with "https://"—that's a signal you're on a secure server, and it should be accompanied by a picture of a padlock or key. Of course, you should also read reviews, and don't buy anything unless you're certain that other consumers have had good experiences.
The Photos
It's an old cliché: The camera never lies. No matter how clever the counterfeiter, producing convincing photos is where they often trip up, says Godfrey. With new products, expect high-quality professional photos. For something used, however, Godfrey advises the shopper to look for the opposite: a photo of the actual product that's going to be shipped to you, rather than a professional stock photo. Another warning sign: a photo where the item looks stretched or squeezed, which could mean the photo was taken off another site. If you really doubt what you're seeing, do a reverse image search to see where else the image has been used online.
The Description
What does the site have to say about the product? If the description is garbled or riddled with typos, it can mean that the item isn't for real. Be on the lookout for adjectives like "genuine," "authentic" and "original," which fake retailers love to throw around. "When you see that, I'd say there's a 95 percent chance it's a fake," says Godfrey. "The real companies don't need to tell the consumer that their goods are authentic."
The Website
One of the sneakiest tactics in the counterfeiter's arsenal involves not just fake goods, but a fake website as well. Social media is a particularly effective place to deploy this scam; posts can link to a website that looks genuine but is actually a front for a fake operation. "They copy a lot of the design elements from the official website," says Godfrey, "so if you don't look at the URL, you won't realize that you're not actually on the site you wanted to visit."
Want a deal that isn't too good to be true? Get affordable identity protection and jewelry insurance through the GEICO Insurance Agency.
Read More: Concerned about Internet fraud? Learn more about the Warning Signs of Identity Theft.