When you break down ski-trip costs, many of the biggest expenses are the least obvious. Instead of the flight and resort lodging, it's the lift tickets, gear rentals and meals which can really add up. Whether you're a family of skiers or a group of snowboarding friends, these 10 tips could help you save money without sacrificing time on the slopes.
1. Explore New Destinations—And Dates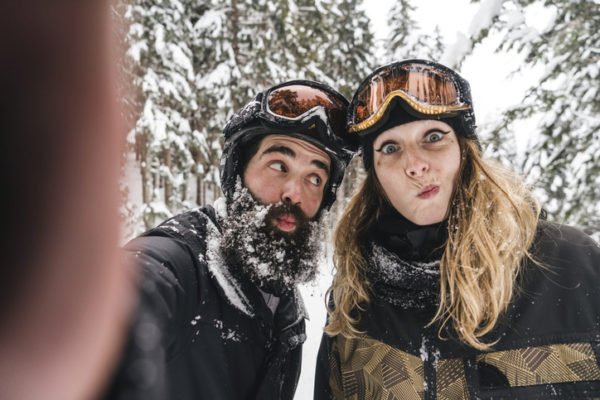 "The ultimate way to save money is to be flexible," explains Dan Sherman, spokesperson for Ski.com. So consider dates and locations you normally wouldn't. For example, you can still have an amazing experience on smaller mountains, even though the vibe and amenities will range. January tends to be slower, so mountains offer deals to entice shredders. "Between New Year's Day and President's Day, skiing can be less expensive, and there's still great snow and smaller crowds," Sherman says. Pricing drops again around late March when the weather is a bit more unpredictable. While warmer temps add comfort on the slopes, slushy snow conditions are possible.
2. Consider Multiple Travel Routes
Depending on your final destination, flying into a large airport may be your best bet in terms of ticket price. But landing in a smaller regional airport could save you time and money on a rental car or ground transfer. (Make sure you're saving money on auto insurance here.) You may also reduce costs by flying into larger airports that are a few hours away from your final destination (i.e. Denver instead of Aspen), and then booking ground transportation or using public transit if possible, explains Sherman.

3. Use An Airline Credit Card To Waive Checked Bag Fees
Known as the baggage benefit, many airline credit cards offer a free checked bag to cardholders and travelers on the same reservation. This can save you up to $50 per person round-trip. Bonus: Using an airline credit card to purchase flights and other necessities can also earn you extra miles to use for next year's trip!
4. Pick Lodging With Perks
Book a home rental with a kitchen and stock up on groceries to cut down on restaurant spending. Some hotel and rental properties also offer free on-call shuttles to the slopes and downtown, making a car rental unnecessary.
5. Plan Ahead
Buy tickets in advance, and online. While you'll score the best discounts purchasing lift tickets at least a week prior to hitting the slopes, you can still find discounts up to midnight the day before your visit. Same goes for equipment rentals. Some places offer money-saving bundles—browse your resort's site, too, for occasional price cuts.
6. Ski More, Pay Less
While it varies by resort and region, buying multi-day passes will save you money—upward of $30 per day at resorts like Telluride, for example, once you hit four days or more. And if you plan on making multiple ski trips, a season pass can save you money on lift tickets and score you discounts on extras including food and retail. There are also multi-mountain pass options that allow you ski several nearby resorts on one lift ticket in Colorado, Utah and Lake Tahoe.
7. Rent Now, Buy Later
"Unless you are skiing a lot, renting is the way to go," explains Sherman. "In addition to getting the newest gear, you can switch daily depending on conditions. It also saves people from baggage fees and the hassle factor." If you do want to buy, the end of the season is the perfect time to snag a deal, he adds.
Wherever your travels take you, make sure you're protected with travel and flight insurance through the GEICO Insurance Agency. 
Read more: Spend more time outdoors this winter at the best places in America to ice fish.