The COVID-19 pandemic has tested everyone's ability to be flexible in just about every aspect of their lives. Whether that aspect is work, travel, shopping, day-to-day living or how we meet up with friends and family, we've had to learn how to adjust on the fly.
The pandemic has also changed how we celebrate holidays, and it's likely that Halloween will look different than it has in the past.
"Many traditional Halloween activities can be high-risk for spreading viruses," the Centers for Disease Control and Prevention (CDC) said on its website. "There are several safer, alternative ways to participate in Halloween."
Children might not be able to go door-to-door and collect candy or gather for a big costume party, but it's still possible for them to have a great time on October 31.
Here are six ways families can celebrate Halloween during the COVID-19 pandemic.
Go Wild With Decorations
Halloween may feel different this year, but it can still look the same. Get festive and fill your home with all of the Halloween decorations that you can—pumpkins/jack-o-lanterns, candy bowls, skeletons, faux spider webs, bats, lights, fog machine, etc. Decorations are a great way to keep the spirit of Halloween alive.
Set Up A Halloween Candy Hunt
Take the concept of an Easter egg hunt and use it to hide candy throughout your house or yard if you have enough room. You can fill your yard with Halloween decorations as well if you opt for an outdoor candy hunt—things like fake tombstones, skulls, faux spider webs (yes, again!), mummies and scarecrows will only enhance the holiday atmosphere. You could also hide candy in glow-in-the-dark eggs if the hunt is at night, or put together an elaborate scavenger hunt. (Scroll to the bottom of this article for instructions!)

Host A Virtual Costume Party
Seeing other people's costumes is one of the most fun parts of Halloween. It might not be safe to check out your friends' or family members' costumes in person this year, but you could have a costume party over a videoconferencing platform. Send out an invite link, encourage guests to dress up, play some tunes for dancing and put on the best virtual Halloween party your friends and family have ever seen!
You could also have a virtual pumpkin carving or decorating contest with friends and family. Everyone can grab a pumpkin beforehand, paint or carve it and show if off from the safety of their own home. This could also be a fun activity for people to do in real time. Put on a Halloween soundtrack and work on your pumpkins as you video chat.
Reverse Trick-or-Treating
For children, candy is perhaps the only thing that rivals having a cool costume on Halloween. Traditional trick-or-treating might be out this year unfortunately, but there are still ways they can get candy. Coordinate with your neighbors and create a reverse trick-or-treating event. Rather than children going from house to house, they can get dressed up and stand outside of their homes as neighbors drive by and toss out candy (similar to a parade float). Everyone stays socially distant and children can still collect most of the candy they would have if they went trick-or-treating.
Trunk-or treating is another potential socially distant candy distribution idea. These events are usually held in school or church parking lots and people hand out candy from their decorated vehicle. Trunk-or-treat could be done from your neighborhood, too. Park your vehicle outside of your home or at the end of your driveway. Just be sure to hand out the candy to the trunk-or-treaters rather than have them reach into the bowl. Bring hand sanitizer and wear a mask to the trunk-or-treat if you plan to distribute candy.
You can also look for innovative ways to safely hand out candy at your house. A father in Ohio turned a 6-foot shipping tube into a "candy chute" that extends from his front porch down to his sidewalk so he can give out candy at a distance. A "place buckets here" sign tells trick-or-treaters where to place their bag or bucket so there's no hand-to-hand exchange. If you plan to entertain an idea like this, use factory-sealed candy and wear a mask and gloves.
Please note that the CDC considers trunk-or-treating and traditional trick-or-treating as "high-risk" Halloween activities. The organization recommends one-way trick-or-treating—place individually wrapped goodie bags at the edge of your drive way or yard for families to grab. The CDC deems one-way trick-or-treating a "moderate risk" activity, so wash your hands with soap and water for at least 20 seconds before and after preparing the goodie bags.
Seek Out Houses Decorated For Halloween
The holiday season is a fun time to drive around the neighborhood and see which houses have put up lights and other decorations. This tradition works for Halloween, too! Go online and see if there are any "haunted roads" or even drive thru haunted houses nearby that you and the family can check out before or after the candy has been collected.
Have A Halloween Movie Marathon
There's no shortage of Halloween movies to view—for all ages, tastes and fear tolerance levels. Depending on how late you and your family get started, you could watch two or three movies throughout the evening. Enjoy with the Halloween candy that the children would have typically collected trick-or-treating and popcorn. You can add to the atmosphere by putting some of the previously mentioned Halloween decorations in the movie-viewing room.
The COVID-19 pandemic has led to a lot of uncertainty and has forced us to make the most of a lot of situations—Halloween being no exception. While we may not be able to celebrate this fun holiday like we have in the past, there are plenty of ways to do so safely. Fortunately there are still ways to incorporate candy, costumes, pumpkins and all of the other things that make Halloween great.
How many of these can you do? Tell us in the comments!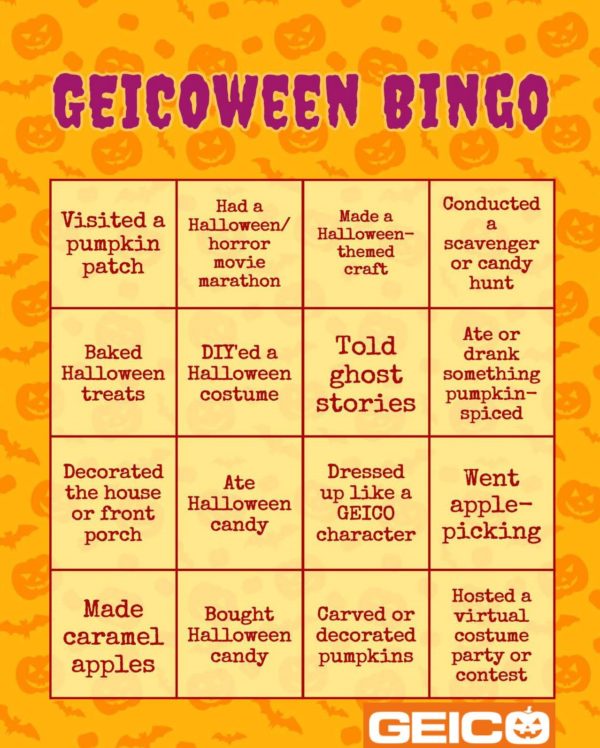 By Joe Dyton
---
Set Up Your Own Haunted Scavenger Hunt!
Clues
Supplies
Card stock
Markers
Instructions
Take the index cards and write the following clues on them with colorful markers:
– For spider: Look for something somewhat sticky and a creature that makes you feel icky
– For skull: On to the next clue, carefully you must tread. You will know it quite literally, if you just use your head!
– For bat: For the next clue, put on your thinking hat, and find something that rhymes with cat
– For cauldron of eyes: To find your next clue, look for something that's looking back at you.
– For Dracula's coffin: Your next clue is in something you don't see too often, look for something that sounds like the word coughin'.
– For pumpkin: To find your candy oh so sweet, look for something you turn into pie to eat!
Next, tape the clues to their respective clue spots. (It's the clue that comes previously in your search. Make sure that the pumpkin clue goes in the final spot.)
Spider's Lair
Supplies
Spider webs
Fake Spider
Spooky Branches
Instructions
Put the first clue about the spider in a spot that your child will easily find.
Then, put the spider web up in a corner of your house, like on some spooky branches.
Tape "skull" clue to the bottom of the spider and place the spider in the web.
Skull Station
Supplies
Fake skull
Gummy worms
Instructions
Open up the skull and place inside some of the gummy worms to create fake brains.
Then, place the clue for the bat inside the skull. Close skull.
Bat Station
Supplies
Black card stock
Spooky branches
Large hanging bat
Instructions
Cut as many paper bats as you want to stick on a wall from the black card stock.
Stick the paper bats on a wall and add some spooky branches in front of it.
Hang the bat up on a branch and then tape the cauldron clue to the bottom of the bat.
Cauldron Station
Supplies
Plastic cauldron
Gummy eyeballs
Potion bottles
Instructions
Add the fake eyeballs to the cauldron, but make sure to bury the clue for the mini coffin within it.
Decorate the surrounding area with spooky potion bottles and more fake eyes.
Dracula Station
Supplies
Small prop coffin
Coatrack
Hanging cape
Dowel
2 Clamps
Skeleton hand
Instructions
Place coatrack in a corner and add a dowel with a clamp to the back.
Hang the capes to the coat rack and then use the second clamp to clamp the hand to the dowel, but over the cape.
Take the mini coffin and add the clue inside of it.
Place the coffin in the skeleton hand.
Pumpkin Station
Supplies
Plastic trick-or-treating pumpkin
Your child's favorite assorted candies
A blanket
An apple
Instructions
Put the assorted candies into the pumpkin and then set it where you want the final spot to be.
Cover the pumpkin with the blanket and put the apple on top of it (since you can also make a pie out of an apple, leading your child to the final prize with what the clue says).
Enjoy!