Your home is your sanctuary, and it's important to give it a facelift every now and again. Tired of that artwork you snagged from a street fair five years ago? No longer excited about that tasteful-but-neutral color you chose for the bathroom? Now might be the time to mix it up. From simple furniture tweaks to totally manageable DIY projects, Sallie Kjos, owner of GreyHunt Interiors, shares creative solutions for quick and affordable fixes that will please your guests—and you.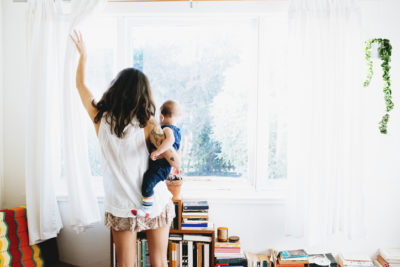 1. Get Rid Of Your Curtains
Just removing outdated drapes could be the refreshing facelift your dark, little room needs. A bank of naked windows is better—and brighter—than an outdated one, says Kjos.
2. Or Raise The Curtain Rods
For a professional-looking window treatment, mount your curtain rods as close to the ceiling as possible—precisely where the wall hits the ceiling, or 12 inches above the window if you have the space. "This is a great way to add height to your room because it draws the eye up," Kjos says. The best part? You don't have to shell out a lot for bespoke, extra-long curtains: Just order ready-made panels. Turn up the hem to the desired length, then fold the edge for a finished look. Use fabric glue (like Stitch Witchery) for a no-sew hem. The bottom of the drapes should hit just above the floor, she advises.
3. Create A Photo Gallery
A gallery-style look is easier than you think, Kjos says. First, buy multiple frames in the same color, or paint existing ones to make them look unified. (Using identical matting helps too.) Next, arrange them on the floor close together to form a rough rectangle or square, leaving one or two inches between frames. "Bringing them [in] tight gives the visual [effect] of a unit, instead of various pieces," Kjos explains. Once you figure out a pattern you like on the floor, tape that template onto the wall and hang up your frames.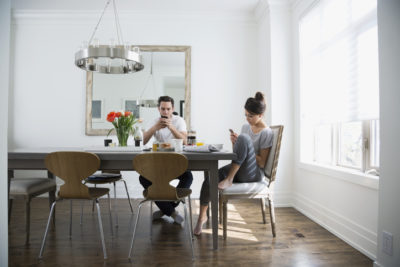 4. Switch Up Seating
A dining-room facelift can be as simple as mixing up the styles and patterns of your chairs. For a modern effect, place classic upholstered pieces at the head and foot of your table, then use modern wood chairs, a long bench or colorful ottomans on the sides.
5. Play With Paint
"One of the easiest ways to make a dramatic, immediate home improvement is to paint one wall a bright or dark color," Kjos says. Gray is a good choice, since it plays off other contrasting colors and feels modern. Not so sure about painting a feature wall? Try painting objects like vases, flower pots and small furniture for colorful impact at little cost.
Your home deserves a little TLC. Protect your investment by getting a fast, free quote on homeowners, renters, or condo insurance now through the GEICO Insurance Agency and see how much you could save!
Read more: Need a fresh look for your home's exterior? Try these 5 ways to increase curb appeal.
By Ani Palen