When personal finance expert Leah Ingram prepared to send her eldest daughter to college, she was puzzled to find health insurance listed on the tuition bill. "I thought, why do we have to pay $1,500 for it when she already has coverage?" says Ingram, author of the forthcoming book The Complete Guide to Paying for College. Providing the school with proof of insurance saved her $12,000 over 4 years.
Along the way, Ingram learned that while most college checklists include dorm supplies, they don't generally cover certain practical advice. So Ingram has her own list of things to help ease families into this new phase, both emotionally and financially.

Before the semester starts, follow these under-the-radar tips that could even save you some cash.
Figure Out Finances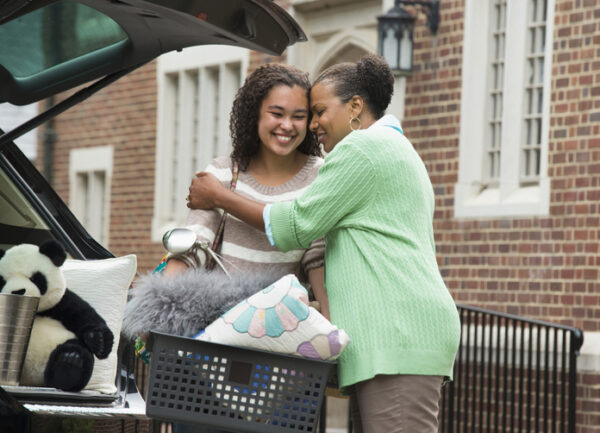 Set a budget with your student for necessities like food, clothing and textbooks, as well as non-essentials like entertainment, suggests Ingram. And consider opening a joint checking account so they can track their own spending. "Debit card use will no longer be invisible to them, and you can check in on them, too, while they get accustomed to handling their own money," she says. Ingram also advises getting your student a credit card to teach the importance of money and credit management—and for use in the event of an emergency.
Do Your Due Diligence At The Doctor
"Many schools require additional vaccinations over and above what high schools may have offered," says Ingram, so check your child's campus requirements. "It's also a good idea to get your kid set up with a local pharmacy for prescriptions," says Ingram.
Strategize About Security
Minimize risk of theft by leaving family heirlooms, jewelry and expensive personal items behind when possible. Ingram also suggests purchasing a safe—one that's "small enough to fit under a bed but heavy enough that someone couldn't easily walk away with it." Still, stuff happens, and your homeowners insurance may not be sufficient. There may be a limit to personal property coverage for a student living off campus, so Ingram recommends a renters policy as an extra safety net.
Save On Supplies
Remember one thing, says Ingram: Avoid using a shopping list that comes from a store. "They always add unnecessary, expensive stuff," she says. And forget household appliances, which dorms often ban. Kids should also communicate with roommates to make sure they aren't bringing duplicate items.
Download and print our ultimate College Packing Checklist here!
Inspect Your Auto Insurance
Since each state has different rates and risk factors for car insurance, call your provider to ensure that you're avoiding gaps in coverage. Be ready to share information about where your student is enrolled, where the car will be parked most of the time, and when the change in location goes into effect. It may make more sense for your child to get his or her own auto insurance policy.
Want more practical tips on getting kids ready for college? Check out this advice on protecting your kids on and off campus.
By Danielle Blundell
The above is meant as general information and as general policy descriptions to help you understand the different types of coverages. These descriptions do not refer to any specific contract of insurance and they do not modify any definitions, exclusions or any other provision expressly stated in any contracts of insurance. We encourage you to speak to your insurance representative and to read your policy contract to fully understand your coverages.