Servings: 6
Ingredients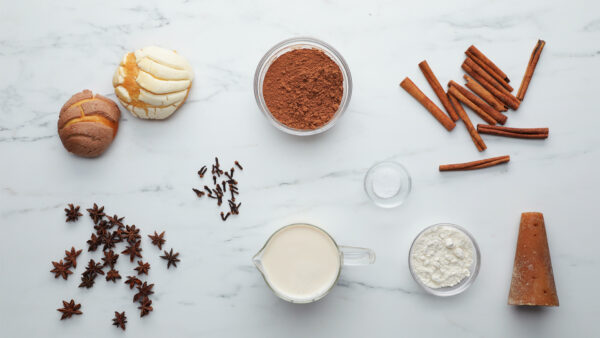 4 cinnamon sticks
2 star anise pods
2 whole cloves
4 cups water
½ cone piloncillo (or an equal quantity of brown sugar)
½ teaspoon kosher salt
¾ cup cocoa powder
2 cans evaporated milk
¼ cup masa harina
Preparation
1. Dry-toast cinnamon sticks, star anise, and cloves in a medium pot over medium heat for 1–2 minutes, until fragrant.
2. Add water and bring to a simmer. Once simmering, whisk in piloncillo and kosher salt. Simmer for 5 minutes, then remove spices with a skimmer.
3. Whisk in cocoa powder and evaporated milk.
4. Transfer ½ cup of the liquid to a bowl. Whisk masa harina into the liquid to form a thick slurry. Add slurry back into the pot and whisk again.
5. Bring to a simmer. Let simmer for 5 minutes. Serve hot!