Brian Kelly of ThePointsGuy.com has developed a career—and a persona—around collecting and using rewards points. We caught up with him at (where else?) an airport to dish his secrets.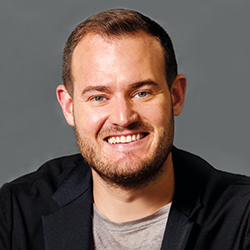 GEICO Living: How did you get started in the points-accumulation game?
The Points Guy: When I was a kid, I figured out how to get our family of six free vacations with my dad's frequent-flyer miles. That's where I learned the true value of points, and I've been obsessed ever since. I started my blog, The Points Guy, in 2010.
GEICO Living: What would you recommend for someone just starting out?
The Points Guy: Most frequent-flyer miles come from credit cards, not from flying. Choose one or two credit cards that align most with where you regularly spend your money. The goal is to get more than one point per dollar you spend.

GEICO Living: Any under-the-radar ways to earn points?
The Points Guy: Instead of going to a retailer's website directly, see if you can get to it through a shopping portal run by, for example, an airline. You'll earn extra points for money you were already going to spend.
GEICO Living: Where do you get the biggest bang for points—flights or hotels?
The Points Guy: Use airline miles for flights and hotel points for rooms. It sometimes makes sense to transfer hotel points into airline miles. But it's never economical to use airline miles to book hotel rooms.
GEICO Living: What strategies to do suggest for couples looking to accumulate points?
The Points Guy: If one credit card is offering a sign-on bonus you both want, I recommend you both take advantage of the promotion to earn double the points. However, plan ahead for the minimum-spend requirements and their timeframes.
GEICO Living: Any new trends in points redemption?
The Points Guy: A lot of programs now offer inside access to concerts, award shows and other similar experiences that you can't buy on your own. I've had the chance to attend several star-studded events thanks to my points.
GEICO Living: What do you always bring on a trip?
The Points Guy: My passport—you never know when a good deal will come up, as airlines tend to offer high-value rewards at the last minute.
---
It's easy to set up automatic payments with a credit or debit card for an auto insurance policy (and more) on geico.com.
Read More: 5 Ways To Save Money On Your Next Family Vacation
Interview by Ashley Rapp