In a recent GEICO commercial featuring the Gecko, we accompanied our little green friend over to his new neighbors' house to give them a plateful of cookies as a housewarming gift, and to remind them that GEICO can help with homeowners insurance. However, when asked to reveal the secret ingredient that made them so good, the Gecko was mum (no pun intended), as it was his own mother's secret recipe.
But inquiring minds still want to know! So we kept pushing.
"Really, mates, I can't. It's my mum's secret recipe," he insisted.
"Aw, c'mon. You can tell us," we pleaded.
Eventually, we wore him down. On a conference call to his mum, the Gecko respectfully asked for permission to share.
"Of course, love!" she consented. "Joy is meant to be spread around."
So here it is, and boy were we surprised! Try out the recipe below and tell us what you think in the comments!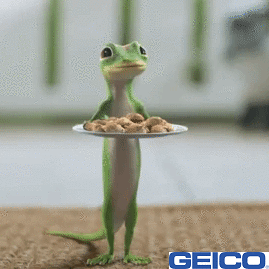 Mum's (Not-So-Secret-Anymore) Biscuit (Cookie) Recipe
Serves: 12
Ingredients:
¾ cup butter, softened to room temperature
1 cup brown sugar
½ cup white sugar
1 egg + 1 egg yolk
1 Tbsp vanilla extract
1 tsp instant espresso powder
1 tsp baking soda
2 tsp cornstarch
½ tsp salt
2 cups all-purpose flour
¾ cup semi-sweet chocolate chips
½ cup dark chocolate chips
Dough Preparation:
Mix butter, brown sugar and white sugar until creamy.

Pro tip from Mum: Use a stand mixer with a paddle attachment if you have one. It  only takes about a minute.

Add egg, egg yolk, and vanilla. Beat to combine.
Add espresso powder, baking soda, cornstarch, salt and flour, and beat until a soft dough forms.
Fold in chocolate chips.
Chill mixture covered in refrigerator for 2 hours minimum, but no more than 3 days. Chilling is necessary to prevent dough from spreading during baking.
Baking Instructions:
Preheat oven to 350 degrees F.
Line 2 baking sheets with silicone liners or parchment paper. Drop dough in rounded tablespoons about 2 inches apart on baking sheets.

Pro tip from Mum: Make the dough rounds higher rather than they are wide so when they spread, they stay puffy in the middle.

Bake for 9-12 minutes, rotating pans halfway through baking time to ensure even baking.
Cool completely on the cookie sheets before serving.

Pro tip from Mum: When you take them out of the oven, don't worry if they appear slightly undercooked in the center—they will continue to cook as they cool. Don't over-bake!