Getting repairs for a chipped or cracked windshield is a breeze when you have comprehensive coverage from GEICO auto insurance.*
"Our customers are delighted that we offer windshield repair service to them at no charge," says John Little, an assistant vice president at GEICO. "With comprehensive coverage on your policy, we waive the deductible for damage that can be repaired."
If you have a small chip, nick or crack in your windshield, we can send a professional repair technician to your home or office. Just give us a call or log into the GEICO Mobile app and we'll make all the necessary arrangements.
"Repairing the windshield protects its structural integrity," says Little. "It is important to have the damage repaired as quickly as possible to prevent the chip or crack from spreading." Chips must be smaller than a quarter, and cracks must be smaller than a dollar bill to be repairable.

Why Use GEICO's Windshield Repair?
It's convenient. You don't have to take time off work or rent a car while the windshield repair is being completed. A technician will come to your home or place of work and do the repair on the spot.
It's quick. The windshield repair is done while you wait. In most cases, that means approximately 30 minutes.
It's inexpensive. The deductible for windshield repair is waived if you carry comprehensive coverage.
You can avoid other problems. Replacing a windshield, instead of repairing it, involves breaking the original factory seal. That can make the area around the windshield more prone to leaks, which can lead to additional problems.
You can help protect the environment. Because a layer of laminate is fused to windshield glass, it's more difficult to recycle. By repairing your existing windshield, disposal isn't an issue.
"First time using online service and made a claim to have my windshield replaced. After a terrible day, using this claims service online that was simple, fast and easy, it really made things a lot better and weight has been lifted off my shoulders. I'm thrilled to know in addition that I am covered, with service coming to my home. With a new baby coming in just a couple of weeks I didn't think I'd be able to afford a replacement. I'm happy to know my family will be safe and I don't have to worry. So very grateful for this wonderful service."

— Heather C. from New York
Beware Fraudulent "Glass Repair Technicians"
Filing a glass claim with your insurer may seem like a hassle, but it's better than trusting someone else to do it.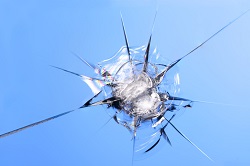 When it comes to repairing or replacing your car's windshield, ethical service contractors will expect you to file the claim yourself. Other contractors, sometimes called "glass repair technicians," may try to get you to sign an Assignment of Benefits (AOB) form so they can file the claim on your behalf. Their resulting actions can make your personal information vulnerable and lead to an increase in your premium.
What does a Glass Repair Technician do?
A Glass Repair Technician is a contractor who approaches you and says that they can take care of your car's glass issues on your behalf. They often approach you at gas stations, car washes, or other public spaces where they can see your car. To take legal ownership of your claim, they have you sign an AOB form and collect your personal information without fully explaining what they're doing. On the surface, it looks like they solicit your insurance information, fix your vehicle, and collect money from GEICO without much effort on your part.
What's the catch?
You're providing your contractors with the authority to charge the insurance company whatever they want under your name. Those high costs may not come from your pocket, but they could increase your premium rates when your account lists an overcharge. In addition, when you sign your claim over to a contractor, you're providing them with your sensitive personal information. This can lead to an abuse of your personal information and potential identity theft. Not all contractors participate in this fraudulent activity, but it's not worth the risk.
What should I do instead?
If your vehicle's glass is damaged, you can report your glass claim online, via the GEICO Mobile app, or by calling 1-800-510-2291. GEICO recommends the reputable auto glass experts at Safelite, but you have the ability to choose other repair service shops with your policy.
*Some coverages and features are not available in all states, in all GEICO companies, or in all situations.