It goes without saying that getting in an accident is a stressful experience for anyone. Whether you've been involved in a serious crash or a minor car accident—or just want to be prepared—GEICO is here to help. Follow these steps to make the experience less stressful and the claim process easier.
1) Stay Calm
If you've just been in a fender bender accident, stop the car immediately, turn off your engine, and turn on your hazard flashers. Keep your cool and don't admit fault or assign blame. Your priorities are staying safe and gathering information.
2) Check For Injuries And Call 911 If Necessary
Ask your passengers if they're OK, then check on the people in the other car. Call 911 if anyone needs medical attention. You should never move an injured person unless he or she is in immediate danger.
3) Assess The Situation
If everyone is all right and help is on the way, start documenting the accident scene. If it's safe to do so, take pictures of all vehicle damage and the surroundings, or other road scenes that might have contributed to the accident.

4) Alert The Police
Even if it's a minor car accident or the other driver says it's not important, call the police. They will let you know if an officer needs to be present. Ask them to file a report so everything is accurately and legally documented, which is required for a car insurance claim.
5) Exchange Info And Record The Details
Do not discuss whose fault it was (even saying "I'm sorry" may be considered an admission). Get the following information from the other driver as soon as you can:
Names, phone numbers, mailing addresses and email addresses of all vehicle occupants and any witnesses
License plate number
Insurance info (company name, last name on the policy and policy number)
Date, time and location (If you're on a highway, record the nearest exit or mile marker)
Police report number, phone number, and officer's name and badge number
6) Get Your Vehicle Off The Road
If your vehicle isn't safe to drive, the responding officer may ask you where you want your car towed in an effort to help clear the crash site quickly, but using a service that's not covered by your insurance can cost you. Remember that you always have the right to choose your own towing service. GEICO Mobile makes it a cinch to request emergency roadside assistance through a certified network of towing and roadside responders.
7) Contact Your Insurance Company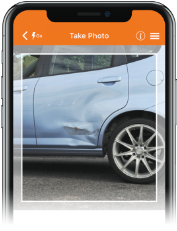 Accidents of any magnitude can be scary. That's why professional, friendly insurance agents are available to help guide you through the claim process. Report a claim via the GEICO Mobile app, on geico.com, or by calling 1-800-861-8380. Throughout the process, you'll receive regular status updates so you can stay informed and connected—and put your mind at ease.
Make sure you're prepared for anything with a vehicle safety kit in your car, your vehicle registration, and a list of emergency contacts downloaded on your phone.
By Nicole Cherie Jones